I didn't "declare" this, but I added an extra little Olympic challenge for myself, and here's what happened: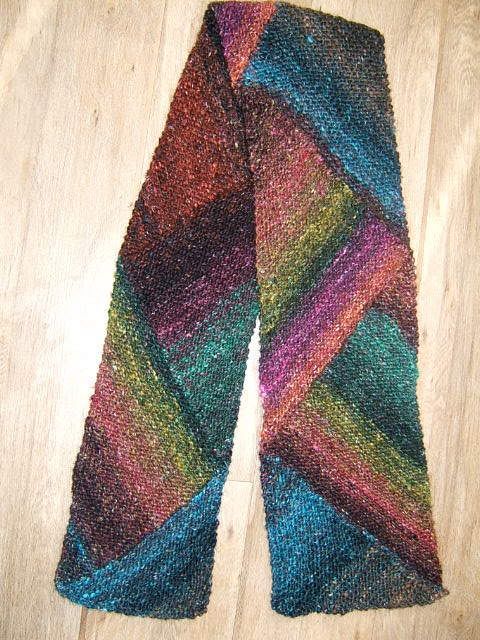 Pattern:
Multidirectional Scarf
by Karen Baumer
Yarn:
Noro Silk Garden #211, 3 skeins
Needles:
size #7 DPNs w/rubber bands on one end of each to make them straights.
Notes:
this has 6 "full length" triangles, and the two short ones on each end. I had a little bit of yarn left over, but this is a pretty good length.


My other posts on this project:

I've Got Mail, When A Good Thing Goes Very Wrong.
My multidirectional scarf is finally done. I had gotten a little bored with it, and also I had to keep ripping back for stupid reasons. I'm not sure why this time it was harder than
last
time. Also, does anyone see that one side is thicker than the other? Yes, let's just not speak of it, shall we?
Once I had cast off for the scarf, I only had the lace scarf on my needles, so I had to cast on something quick and mindless, pronto! I've had my eye on this cute pair of toddler socks by Amy Boogie for quite a while, and my little guy has been asking me to knit him a pair of socks anyway, so this is what I started: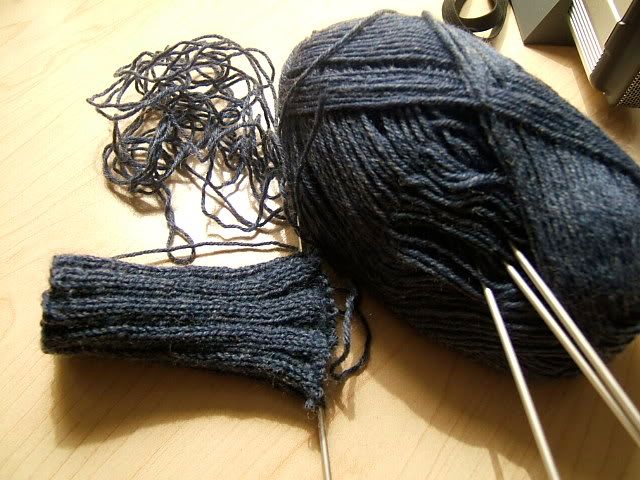 Cute, yes? I was almost finished with the heel, using the "slipped not wrapped" version, but then I noticed Really Big Holes. I thought I was pulling the yarn tightly enough when slipping stitches, but apparently not. I'm going to re-knit with wrapped stitches instead. This is my first attempt at a short row heel.
And Knitting's
Amy
won't quite make it, but she had fun trying and got a lot done anyway.
Strange Theory's
Amy
also won't be a gold medalist, but that's ok. It was a good run. =) She's got some skeins of Lorna's Laces in Jeans for the prize pot as well as one skein of SWTC Bamboo in hot pink. She'll post some pics on her blog later. (Thanks Amy!)
Danielle
actually may finish...she's running down the finish line...
Heather
is wearing her new sweater!!!!
Karen
won't be taking a golf medal, but she's got consolation prizes for all those who knit hard and, well, are still knitting. =0 Send her an email at knittykarenAThotmailDOTcom with your snail mail address (check her blog for more details).
Kathy
is done! Her sweater turned out a little bigger than intended, but she's learned a great deal and will be knitting more sweaters now!
Sharon Hurlbut
has completed two (!!) sweaters, and the pics are adorable!! Go check 'em out!
Congratulations to everyone here on Team First Sweater. You all chose challenging projects, and I think each one of us learned a lot from this. A sweater is just another knit, another set of instructions to follow. No big deal! It may take longer than some other things, but that's no reason to back down from it.
I hope you've all had a great (although possibly hectic!) 16 days. I know I have. It's been really cool to check in on all of you each day, and watch the journeys that everyone has taken.
Remember to post today or tomorrow an "interesting" or "Really Cool" picture of your sweater for a chance to win some yummy yarn. There will also be some people chosen for prizes at random (names chosen by a random number generator). I'll be posting who gets what on Tuesday, so keep checking back. If your name is listed I'll also send you an email or leave a comment on your blog. You will send me your snail mail address, and the person who owns the prize yarn will mail it to you. Did that make sense? Great! I'll check back later...