Brenda Dayne's
Cast-On
, episode 10 is out! "Bitch and Bitch". Will be my Knitting Tunes/entertainment for today.
Knit Cast
is supposed to come out with another episode today too, but hasn't yet.
If anyone has any other buttons for Team First Sweater, please send them to me! Also, if you've got a prize you want to add to the "prize pot" for random awards after the Olympics, please let me know.
Once again,
Yarnbow
came through for me. I'm telling you, this place is incredible. I get my yarn within 2-3 days or purchase, and the prices,
including shipping
, are less than I can get it at my LYS back home! I can't say enough good things about this store.
Anyway, on to the yarn:
Soft, sqishy Lorna's Laces in colorway Daffodil. Gorgeous.
My plan was to knit them up as Diagonal Rib Socks from the downloadable patterns by Interweave Knits. This is what happened when I tried that: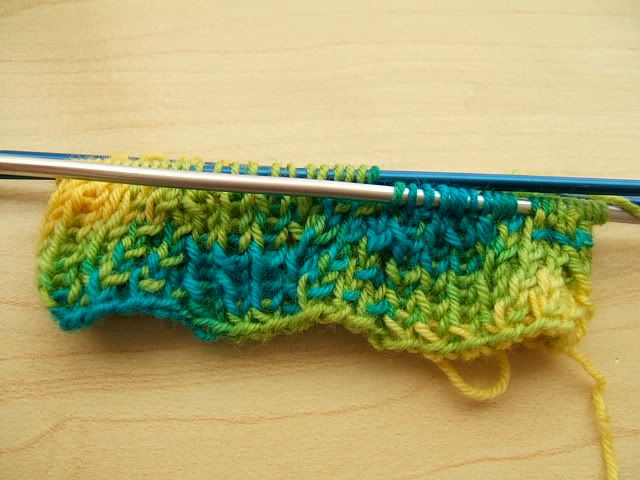 The one side looks pretty good, but lets take a gander at the other side.
Does anyone remember me saying that I like pooling? Well, I did say "most" pooling. I do not enjoy pooling that relegates one color to only one side of the work. That's no good for me.
What I realized is that with yarn that has longer color repeats like this, it needs more straight stockinette (like in the
Jaywalker
pattern, where there's a pattern stitch for one row, then knit straight for the next). Another thing I remembered is that I really don't like ribbing. The ribbing on the top of any sock generally is something that I have to push to get through. The entire Diagonal Rib is, well, rib. Yes, should've caught that by the name, right? Ok.
I ripped it out and started deseparately casting about online for somehting that would work with this yarn. Of course I could've used Jaywalker, but I really wanted to knit something I hadn't done before. Oh, did I mention that this has to be cast off by the Knitting Olympics? (I'll explain more about that in a few weeks.)
Finally, I came across
Broadripple
in Knitty. I was unsure if it would work with a plain wool as opposed to an elastic yarn, but I cast on anyway. As it turns out, it's coming along beautifully!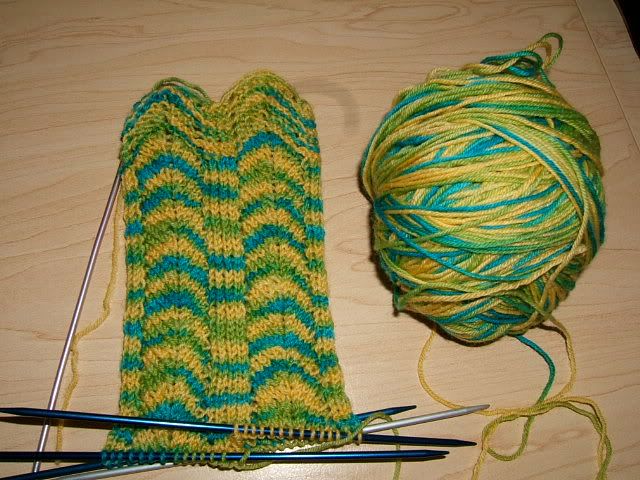 This is what I knit yesterday. I'm ready to start the heel flap. The average time I've knit socks before is in 2-3 weeks (check the sidebar for my finished projects). I'm a faster knitter now though. Does anyone think there's any hope of me finishing these in time for Friday's Big Cast On? Wish me success!!