Here, at long last, is Picovoli. I'm so glad to have it done. Whenever I knit something, the beginning is about the process, and about a day or so into it, I'm all about the finished object. Supposedly process and "gotta have it now" knitters are on two sides of the spectrum, but...well, I am the way I am, I guess.
Pattern:

Picovoli by Grumperina


Needles:

Boye, size 2 circular interchangeable. I DO NOT recommend this needle set, as they unscrew while I knit. Very annoying.


Yarn:

Knit Picks Shine in Turquoise


Cast on:

February 10th


Cast off:

February 24th


Modifications:

This top was knit in size XS, but the bust section was knit to 6-1/4 inches instead of 4. I was concerned this wouldn't work correctly, but it fits! And the shoulders fit! My shoulders are small, so it always sucks that I have to buy bigger size shirts, because then they tend to hang funny.


Additional notes:

This yarn grows a good deal when blocked, so blocking a swatch is essential! Also, this is my first experience knitting with cotton, and I am less than thrilled. EVERYTHING shows up in cotton. Everything. Any little change in gauge, weaving in ends, etc. I guarantee that I will be knitting with cotton again though, just because that's the way things go, but I don't look forward to it. However, blocking really saved the day. I didn't think that it would look even halfway decent, and it seems that all inconsistencies have "come out in the wash" as they say. (Who are "they" anyway?) This pattern was written up very clearly, and I didn't have any problems with it at all.


I posted a lot on this knit since it was my Olympic Knit, so here is just one:

I'm Done

This morning I was up at 6am (mornings are one of the few quiet times I get to myself), and was poking around blogland. After a little while and some breakfast I was ready to knit, but had forgotten my knitting bag in my room, where my husband was sleeping. Near me on the desk I suddenly noticed the Elsebeth Lavold Silky Wool I'd snagged at that yarn run last week. It was calling my name. Recently on the Knitlist, a lace-leaf scarf pattern popped up, and I downloaded it. Now
Liesel
(PDF file) is on my needles.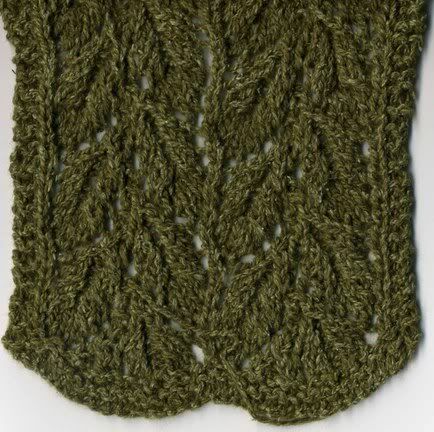 (Scanned image -- the best way to capture lace, I think.)
Mmmmmm. This is my first successful attempt at lace knitting. It takes some focus, but can you see the leaves? Can you see it, can you see it?? (!!!!!!!!!!!!!!!!) (If you can't, blocking will help when it's done.) The pattern is written in a worsted weight, but I decided to just try it in this dk weight (on size #5 instead of #8 needles), and I love how it's coming out. It feels sooooo soft and whisper light. Yummy. Also, the width is perfect for me. In the original, it comes out much wider, but I'm loving this.
Sarah (my blogging buddy here at The Needle And The Damage Done) has put a skein of her own multi hand dyed into the prize pot! Sarah's yarn came in the mail a few days after The Great Cast On, so the last I heard she was still plugging away, but with the end a little further off in the future. =(
Amy
of And Knitting seems to have been waylaid by some lovely alpaca.
Em
just finished up her second(!) sweater. It's so cute! Great job!
Heather
is on her second sleeve, and has posted a soup recipe that looks really good. I
love
soup, so I'll have to try it out.
K
is sick, so she's out. Best wishes that you start feeling better soon!
Leah
is still knitting on that sweater...she just bought the book Happy Hooker. I'm so excited that it's finally out! I'll have to swing by the bookstore to look inside.
For those of you still working towards the goal, keep your hands steady and chin high. Who needs sleep? =) Seriously, I look forward to seeing all of your finished sweaters. Make sure to post as soon as they're done!