Thank you Sarah, for posting in my absence! I've been tired and busy, and also the internet here at the Inn has been down almost half the time we've been here (pretty much the entire weekend!)
Here, at long last, is Orangina.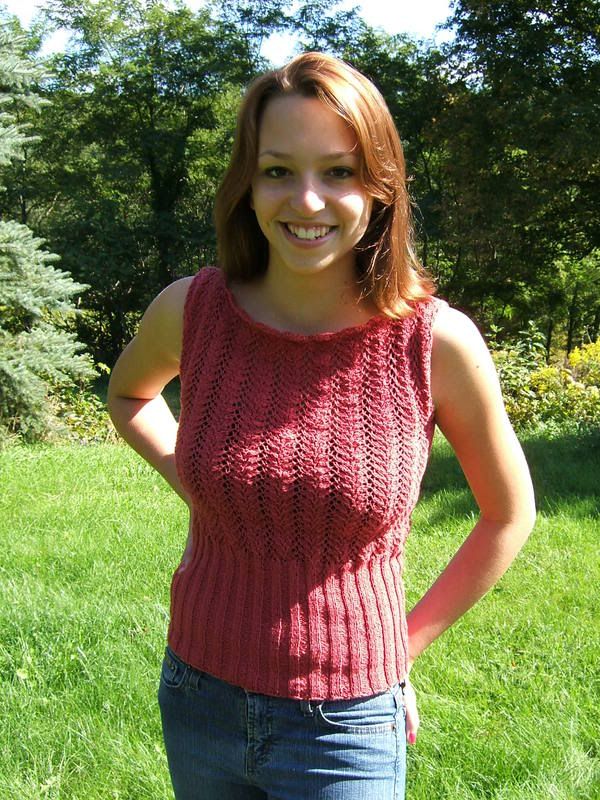 My belly makes the sweater look a bit funny, so my sister Joy kindly modeled it for me. (Thank you!)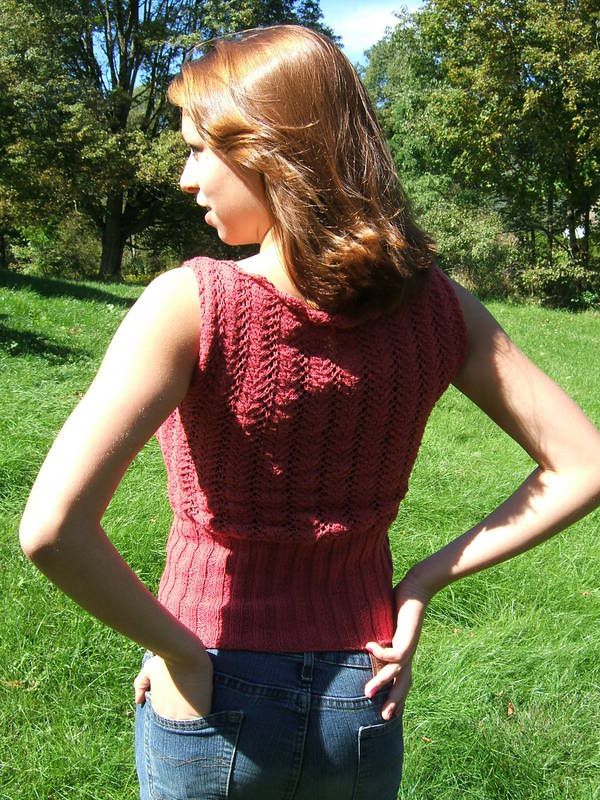 STATS


Yarn:

Rowan 4 ply (I think the colorway is "blush" -- it's a soft coral/pink)


Pattern:

Orangina by Stephanie Japel


Needles:

Aluminum #3 circulars -- not sure of brand, I got them at my LYS in NY. For the ribbing I switched to KnitPicks classic circulars #2 because it was way too loose at the larger gauge.


Cast-on to cast-off:

Technically I started this last year when I first picked up knitting again, but then I ripped it back entirely before starting it again at the beginning of the summer. So it took a few months. I didn't work on it non-stop, but whenever I would really take time on it, I was amazed at how quickly this worked up.
The lace pattern is very simple, but if this is your first lace project, you'll want to pay VERY close attention at first and count your stitches often. Also, maybe start with something smaller, like socks, and then tackle this.

Here is a close up of the (yet unblocked) lace pattern:
I feel proud, but have no idea when I'll be in the right shape to wear this. Summer in Germany isn't very long, so this isn't the most practical type of sweater for living here. Ah well. I'll probably get to wear it two Summers from now or something. By then my belly should have flattened out enough...hopefully.
Speaking of Germany, we did arrive safely, although quite harried (the flight was overnight, and I couldn't sleep at all. We arrived at 1am NY time, but 7am here, so our day began before the last one was over, etc.) I have to tell you though, forgoing sleep alltogether is one heck of a way to get over jet lag. None of us have suffered from it a bit. The first day we all took a nap, then the first night here we all slept at least 14 hours, which set things right. Now I feel as though it's all normal.
I'll post more about our new surroundings and all in later posts. We just found our apartment, so when we move in, I'll have some interesting pics to show. The apartment is unique, to say the least.
I have yet to check out our new little town, but I will definitely be scouring it for yarn shops!