As of last night, here's Picovoli.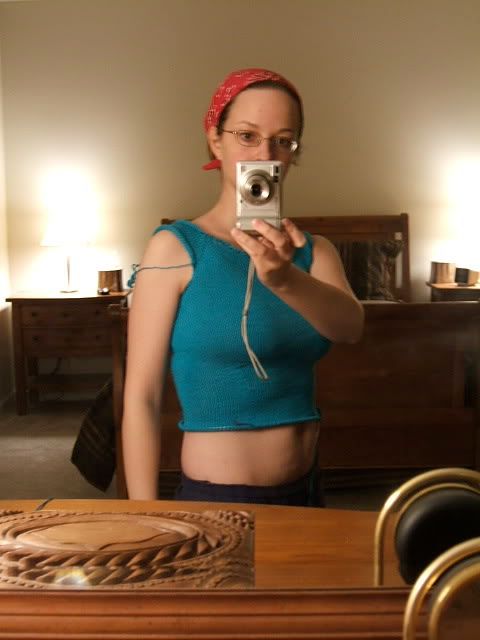 This morning during church, I noticed something. The increases are crooked. (I probably should never knit at church. Haven't I said this before? Something ALWAYS happens.) Now, I'm sure that I could just leave them alone and probably no one would notice. But this is cotton, and I can really see it. I mean, REALLY. Also, I'd always know it was there. You know what's coming next. Yes, I need to rip back about two inches. Doesn't seem like a lot, but since it's in the round, it's sort of like ripping back four inches if it was knit in pieces. Sucks. It's okay though. I will persevere, and I expect to be done within two days or so.
This week I started a brand new Stitch N Bitch group here in my town, because I was tired of not having anyone to knit with. As it turns out, there were several local ladies just waiting for this to happen. They joined and we had our first knitting circle on Monday. It went well, and I had quite a good time.
Yesterday I went with one of those ladies, Laura, to the closest thing we have to an LYS, 35 minutes away. We were pleasantly surprised that it didn't take us longer (Mapquest said it would be an hour!) (??), and also pleasantly surprised at some really nice yarn. From my conversation on the phone with the shop owner a few days before, I had the impression that she wouldn't have anything I'd like. She didn't have any interesting sock yarn (except Mountain Colors "Barefoot", although the colorways seemed too moody and dark for me), but she did have some Elaine Schaffer among other things. There was a bit too much cotton for my taste -- in fact, I've never seen such an emphasis on cotton in a store before, but I did come across some very yummy things that had to come home with me.
I also purchased the Gloves In A Bottle, since I've been having such dry skin, and a needle gauge/ruler, since I somehow lost mine.
My husband isn't crazy about any of the yarn in this purchase, or even the colors. Oh well. It'll be something for me anyway.
Oh, I got to feel "Touch Me". Unfortunately there was only plum and ruby, which didn't really stand out to me. I was tempted to buy one ball anyway just for feeling. It feels that good. You must go out and touch some if you ever have the chance.
Unrelated, but two days ago I happened to look out the window and see this little guy:
I didn't even know we had lizards here!
He was pretty cute, but I was glad he was on the other side of the screen.
Strange Theory's
Amy
doesn't have a real update for us, but in case anyone was wondering, if she was a yarn she'd be Cashmere.
Danielle
finished the front of her Weasley, and the intarsia is looking gorgeous. I love that tweedy cream color.
Debi
is having something of a knitting crisis, and has ripped back Tubey. Hopefully she will be able to settle on a pattern and complete it before the flame goes out!
Heather
has a pile of VM from her Rowan Summer Tweed, and got some beautiful handpainted yarn from her secret pal.
Jennifer
finally has some pics of her project up, which is a very bold red-blue combo.
K
has set some knitting goals for herself -- hopefully she can get it all done!
Karen
is having some focus troubles.
Nancy
has completed her very stripey sweater, and has added socks to her Olympic challenge. Sharon Hurlbut started her second baby sweater, and wrote a poem on knitting.