Have you ever limited yourself and found that you were more creative in the process? That's what happened with this card.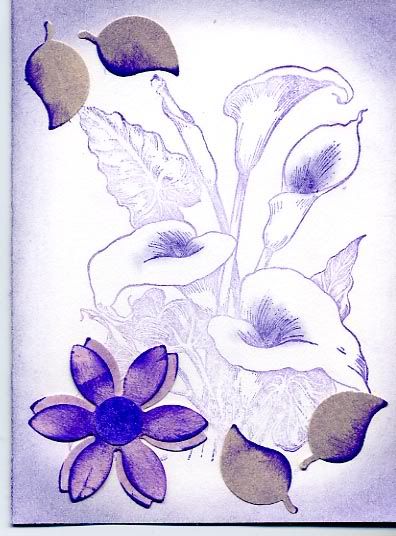 I was sending something to Sarah (my blogging partner), and decided that, in honor of the purple month, that I'd only use shades of that color. I didn't imagine that it would come out this nicely. Chalk, ink, paper punches and stamps. I'm pretty pleased with it. =) (The leaves were created by rubbing purple chalk on yellow paper, then tipping it with purple ink. The flower started with pink paper, and was shaded in the same way.)
Speaking of Sarah, let me introduce her, since we don't hear from her much. Anytime she posts, it's probably kind of a suprise, like, wait! who is this posting now?! So let's get to know her a little bit.
Sarah is my good friend from back home in upstate NY. We met about 4 or 5 years ago, when she was going to college near me and started going to my church. We started hanging out a lot, and I noticed that she would sometimes bring her knitting or crochet with her. I was immediately jealous that she could do something that cool, and wanted to learn, but I thought tha it would somehow be too hard for me to "get", and that I'd never be good enough to create something I'd be proud to wear.
I couldn't tell you how she learned; somehow I've forgotten that, but perhaps she'll fill us in at a later date.
About a year-and-a-half ago, I was pregnant with my second baby, and decided to learn to crochet. A week before Max was born, I started knitting. Several weeks later, Sarah came to stay with me for a few days (I'd moved a few hours away), and we crocheted together all one afternoon. It was so cool to finally be able to stitch together.
During that visit, she showed me a few knitting blogs that she read (I'd never heard of them!), and saved them to my Favorite Places on my computer. After a few weeks, it became clear to me that I "needed" my own blog, and started this one.
Sarah was getting married, getting a new job, etc., so she knew that she wouldn't be able to post frequently enough to have her own blog. I asked her to join mine so that I would be able to see the stuff she was working on, and she wouldn't have the commitment of a "full time" blog.
Blogging is fun, but blogging with friends is better! Whenever I see one of Sarah's posts, I read it eagerly, because it makes me feel like we're hanging out in my living room again, talking about whatever, with the fabric of our projects forming in our hands. Good times!
I miss you Sarah! Hopefully I'll be able to come visit soon.