I've taken down the Knit Olympics poll, because it was making my site take too long to load. The winner of the poll was the hourglass sweater, but I have decided on
Picovoli
, since I've never knit a sweater, and that seems a little more doable in 16 days, since there are no sleeves. Also, I'm going to knit it in
KnitPicks Shine
, and you really can't beat the price of that yarn. I'm looking forward to wearing this. The only two other things I've knit for myself are
Edgar
and
BMG Footies
(pattern
here
), which I wear with great pride, so I'm pretty excited about another "selfish" knit.
For this sweater, I'm trying to decide between turquoise, orchid or cream. I lost a cream sleeveless top that I had once, and it's been bugging me, so I'd love to have another. However, this is easily stained, and I have two little men who are experts at that. The orchid is lovely, but I only look good in certain shades of pink. If this has a purple cast to it like it seems, then this might be good. Turquoise can also be really good or really bad on me...It's hard to tell the colors of the yarn for sure, so I was thinking of purchasing a color card...then I realized that I need the actual yarn ASAP so I can start swatching. Hm. Maybe I'll just have to close my eyes and pick.
Did anyone notice something weird in the picture of my
multidirectional
scarf from yesterday? I didn't. Just in case you were similarly led to distraction by the alluring colorway, let me show you what I noticed last night: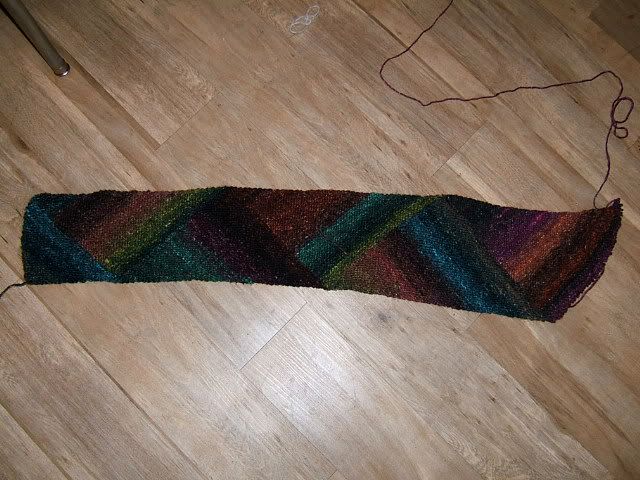 Does it seem to be growing larger at the live end, or no?
Just in case, I folded it over on itself: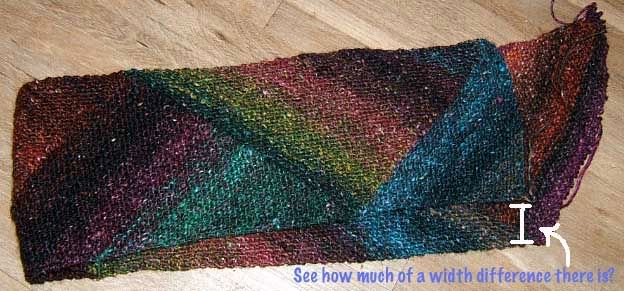 Yup. I see it. OK. (Deep breath.)
Let's look more closely. Might this be the spot where all good things went wrong?
Aha! (I'm only saying "aha" because that's what people say when they realize things. I have no idea what I did wrong here, except, wrong it is.)
(Yet another deep breath as my blood pressure soars.)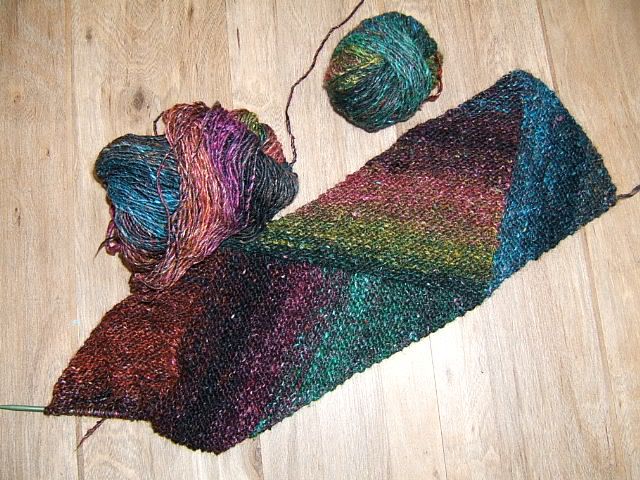 Yup.
I would lay this down until...well, who knows when, except that I really want to wear it. This is a 3 skein scarf. I'm back to skein one.