Look what I got in the mail yesterday!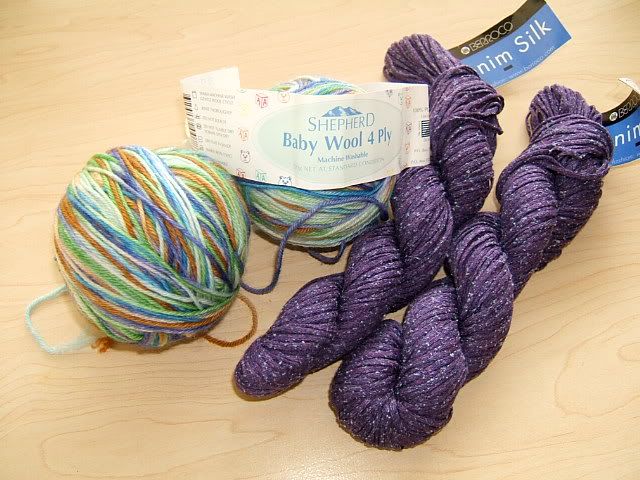 Sarah (The Other Blogger here at The Needle And The Damage Done) sent me this wonderful gift to cheer me up since I'm missing my family, who are now back home up North. Sarah, you are one of the most thoughtful people that I know. Thank you!
Those two balls of sock yarn are hand dyed by none other than Sarah herself, and she calls the colorway "Easter". It is truly Springtime in a ball. The purple skeins are Berroco "Denim Silk" (20% silk, 80% rayon). It has this incredible drape to it. I want to do something Summery with it -- can anyone think of a good suggestion? I was thinking something along the lines of a lightweight, lacy scarf. Or maybe a tiny scarf/shawl like Georgia ("...On My Mind") knit once. It was almost like a little kerchief, but worn around the neck.
My hands and forearms have been killing me ever since last week. I thought that I was all better on Sunday, so I knit through church, but it was a bad idea. So what have I been doing instead?
That's the Mahogany BFL I bought from Amy Boogie (Spunky Eclectic). I had no idea that it would spin up so beautifully! The only problem is, now I'm dying to knit with it, but can't.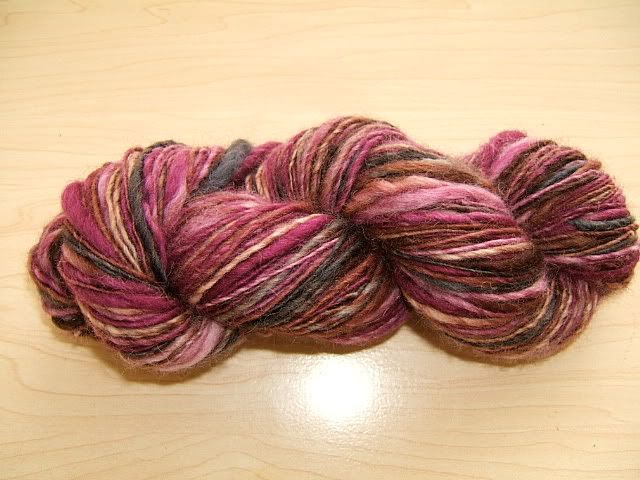 I REALLY hope that I can knit again soon.
In the meantime I'm working on some more cards...


NOTE: So sorry for the lack of links. You'll have to source your own research (or blog hopping, as the case may be) today, because I'm short on time -- date night tonight!)