Happy belated Memorial Day, to all who celebrate. I was so excited and touched to see my friend, Major Laura featured in the most recent
Knitting Daily
email. (You might remember me mentioning her a few times in the past.)
Here's the picture from the Knitting Daily email of her knitting socks while in her ACU's (uniform), in case you didn't see it: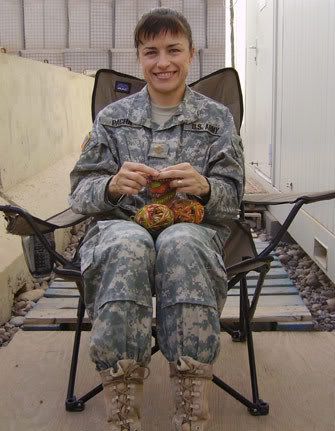 (Laura, if it's not ok to have this on the blog, let me know and I'll take it down.)
I met Major Laura in Georgia; we were part of the same Stitch N Bitch there (along with
Becca
, who's still living there). Laura was deployed to Iraq a little while before I moved here to Germany. Miss you Laura! (And you too, Becca!)
I've cast on for the Diagonal Cross Rib socks by Ann Budd from
Favorite Socks
, and currently the pattern seems to be working well with the yarn. This is one of the book's brand new patterns, previously unpublished in an Interweave publication. Photos when I've got more to show for it!
Also, to the spinners: make sure you go to
Needles On The Move
and sign up for the
Sunday Spin Along
! Fiber prizes, new techniques...my fingers are just itching to start. She's just posted the first tutorial (go to her May 27th entry to download), and...well, I've just bought myself a new set of bobbins. It was inevitable.