My sweater is growing. In the directions it says to knit 4 inches beyond the armholes and then start the decreases for shaping. It also says to make sure that the fabric nearly covers the bust before decreasing. At the moment, I'm well over 4 inches, but it's nowhere near covering this particular bust. Check it out: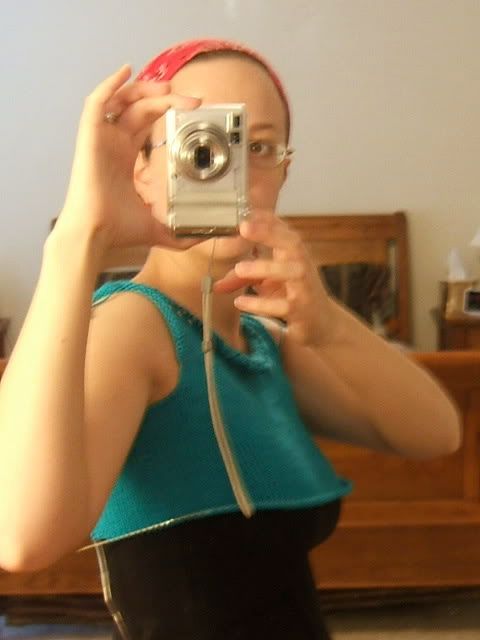 A few more inches to go, thanks to my nursing baby...
Unrelated, but this is what my husband got me for Valentine's Day. I have sworn off all cheap candy. I would gladly give up all other chocolate if I could have this once a year. These chocolates are pretty much the best thing I've ever put in my mouth.
You can see their website
here
.
Strange Theory's
Amy
is nearly to the first try-on point with her Picovoli. If she could just make sure that her dog doesn't get a hold of it, all will be well. Thankfully, she's got an awesome boyfriend who cooks dinner for her so that she can get more knitting time in!
Danielle
is just about to start piecing her sweater. So exciting! It'll be cool to see how it all comes together.
Heather's
sweater is coming along nicely. Her husband said that she could buy some knitting books for Valentine's Day, and she needs suggestions. Go help her out so she can place her order!
K
is wondering what sane thought was going through her head when she chose her project.
Karen
has decided to add brown stripes to her blue sweater, which is one of my favorite color combinations. Great idea! =)
Pamela
has been making stitch markers, and her sweater is coming along beautifully. The purple-multi colorway that she chose is knitting up so well. Sharon H. is knitting along at top speeds, and will be finished before the deadline! In other news, she just had a wonderful
poem
published.