I've cast on! It took me until midnight last night, but I did it. When I read over the directions (which I've never taken the time to do on other projects, so score one for me!), I noticed that there was a provisional cast-on for the picot edging. OK. Cool. I proceeded to cast on with the long tail method, and was five rows in when I noticed...so I ripped it out and learned the
provisional
way. It doesn't look difficult, and I guess it isn't really, but it just takes a looong time. Or at least for
this
knitter.
Here are my swatches, and my sweater thus far: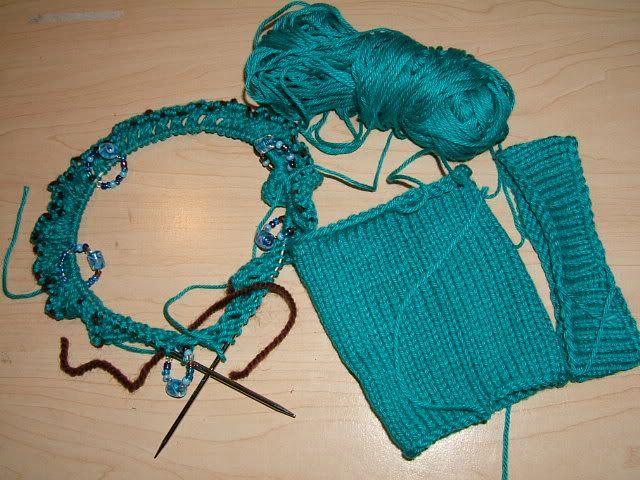 Note: my swatches grew tremendously when I washed and dried them (with a blowdryer!). If you're using this yarn or any other yarn with cotton, please swatch! I went down two needle sizes and one shirt size because this yarn blooms so much.
My husband was a doll and made provisions for the late night:
This is his famous vanilla fudge -- the best I've ever tasted. Ever. Seriously. If you beg me, maybe I'll share the recipe. (He's a nice guy, so he might let me if you ask nicely.)
So what was I doing at 2:00pm, you ask? Why, weaving the ends in on these bad boys: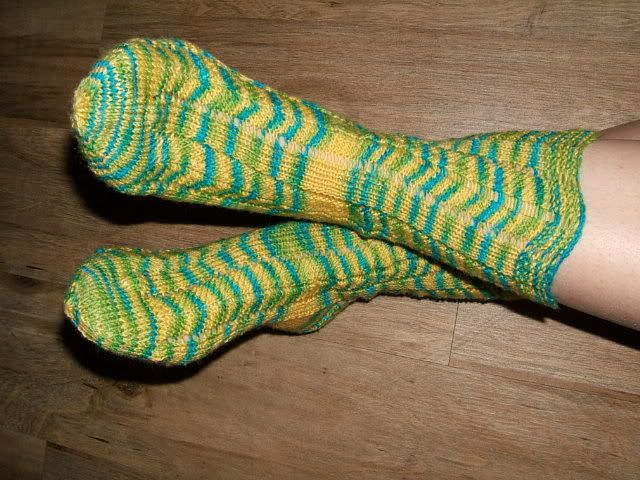 I LOVE them, and Lorna's Laces is so soft! I'll be buying more of this yarn (I have my eye on some in the brown and pink colorway...)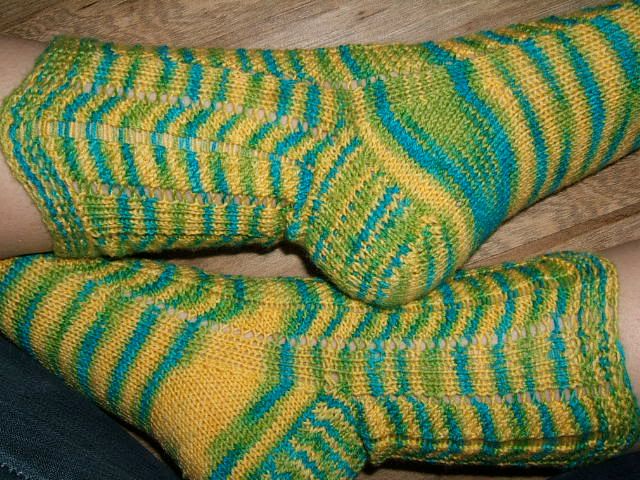 Pattern:
Broadripple
by Rob Matyska

Yarn: Lorna's Laces, colorway Daffodil

Needles: size #2 aluminum DPN's

Cast on: February 5th
Cast off: February 10th (my best sock time to date!)
Modifications: As mentioned, I used a wool yarn instead of cotton/elastic. I swatched to gauge, and everything turned out well, so I would recommend this if someone wanted to make a substitution. Also, I used the German Round Toe, which I like to use for gift socks -- this seems like a sturdier toe than most, and is nicely shaped, even when off the foot.

Other posts regarding this project:
Unswatched
,
The Broad Ripple
I have a few notes on picking up the stitches for the heel. Apparently I do it a little different -- an older lady in my stitching group back home taught me -- but I REALLY like how it turns out. It's just a tiny detail, but it makes me happy. I'll post a little tutorial on it tomorrow.
Amy
persevered with the provisional cast on for her Picovoli yesterday.
Danielle
, with some chocolate assistance, made a few inches headway on her Weasley sweater.
Debi
was getting all set up for some Knitting Alone Time.
K
got 9 rows done last we heard from her.
I'll be checking in on each of your blogs once a day, so post pics and progress reports so that we can all cheer you on! Also, click on the links for the team members! Leave comments to encourage each other. Go Team FS!!
Note: if you don't have a blog, you can either email me pics and progress stats or just leave a comment and I'll note it in my next post. =)