Thanks for all of your amazed and encouraging comments about my intense curves. =) Nine days until the due date!
Yesterday, I spent naptime recording the podcast, and completed an episode. Very unfortunately, the entire episode bit the dust when our power went out. Hopefully I'll get a chance to record sometime this weekend, or Monday. Of course, if I don't go into labor first.
Moving on to brighter things:
Argosy is done! It's actually been blocked since last Friday and I've been wearing it often, but I'm just getting around to posting pictures.
As you can see, I've blocked out the edges all pointy, because that just seemed like a good idea to me. I do realize that the pattern calls for a more
blocky
look. Maybe if I ever have to wash it, I'll block it differently if I'm in a different mood.
I knit 29 repeats, and although it's lacy and light, thinly spun
BFL
, it feels so cozy and warm wrapped around my neck twice and tied.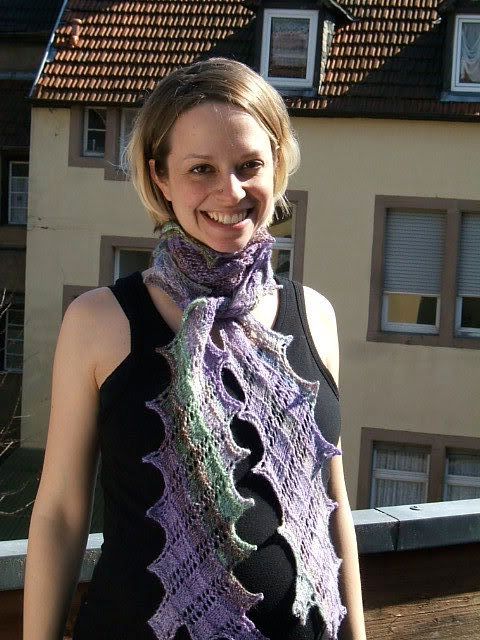 As you can see in the picture though, we've had a few days that are rather warm, which of course is the rule for whenever you finish something cozy that you particularly like.
PROJECT SPECS
Pattern:
Argosy
Yarn:
Berry
Pickin
'
BFL
from
Spunky Club
,
handspun
by me into a
DK
weight 2-ply.
Needles:
size #6
KnitPicks
Options circulars
Cast-on to cast-off:
the knitting of this took me about 4 days, and then a day to block.
Notes:
This was easy to knit, easy to memorize lace pattern. I would
recommend
this for those beginning to learn how to read a chart, and knitting lace.
Husband Socks update: I've now got 7 inches into the cuffs, and still the yarn does not run out. Holy. Crap.