Last night I knit up one of my handspun skeins into a little swatch of seed stitch and stockinette. Check out the diagonal pooling action. I've got to admit something. I enjoy pooling. Not sure why people seem to hate it. I suppose that sometimes it can get ugly, but most of the time, I really love it.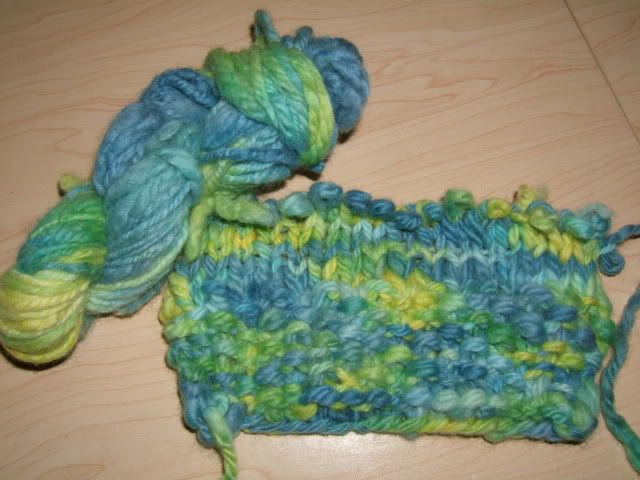 This morning, I got set up to dye the Knit Picks sock yarn. Here's my crew, ready for action.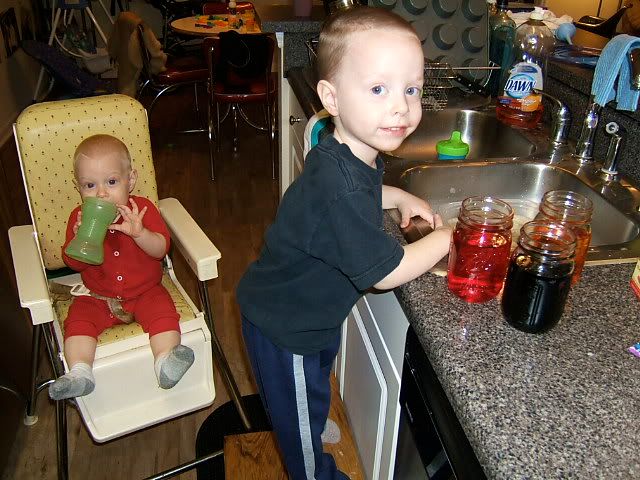 I mixed up the food coloring/vinegar/water in the jelly jars like yesterday for one of the skeins, but then I decided to try something different for the other. I'd heard of kettle dying, and was wondering -- would that work in the microwave? I filled a ziploc container with lukewarm water, and put my skein (that had been soaked in mildly soapy water and gently, thoroughly squeezed out) into it. Then Mr. A helped me sprinkle some Kool-Aid on the yarn, right from the packet. Let me just tell you right now: Tropical Punch is RED.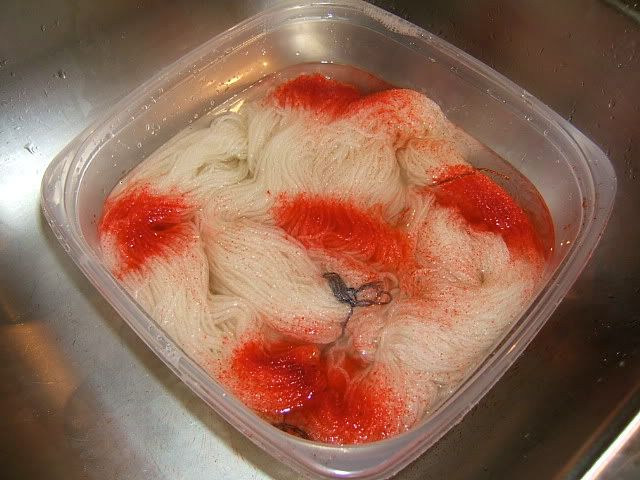 We sprinkled some Grape on there also, and then Mr. A got to work poking it down in the water for me.
After a little bit of that, we put it in the microwave for 4 minutes. This is what we got:
Not horrible, I guess, but not really what I was looking for. It was pretty interesting though, how some of it actually stayed white. I was sure the colors were all going to muddle together, but it was not so.
Anyway, I decided to space dye it with some blue (the same jelly-jar mix as yesterday), and microwaved it again:
Now it looked like rocket pops that I used to eat as a little kid. Unfortunately though, it looked more like a rocket pop on a hot summer day, or my white shirt after I'd eaten one. I knew that I wouldn't be knitting with this either.
Then we tried dying the whole thing blue. No good.
So there was only one thing left to do, as far as I was concerned. We mixed up a very strong purple (2 packets of Grape Kool-Aid with some blue food color), and finally, I was happy. It came out this wonderful, complex purple that looks like the way grape juice tastes. I love it. Next to the purple is the "strawberry lemonade" that I also dyed, using the method from yesterday.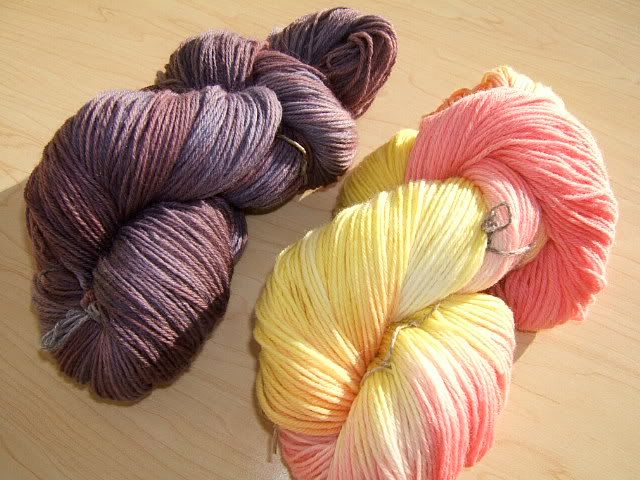 They may look a little funky next to each other, but I decided not to bore you with separate pics.
Lessons learned:
1) Tropical Fruit Punch Kool-Aid is RED
2) Grape Kool-Aid is grayish purple
3) I can always dye something again, stopping only when I like it.