I haven't started swatching yet for Picovoli (my Olympic knit). Should I be concerned? Hopefully I'll get a chance to swatch tomorrow before Cast On Time.
Danielle
has been doing some swatching though.
Heather
posted a shining example of yarn porn.
Karen
is swatching and setting out all her yarn to gaze upon it. If you've been making any progress on your Olympic training and I've missed it, please leave a note for me in the comments and I'll post your link. Can't wait to watch all of you as we work together to complete our sweaters!!
Well anyway, I got this in the mail a few days ago: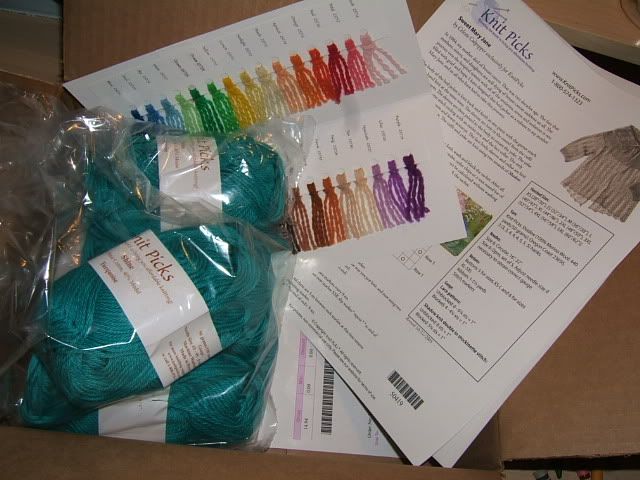 The turquoise is the yarn for Picovoli, the pattern is Sweet Mary Jane (a gorgeous lace cardi), and the color card is for Knit Pick's pure wool sock yarn. I thought it would help me decide which colors I should buy for the Knitted Babes I'm going to knit, but all it did was make me realize I have to buy all of them. $50, but not bad, since that ends up at around $1.60 a ball. And let's be honest here, who is going to tell me "oh, you really don't need all that." That's not so much the point, right?
Moving right along. Here is one completed sock, the way it looked yesterday morning. The second sock has turned a heel, and I'd take a picture but by the time I uploaded it and such...well, I could spend that time knitting, so I will.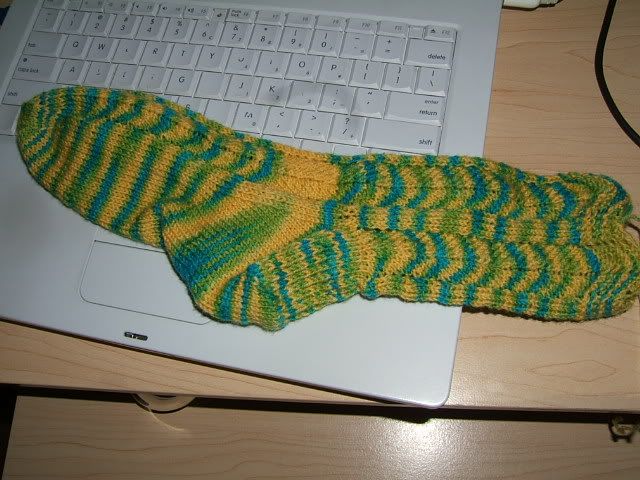 These socks were going to be a suprise farewell gift for a very good friend who's moving away in a few weeks, but since I REALLY wanted them to fit her, I had her try it on. It fits. As it turns out, we wear the same sock size.