This is, hands down, my favorite knit so far. Unfortunately, I gave it to my sister Grace (she, of the lovely hair) for Christmas. Expect to see more of this yarn. I'm making the same for myself, because I
must
have it.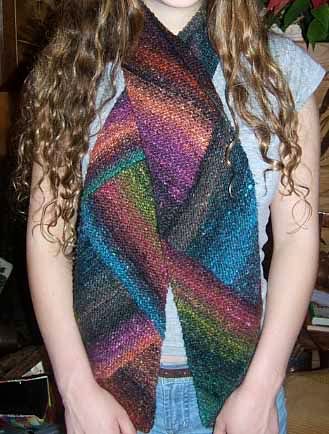 Pattern:
Multidirectional Scarf
by Karen Baumer
Modifications: I used the alternate ending to make both ends squared, although since my sister is clutching both ends of her beloved scarf, that's not so easy to see.
Yarn: Noro Silk Garden, color #211 (3 skeins, NONE left over)
Needles: size 7 aluminum. I used 2 DPN's with one side of each rubber-banded to make "caps" so they would be just like regular Straights. I hate using long needles, so this made me very happy.
This was my "relax and knit" piece. I could do this in the dark; it was so easy. It's knit in entirely one piece, so the only finishing is weaving in the ends. It looks way more complicated than it is. Short-rows. That's all there is to it. I was sad to cast off. But a thing must be finished, especially when destined for the Christmas Gifting.
I must say that Noro Sik Garden is currently my favorite yarn that I've ever used. The huge slubs of silk, the way that it's spun together...ah! It's not the softest yarn in the world, and it is dryclean only, but it's so worth it. Some people have told me of knots and VM throughout, but this was not my experience. The beauty of the colorways are just amazing. I love this yarn.
This is a pair of slippers I finished on the trip home for my Grandma. After I felt them, I'll mail them to her as a late Christmas gift: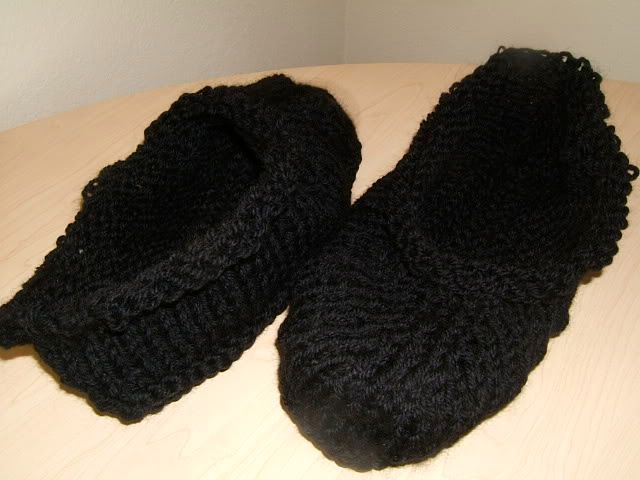 (Currently, they're about a size 15, so I'm keeping my fingers crossed that they actually do felt down to a 7-1/2!) I'm not really sure why I haven't just felted them yet. I guess I'm afraid something will go wrong and I'll have to start all over again. Not that it took a long time. It would just be annoying. OK, enough. Ever the fearless knitter, I will felt them tonight.