Well! My trend of Johnny-come-lately posts continues. Here are my solid socks for the Solid Sock KAL that I completed in the first week of January. Yet another Christmas gift, I knit the first sock on the way home, and the second one in the weekend following. Actual knitting time for these was about 2 days per sock. Not bad! My first try at thick socks, this was fun and quick. I did get bored with the color though. I HATED this heathered grey. As I knit, it reminded me of old hair caught in a drain. It's for my grandpa though, and my husband and I both decided that he would like this color.
I knit the foot a little too long, so I had to rip it back. This was the first time I used the method Debbie Stoller outlined in SnB: insert needle(s) into right leaning side of every stitch down where you want to rip to. Unravel to that point, and once you reach the needles you can just knit off of them onto the right size again. So much easier than trying to make sure that I didn't drop a stitch or anything! Plus, since it's so important to have the right stitches on the right DPN's when making socks, this was a huge help for that too.
The blue needles are the smaller gauge, waiting for the ripping to end.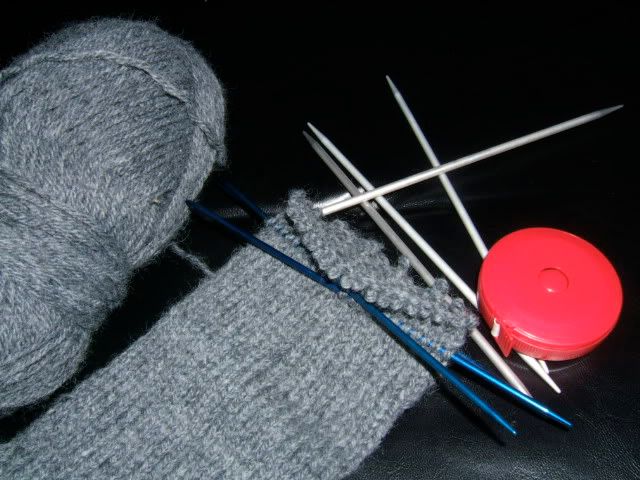 So here are the finished socks (they're a bit big for me, since they're for my grandpa):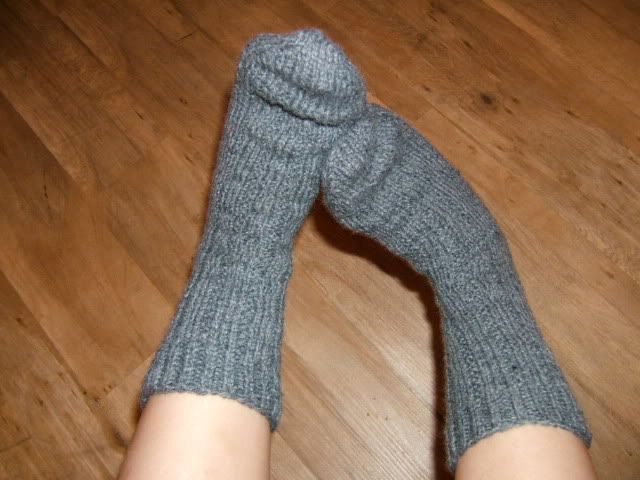 Pattern: Thuja, by Bobby Ziegler
Yarn: LB WoolEase in Heathered Grey
Needles: #5 DPN's, aluminum
Cast on: January 1st, 2006
Cast off: January 8th, 2006
Helpful hints: I emailed Bobby for the reccomended foot length, and he gave me this link
http://www.needletrax.com/SockSizeAnalysisPage2.html
These are cozy socks, and the pattern was well written.
Also, I just got this in the mail yesterday: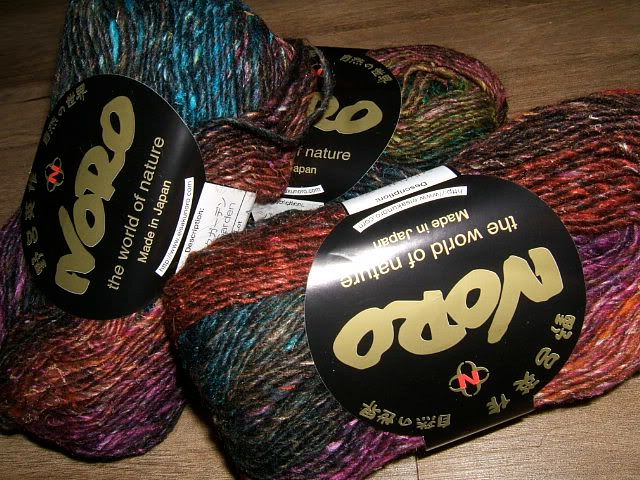 Yup, that's right, I'm making the multi-directional scarf for myself. This is color #211, which I think is by far THE best color Noro has put out. Ever.
This yarn was purchased from eBay sellar
Yarnbow
. They have the best prices that I've found. Including shipping, this cost less than what I would pay at my LYS back home. (!!) So I know you needed the encouragement. Go. Buy more yarn.
Also, (because I can't have enough Noro) I am working on
Edgar
: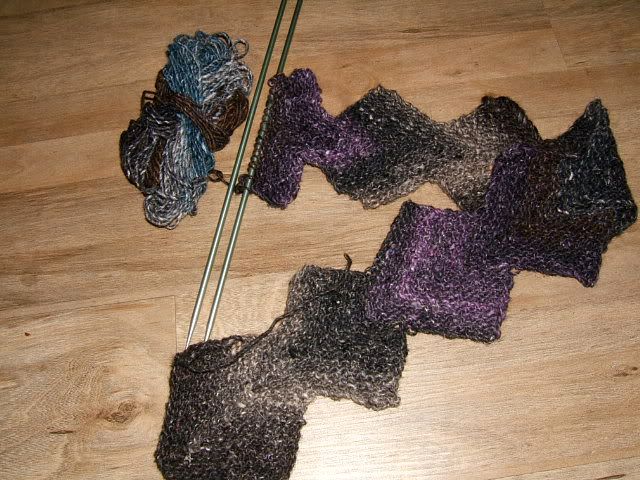 This is color #201. I love this colorway (although nothing can be better than #211!), but was very dissapointed. The first blue repeat was left out (there was a knot!!), so this scarf will only have blue on one end, and not in the middle.
Since I know everyone's here to gaze at the yarn, here's a nice shot:
Now the real question is this: Silk Garden says "dry clean only". It's made up of 45% silk, 45% KidMohair and 10% lamb's wool. I'd really like the edges to be perfectly pointy and not twist about. Can I block this? Hmm.