Well, I've decided to plunge headlong into the madness. Most of you are aware of the Yarn Harlot's
Knitting Olympics
. I considered it for a few days and have finally determined that I will participate. Here are my choices, project wise:
Picovoli
because I've never knit a sweater
Hourglass Sweater
because it's a little cold for Picovoli, and I look best in boat-neck sweaters with waist shaping
Embossed Leaves Socks
, because I've never followed a chart
I'm leaning towards the Hourglass Sweater...I think....
What do you think?
I've already attempted to post about this twice, but both times my computer had a fight with the internet and lost. Hopefully this time I can actually tell you about it. *Ahem*
Here is the slipper in all it's hugeness. I'm showing it the hot dip it's about to take. Somewhere I read that people add vinegar and dish soap, so I just went along with the crowd. A squirt of this and a splash of that, along with the washing machine set on HOT.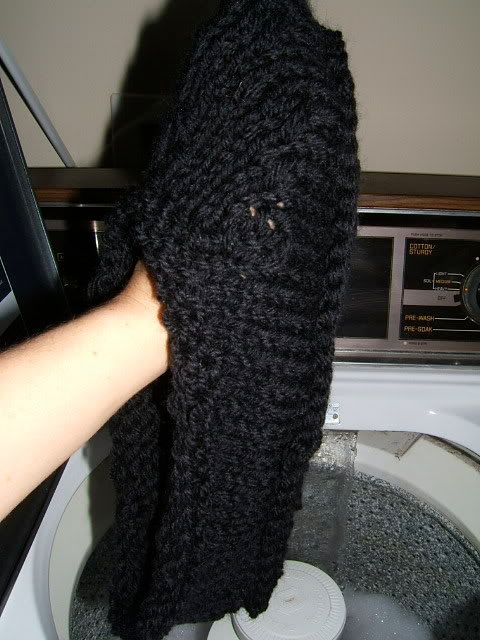 Here they are together, pondering their possible demise (ok, so maybe I was stalling a little, and decided to take gratuitous pictures of the event)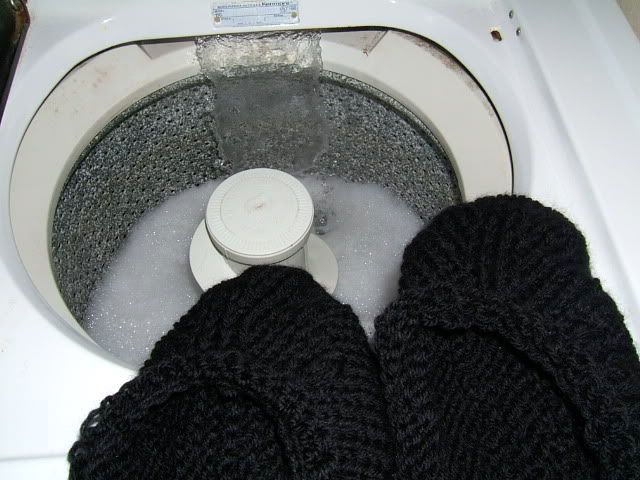 I threw them into a pillowcase (which turned out to be my white Ralph Lauren one, but who can think at a moment like this?), and rubber-banded it shut so that I wouldn't have fiber clogged pipes.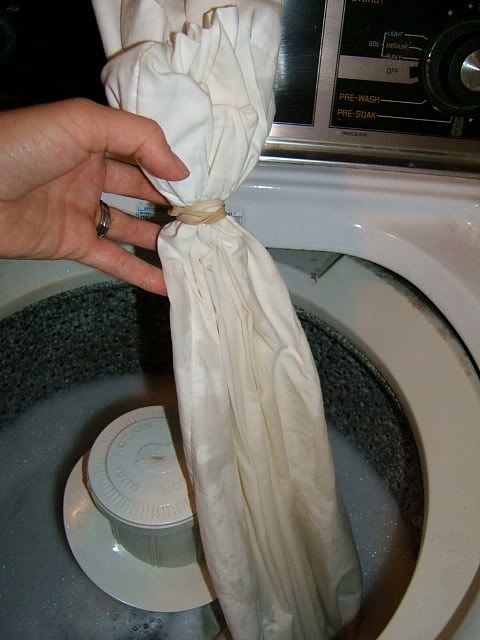 Here is one of the slippers after only about 4 minutes. Remember this when you go to wash your sweaters!!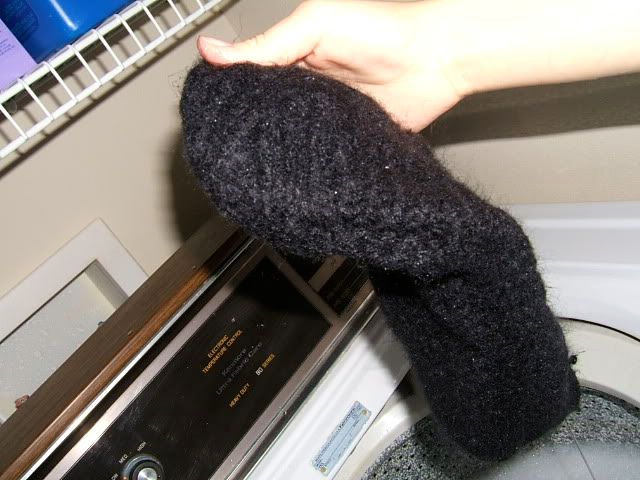 After a spin cycle to get all the water out, I set them out to dry. They needed a little bit of pulling and prodding to get them to match, and they'll probably need a little more, but that's it! It was quite simple. Now I just need to coat the bottom with some rubberized stuff from Lowes, shave all the fuzziness down, and they'll be ready to hit the mail!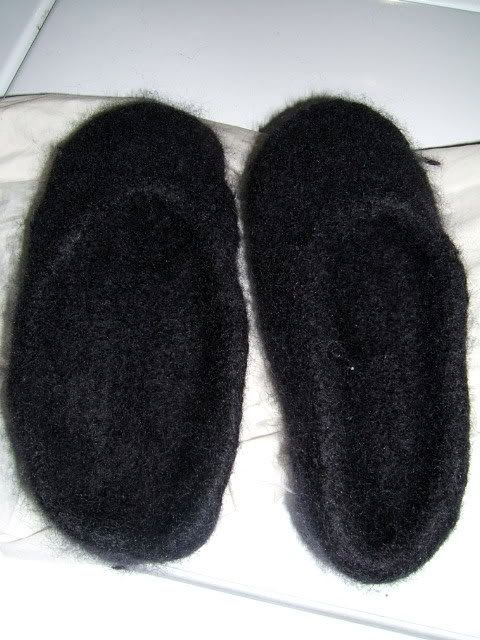 Pattern: Mohair Ballet Slippers from Felted Knits (Interweave Press)
Needles: #15 circulars
Yarn: Brown Sheep Nature Spun in Onyx (I think!)
Modifications: Since my grandma is into simple and elegant, I didn't use Mohair at all. Instead I held a double strand of plain wool all the way through, and it worked well.
Cast on: January 1st
Cast off: January 2nd
Something I've been forgetting to blog about is this: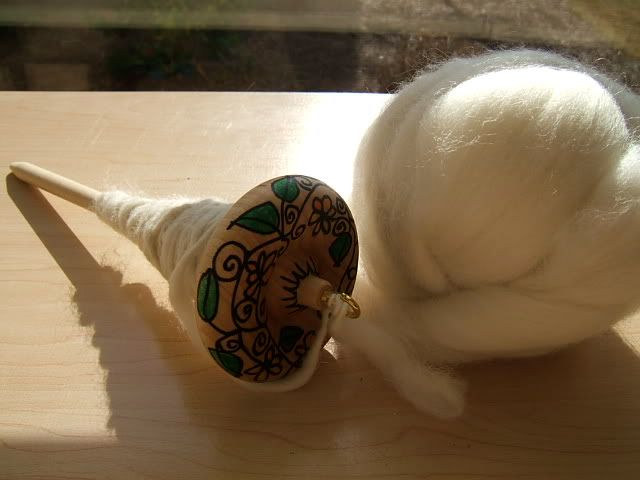 I bought this handpainted spindle and roving from
Annie May
. She got this to me very quickly. Her stuff is affordable, the spindle is beautiful, and the plain wool is super easy to draft. Perfect for a beginner like me!
Also, check
this
out! Yup, It's coming in the mail. I really only bought the spindle to learn drafting, and to be able to get my "spinny urges" played out while I saved up to buy the wheel. If I like the wheel enough, my next purchase will be
this
type. Babe's aren't the prettiest out there, but I like them for the following reasons.
They're lightweight and portable (since I'm moving to Germany in the summer)
They're inexpensive (because what if I don't really love spinning like I expect to?)
They are durable, since they're made of PVC
Some people may consider them to be not a "real" wheel, but for my purposes at this point in my life, this is perfect for me.