I have been woefully neglectful of this blog in the past week, but I think I was a little blogged out from the Olympics. However, I have not ceased to knit!
Here are a pair of socks that I knit for my toddler, Sparky: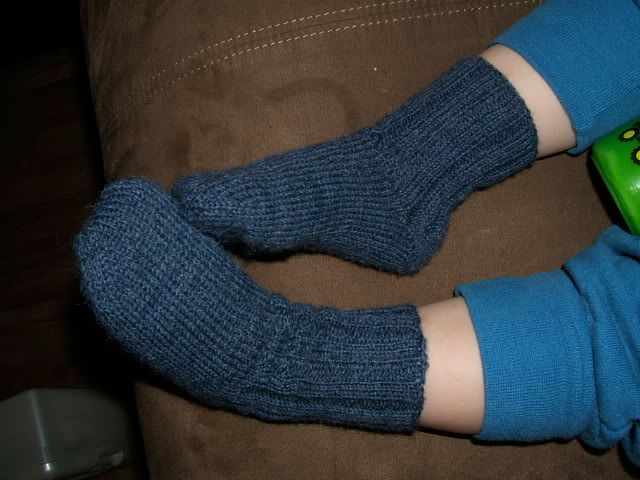 Pattern:
Toddler Socks
by Amy Boogie

Cast on: February 26th

Cast off: March 6th

Yarn: Knit Picks
Essentials
in Dusk

Needles: Aluminum DPNs #1

Modifications: The toes were turning out too pointy for me. I like them to follow the contours to the foot more, so I knit the foot a little longer and stopped the decreases at 20 stitches (instead of 12), and graphed them together.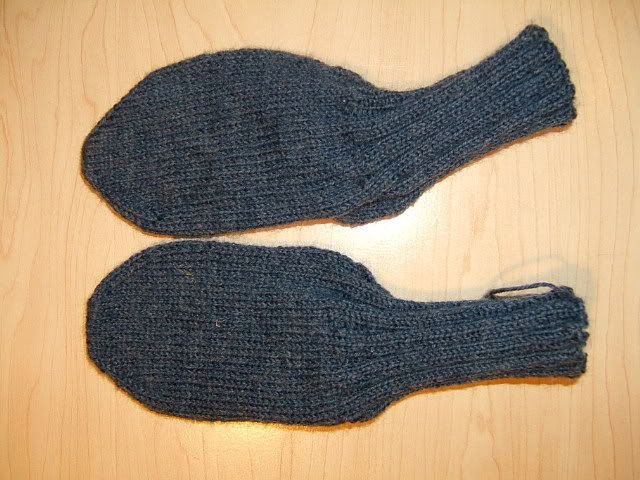 The sock on top is the one that was too pointy.
Sparky LOVES these socks. He's been wearing them all day. I've already cast on for a second pair. These will be a toddler version of Ann Budd's Diagonal Rib Socks (women's pattern available to subscribers on the
Interweave
site).
When I went to the mailbox yesterday, I got a package from
Sharon Hurlbut
. This is what she sent me as a thank you for hosting Team FS. (!!!) I almost shrieked when I opened it!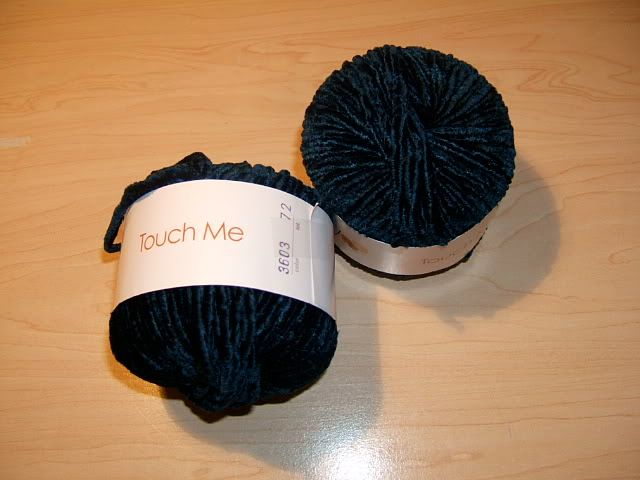 Does anyone remember when I was
talking
about "Touch Me"? Well Sharon does. I can't believe how thoughtful she is!! And it's in my favorite color, blue. Not just any blue either, but a deep turquoise/peacock blue. It's a blue that actually looks good on me! Thank you thank you thank you! I don't even know what I'm going to do with it yet, but if I can just rub it against my face from now on, I'll be just fine. Probably this is going to be a scarf, because I couldn't bear to do anything else with it. OH. MY. GOSH. Hold on, I need to go rub it again.
Ok, I'm back.
Off topic completely, but this just came via FedEx: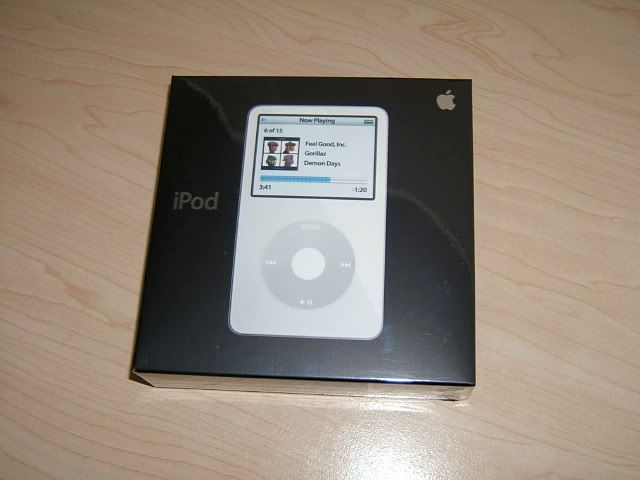 My husband bought this 30G iPod for me with part of our tax return. I am so excited!!!! My CD player broke in my car (well, it got a penny in it. Ahem. Sparky does interesting things with his spare time.), so this, along with an FM transmitter, will be even better. I almost never used the CD player anyway, since it would mean lugging around a case of CD. Goodness knows I already travel with enough baggage. (Babe in arms, toddler to prod, knitting bag, diaper bag, pocketbook, and etc.)
This is the first month of
Project Spectrum
, and you probably thought that I'd forgotten. Well I have not! I have been in the pink and red! This is warm-ups for the
postcard swap
:
Click to see a larger image for better detail.
I am really loving this new little phase of mine in card-making. It's so satisfying, because it's little pieces of art that can be easily sent to someone.
My newest thing (the ones on the far left and right) is "painting" with a cotton ball or Q-tip rubbed in scrapbooking chalk. I've mostly just used ink before (see the two center ones), but chalk has a totally different feel to it. Very soft. It also lets the inked image show through, which is cool. Better than markers for coloring in a stamped picture (at least for me).
Also in line for this month is a Knitted Babe. I'm waiting for an order from Knit Picks so that I can begin. It should be here this week though. Itching to cast on...