The new
Crochet Me
is live! The spring issue is all about Amigurumi. I'd never heard of this Japanese style creature/doll until just this morning, but now I want one! (Well, of course!) The only snag is that crochet seems to hurt my hands more than knitting does. I think I'm going to have to figure out a way to cope though, because these are seriously awesome! There's a
tutorial
for creating your own too, which is key.
I love making stuffed animals -- I don't do it a whole lot, but it's a great, quick and satisfying project for me. I've got two bags of stuffing, and two eager little "toy testers", plus it's a great stashbuster.
Remember when I said that I was going to scale down the Diagonal Socks (downloadable pattern from the Subscribers Only section of Interweave Knits)? Well I cast on for a 52 stitch sock a few weeks ago, and was happily working along.
Something I discovered is that when working in the round, if I wrap my purl stitches under instead of over (as in
combination knitting
), I get perfect ribbing, but still get to execute my knit stitch at top speed. (I'm a little slow at knitting through the back loop when practicing true combination knitting.)
I was loving this little sock until I showed it to my husband. I must mention that he is always terribly supportive of my knitting, and takes time to appreciate what I'm doing, ask intelligent questions about it and listen to my endless fiber tales. Anyway, he turned the knitting over and over for a few moments, and then finally asked "what is this pattern stitch supposed to be?" He really couldn't see it. Once I pulled on it and looked at it for a little while, I realized I couldn't that much either. Heathered yarn doesn't work with a detailed, subtle diagonal rib in fingering weight yarn. Point taken. Rip.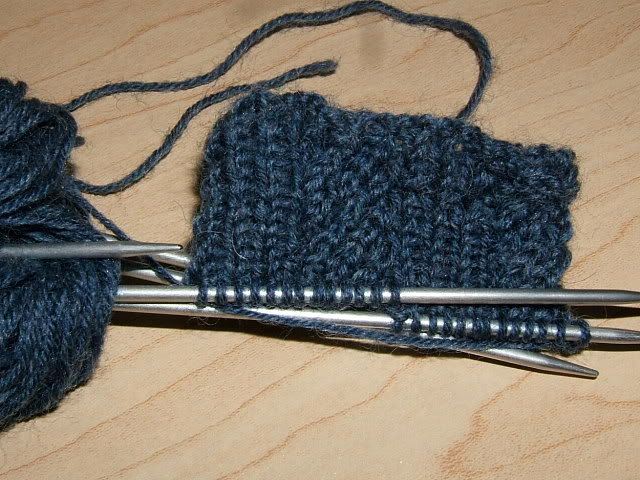 Currently on the needles: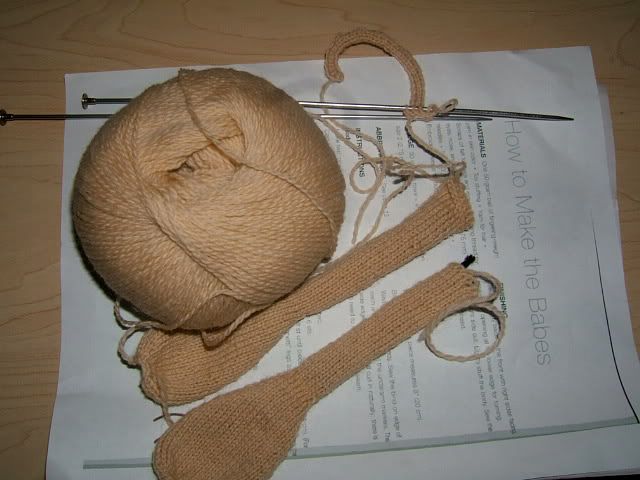 The
KnitPicks
wool finally arrived! I bought a bunch of the
Palette
colors, and it's so fun to have so many colors to work with. I'll have to place another order to get the blues and greys. Really, I should have just bought the whole Palette box, because...well, I'll probably end up with every color in the end. Ah well. I'm almost done with this babe. Can't wait to start making the clothes! I plan to go out to the craft store today to pick up a few more fabric pieces.
The perfect thing to listen to while knitting a Babe:
CraftSanity's
latest interview with Claire Garland, author of Knitted Babes.