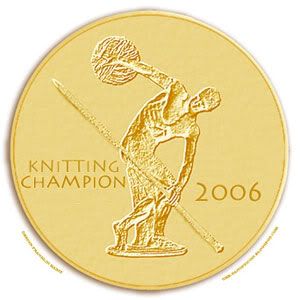 And the winners are....
Heather
for Most Interesting Picture - Fiesta La Boheme, plus a little extra something yarn surprise from me.
Sharon Hurlbut
for Cutest Picture Set Ever (plus, she knit four sweater! Four!!) - Lorna's Laces and SWTC Bamboo from
Amy.
Names chosen from random number generator:
Karen - Sarah's own handyed LB wool.
Nancy - GGH Cadiz from
Sharon.
I'm emailing the winners to make sure they know. The winners can email the person who has the yarn to give their snail mail addresses.
Congratulations to everyone who finished, everyone who competed, everyone who challenged themselves to do their personal best.
I'm sure everyone's already done this, but make sure you check out
Stephanie's
blog to get your gold medal, and even if you didn't go gold, enter in the prize drawing and get your certificate of participation.
Yesterday, I was looking at my multidirectional scarf, and although I've been wearing it since casting off, I'm just not happy with it. I called my sister Grace to see how many full length triangles are in the one I knit for her, and she said there are 8. I mine there were 6 (because it grew so fat in the end, it was eating up more yarn and I was only able to get that much length out if it).
I'll let the pictures tell the story of what happens next. (Thankfully I was listening to podcasts to numb the pain -- otherwise I may not have been able to...)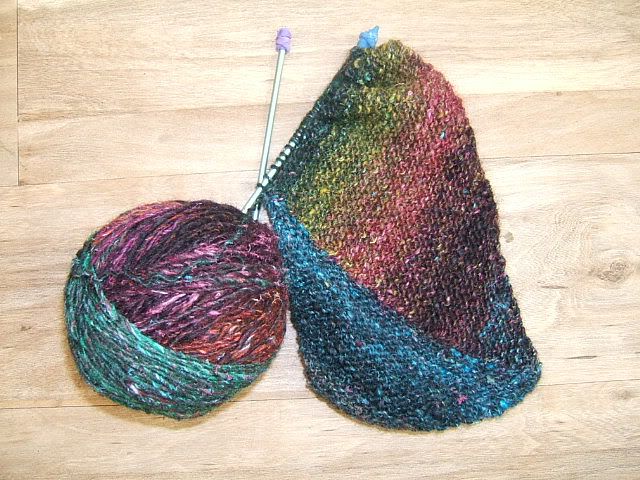 I will have a perfect scarf.