I was at Big Lots the other day, looking for some yarn, when I came across stamps and ink pads for two dollars a piece. $20 later, I was happily strolling out of the store (actually, it was kind of rough going because Max started wailing at the check-out line, Sparky almost had a melt-down but I averted it with Chex-mix...) with 4 stamps and ink pads in 6 lovely shades. I felt like I'd hit the jack-pot!
This purchase made the creation of this thank-you card super easy. Stamp and then smear with ink! Well, and a few paper punch-outs. I was very pleased with myself. If anyone tells you that the only kind of ink you can use for Dirty Scrapping is the special Antiquing kind, they're wrong. This is the dirt cheap, regular stuff, and it worked fine. Also, smearing things with ink is every child's dream! (Or at least this one's!) My mom never let me play with the inkpads, so I used to "sneak" my fingers in from time to time and make prints all over things for fun, or use the address stamp on things that didn't need to be addressed. Now I've got ink of my very own that I can smudge things with to my heart's content. ~sigh~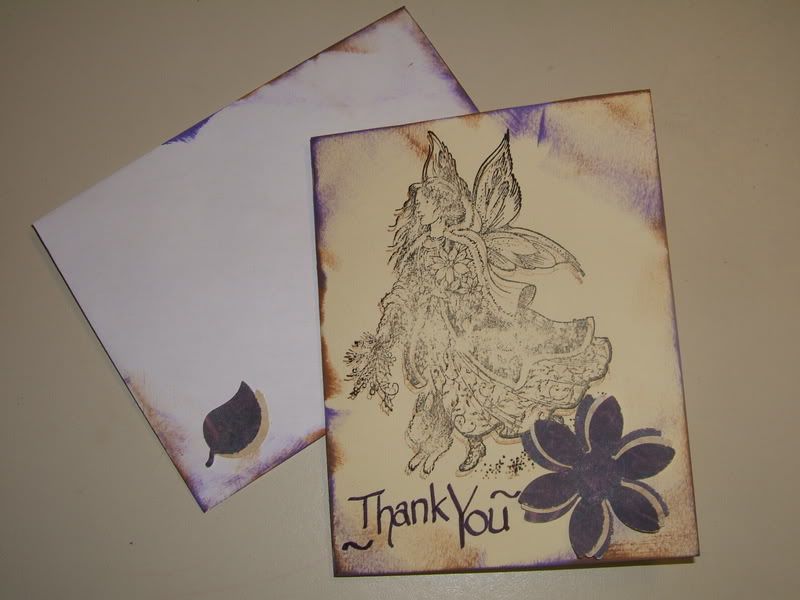 Two days ago, I decided that I was completely fed up with carrying around my knitting in a plastic grocery bag, so I stopped at Jo-Ann fabrics (clearance on tons of fabrics!) and bought this lovely pink, asian inspired brocade. The other two fabrics I already had on hand (leftovers from maternity clothes I made two years ago). Started working on this bag (based on pattern in Stitch N Bitch) at around 10pm, and finished at 2am. I was exausted, but had this great bag to show for it. It's huge and houses at least two projects comfortably. The button at the top is just knotted fabric, and the button hole is a loop. The main body of the bag is made up with two layers of the grey; the inside lining is sewn into different size pockets to house things neatly. The patch is a graphic scanned in from the book, printed onto iron-on transfer paper, then ironed onto some cream striped fabric. This was fun to make, and I'm so relieved to now have a neat, colorful way to carry around my stuff.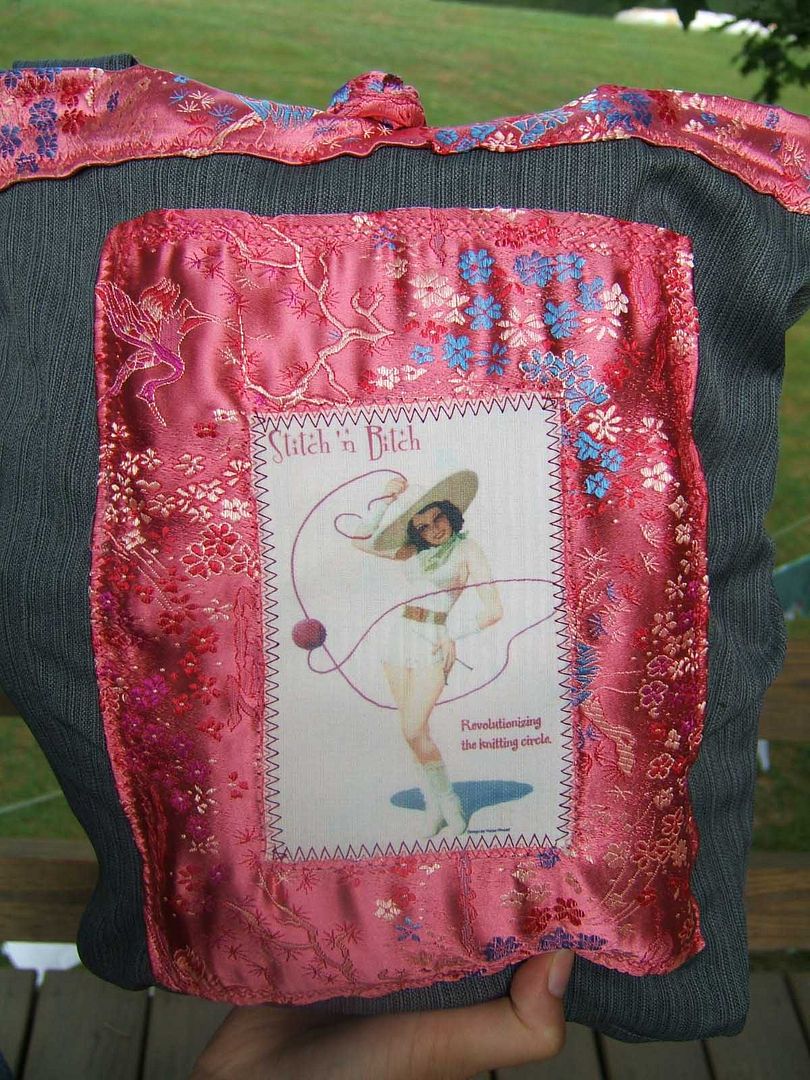 Pattern: based on DIY Tote from Stitch N Bitch


Yesterday morning I finally completed this baby-sling, which is the most comfortable one I've made so far. It's an embroidered pink linen blend, which wicks away sweat and dries quickly. People may think that I'm carrying a girl around in it because of it's color, but a sling is a fashion accessory for me, as well as a way to carry my baby. My favorite color happens to be...well, need I say it? So that's the color of this particular sling. And I am fond of it.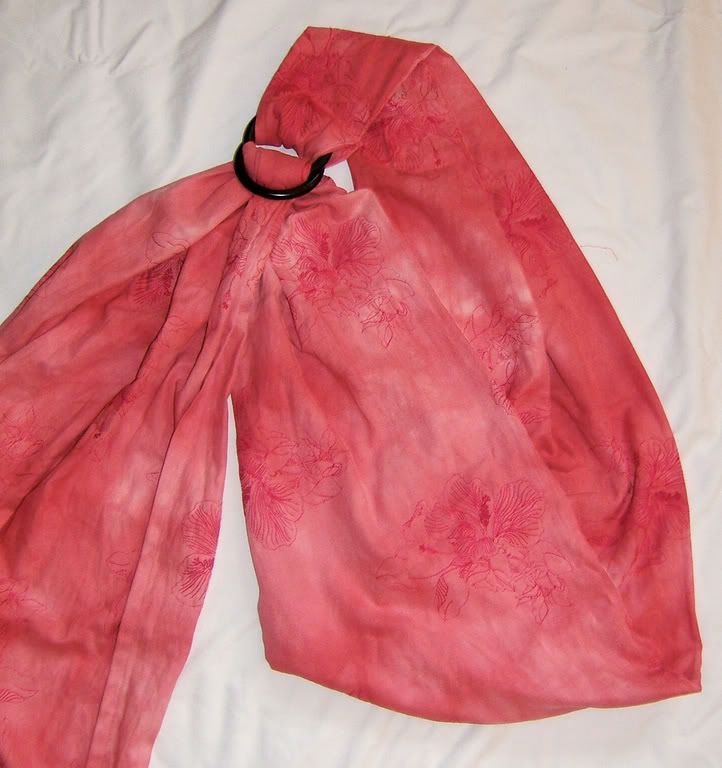 Find pattern here
Buy sling rings here (more color choices) and here (less expensive)
I crocheted this dress while I was pregnant in case my baby was a girl, but since that little person turned out to be Max, I'm giving this to one of his tiny little cousins, who was born a week ago. I just sewed the buttons on the back of it today on the ride to Binghamton. This was made from a free pattern I found online, and was created in....well, it's babyweight acrylic. (Hey, I made it "back then"! What did you think it was going to be made of?)
Pattern: Crochet Infant Sundress
Yarn: Bernat Fingering Weight (I think?), 100% Acrylic
Notes: I wouldn't use this yarn again because it's totally acrylic, but it did feel very nice and soft. It also washes well, but sadly, acrylic just isn't as warm and comfortable as natural fibers.

When I first started to crochet, I bought only 100% acrylic because a) it was the only kind of soft, worsted weight yarn that I could find at Wal Mart and b) because I didn't want to spend a bunch of money on something that I might not be good at, and c) because I had no idea how much amazing, natural fiber is out there. I know now. So my entire stash (which I'm almost ashamed to say was nearly all acrylic) has now been unloaded upon my little siblings, who are learning to knit, and are each taking a skein and a set of needles with them on vacation for the long car trip. (A few skeins are getting mailed to Israel for my cousins, who are also learning to knit -- my grandma was just there, and when she decided to teach them during her visit, the knitting bug bit hard.
Something I noticed about acrylic, which lead me to get rid of it all is that now, in the humid summer weather, the yarn sticks to my hands and my tension is all off. I cannot knit consistant rows with the stuff right now. It's SO frusterating. I was going back and forth between the Monkey Backpack (all acrylic) and the Kitty Hat (yarn is 75% acrylic, 25% wool), and the Kitty yarn was just so much more enjoyable to work with. I noticed that I was putting off working on the backpack. Then I started reading Elizabeth Zimmerman's book Knitting Without Tears (which I recomend to anyone -- to those of you who knit for inspiration and humor, and to those of you who don't to understand those of us who do -- it's still interesting anyway!). As I read I realized that the reason why I knit is not just to have a finished project. It is to enjoy the experience. The click of needles, the soothing feeling of yarn encircling my fingers and smoothly running up to the fabric, the feel of brand new rows cascading down as the work grows. Acrylic just wasn't doing it for me anymore. I could feel it coming on: Yarn Snobbery. Yes, I am knitting a hat made out of partial acrylic, but the addition of wool to the mix makes all the difference. Probably fairly soon I'll be telling you that I've sworn off all man-made fibers entirely and submitted completly to the title of Yarn Snob. But I'm not looking back. Even if it means that I can't work on as many projects because of the cost of the Real Stuff, I feel it's completely worth it. So that's my story and I'm stickin' to it.
*NOTE: I have given the backpack pieces and pattern to my little siblings. The gusset is has about 10 more inches to go, and then the straps need to be knit. After that it all gets sewn together and lined. So perhaps it will be completed after all. I know that my 7 year old sister had her eye on it and would love to have it as her very own, so perhaps my grandma will take pity on her and complete the project herself...or maybe I'll lay aside my snobbery for a moment and help out myself, who knows? I think that I won't though. Let someone else do it. Give me wool!