Have you heard? It's
NoroVember
! Nope, I don't need another project on my needles, but let's just not think about that, ok?
I need a little help. I've got two skeins of Noro Kureyon #170, my new favorite colorway.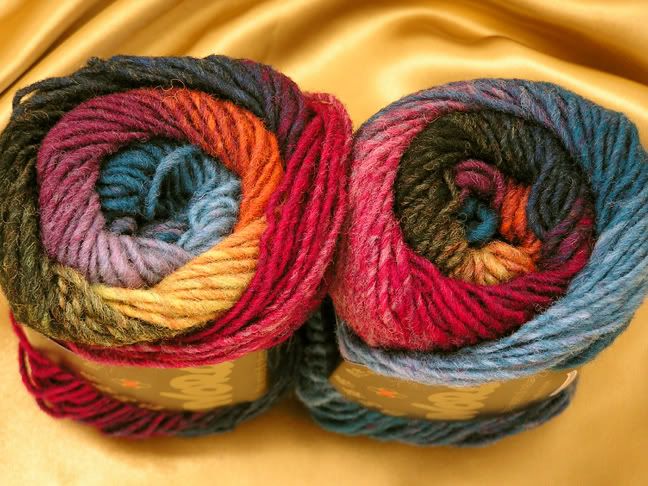 This pic is borrowed from my fav eBay yarn seller, Yarnbow, since I couldn't hope to get the same picture quality and color. Click the yarn to get to their store. (Best prices, immediate shipping, awesome customer service. I don't mean to enable, but I can't help myself. Actually, you might not want to click. Well now I've warned you.)
Really, I'd like to buy 10 skeins of this and knit
Lady Eleanor
, but I don't want to spend the money on it right now. Can't really justify it since I'm still paying off the Lendrum, saving up for an Ashford Knitter's Loom, and have enough yarn to knit many pairs of socks and at least one shawl (not to mention Kiri shawl and Liesel Lace Leaf scarf, which are currently being ignored on the needles.) Certainly enough to keep me busy for a very very long time, and on top of that, I've got a bunch of fiber that I can spin
into
yarn, so no, there's definitely no need to buy anything else right now.
Here are my choices for what to do with these two:
Danica, and entrelac scarf from Knitty (the closest I can get to Eleanor -- maybe I could even fringe it similarly?)
Hurry Up Spring Armwarmers from Stitch N Bitch Nation
A simple cable and rib hat (similar to Sparky's)
Something I haven't thought of?
I considered the Mistake Rib Scarf that my (quiet) blogging partner Sarah knit up a while ago, but I cast on for that once and got frusterated because somehow I couldn't remember which side I was on. There was also the beautiful net crochet scarf she worked in Kureyon, but I want something a little warmer, since it's getting pretty cold here. I've also thought about knitting an illusion scarf with a contrasting color, but I really don't want to buy any more yarn. I have limited myself to just these two skeins for the knit-along. So what do you think?
This is my current progress on the Wallaby sweaters. All four arms are finally knit up, and I started on Sparky's sweater body. Unfortunately, when I laid it out to photograph, I found that I had inadvertently knit a Moebius. I thought that was a difficult and mysterious thing to do, but apperently all you have to do is twist your cast on when joining in the round. Ahem. If you're looking for me, I'll be quietly sobbing on the couch, ripping out 2 inches of body, 2 inches of hem, and a crochet provisional cast-on.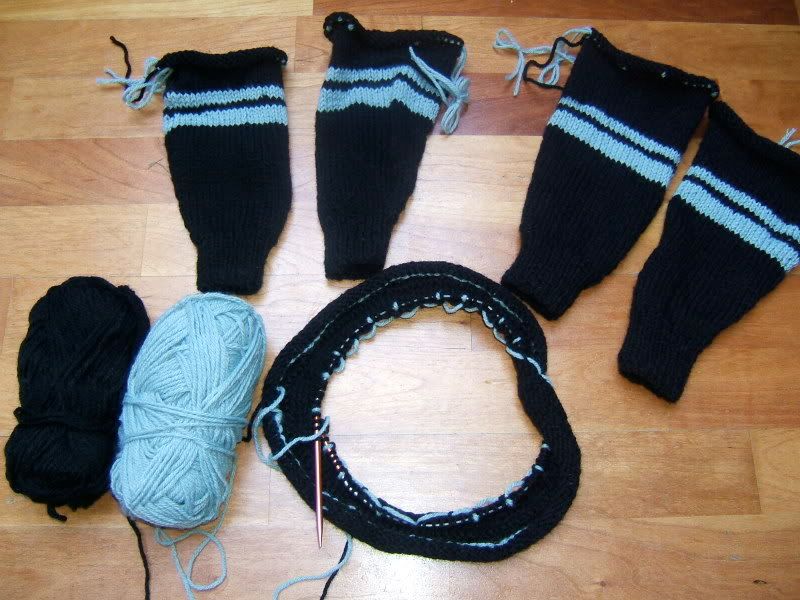 (Note to self: always cast on BEFORE the movie starts.)
Non-knitting content follows if you're not interested in movies or a German Adventure, feel free to skip:
Last night Mr. FiberFlash and I watched Lucky Number Slevin (the culpret of the unintentional Moebius). I had never heard of the movie, but it turned out to be very good. The plot was tight and engaging. We both enjoyed it muchly.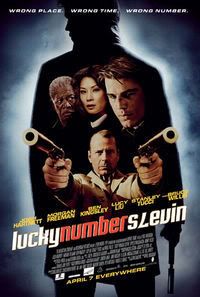 To read a little bit about it, go to the
IMDB
. To read a lot more and spoil the plot for yourself, check out
Wikipedia's
description.
Really though, anything with
Josh Harnett
,
Lucy Liu
,
Bruce Willis
,
Morgan Freeman
and
Ben Kingsley
has got to rock. (If violence and sex are a turn off for you though, you may want to skip this one, as it has elements of both.)
This morning I was feeling much better, so the boys and I set off on our usual little shopping adventure. Strangely, the street was quiet. There were almost no cars on the road, and the sidewalks were empty except one man walking his dog. We went to the whole food store first, and then the bakery (both only across the street, thankfully) but they were both closed. The produce stand was also closed down. I couldn't find any signs in the windows to suggest what might be the cause. I'm guessing it's a German holiday of some sort? Can't figure it out. We finally went over to another bakery, also across the road, which we've never visited. They have a little cafe (as do most), so I ordered pretzels for the boys, and a cup of coffee for myself.
To make my coffee, the lady pushed this button on her machine, and it ground the coffee, then brewed my cup, just for me. It had a layer of crema on top (that caramel colored foam that naturally tops a well brewed espresso), and was thick, dark and rich. In the States, we would call it a cup of espresso, but here, apparently that's just plain coffee, served in a regular sized mug. Very interesting. It was quite good, but since I haven't had caffeine in so long, I'm totally feeling the buzz. (For those concerned -- pregnant women are advised that it is safe to drink up to 2 cups of coffee a day, so I'm safe.)
In Germany, when you sit down at a table in a restaurant, it's considered yours for as long as you choose to be there. No one rushes you or imagines that you'll leave soon. In fact, if there's room at your table, another patron may even ask to sit with you (which you can refuse if you'd like), since there's a possibility of a long term unavailability of tables in a crowded place. The boys and I camped out in the cafe for about a half-hour, while Sparky stared at the table next to us where there was a lively conversation going on in German between four older folks, and Max jumped up and down in his chair and looked out the huge glass store-front. The people at the nearby table kept smiling at Max (I think he was making faces at them), and talking about him, but they could tell that I couldn't understand them, so I'm pretty sure that they also discussed the fact that I was pregnant too (I could just imagine "and a third on the way! Oh my!"). Or maybe they weren't at all.