On Thursday night I stayed up late, working on Sparky's skully sweater. I got all the way to the ribbing, but then was somehow unable to pick up the correct number of stitches for the hood. Mystified after about 3 tries, I decided it was time to go to bed. No one should try to count several hours after one is usually safely tucked into bed. The next morning brought two revelations. Number 1: I had not decreased to the correct number of stitches, and had started the ribbing prematurely. This made the gross over-count of stitches suddenly make sense. Number 2: after trying it on Sparky... well, let's just take a look together, shall we?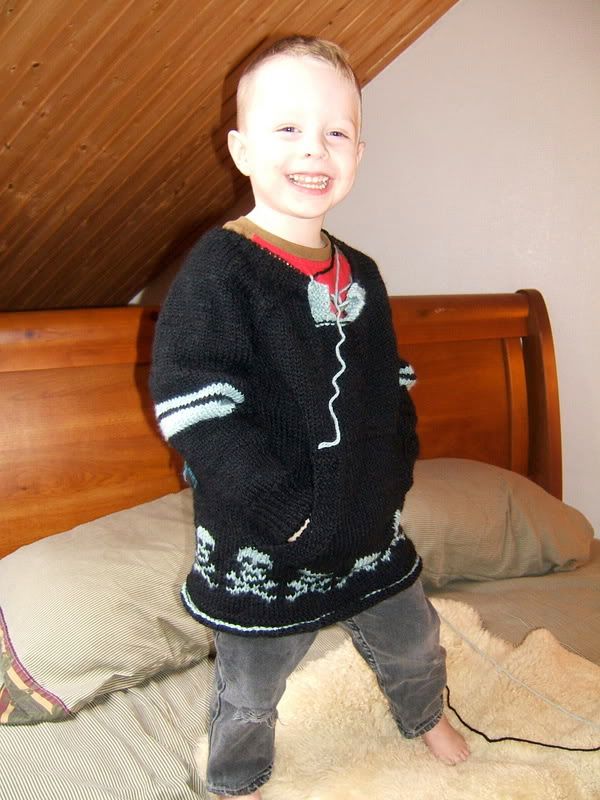 Although he can't help but look terribly cute in
anything
, it is pretty much a tunic. No good. I wanted it to be oversized, comfy, cozy, favorite-sweatshirt-sort-of-thing, but this is just plain way too long.
After much consideration and presenting the matter to Mr. Fiberflash, I have decided on two courses of action that must be taken. Action #1: rip back down to the bottom of the placket -- I hate the light blue, because it reminds me too much of a hippy-tunic-deal. I just has to be all black. Which means the hood is going to have to be black, I think, and that's unfortunate, because light blue looks way better against Sparky's face. Action #2: Rip up from the provisional cast-on and get rid of the skull-and-crossbones motif, because it just makes the thing too damn long. I could just rip the sweater down below the armholes and take out a few inches there, but the trouble is, the pouch pocket currently occupies
exactly
the right spot, so there's nothing else I can do.
So now I have two questions for you, my reader. Should the hood be in light blue or black? The placket head opening is in garter stitch, and might look best if it continues in the same color around the entire hood. (The edges of the hood are garter stitch as well.) The other thing is the skull-and-crossbones thing. I've knit this entire sweater in black for the only purpose of making it "cheesy rock-and-roll" like that. So now I can either duplicate stitch a larger skull motif on the pocket, or else I can do one on the back. If on the back, it'd have to be low enough to not get covered by the hood when the hood is not in use. What to do?
After all of this drama, I didn't have the heart to even touch the project for the past few days. So I spun instead.
(Look! Proof that I've actually used my studio!)
There is nothing like spinning and listening to podcasts. I can't find my earbuds at the moment, so the only thing to use are the studio headphones. The plus side is that I get excellent sound quality. The obvious minus is that I look like a dork. But then, who cares?
On Friday I finally finished up the Berry Pickin' colorway I'd gotten a few months ago from the Spunky Fiber Club, and that felt really good. I had started it when we were visiting our families just before moving here, then spun some at the hotel, so it's interesting how many memories this yarn already contains. I don't know what I'll knit with it; a lacy mini-shawl or scarf, probably, but it will be even more special to me because it was spun during such a transitional period of my life.
Something very cool happened during the plying. Usually, I have a yard or so of singles left on one bobbin that I navajo or andean-ply on itself, depending on the final product desired. Before I began this project, I divided up the roving into 2 as evenly as possible. In this picture though you will see that it doesn't really look like things are going to end all that well.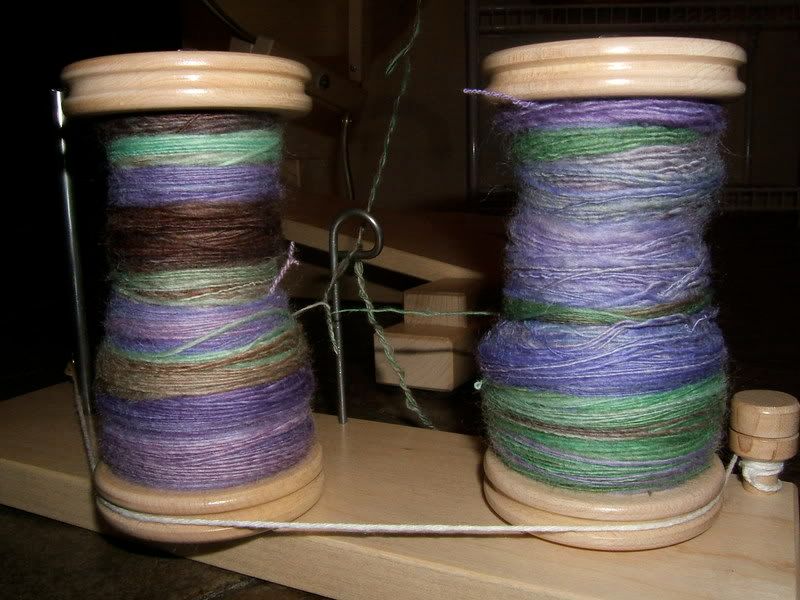 To my absolute shock and amazement, I ended with only a half-inch difference!
The leaders are white on top, and brown on bottom. Not sure how well you can tell from this pic, but I assure you, it. was. that. close.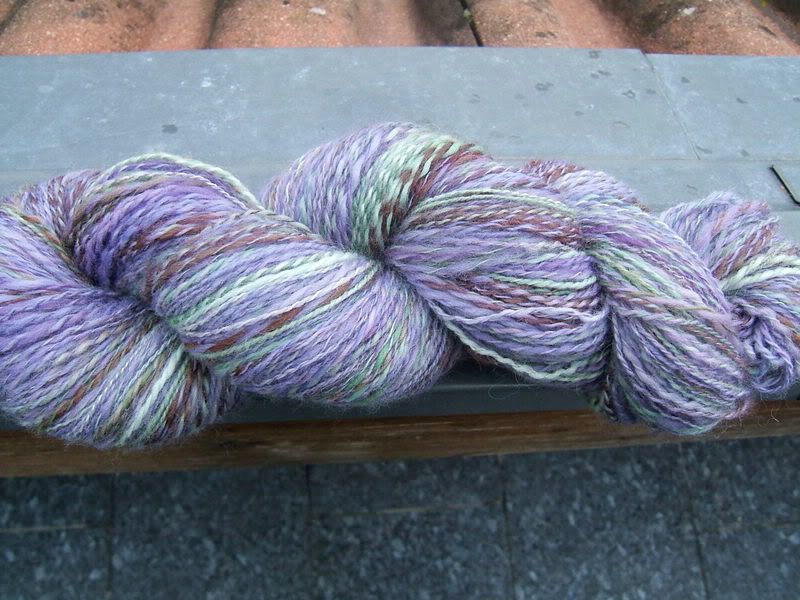 (The color is true in this pic.)
I haven't measured wraps per inch (WPI) yet, but it's somewhere between a lace-weight and fingering-weight two ply. I love it. It will self stripe a little bit, because of the way that I divided up the roving (see all the little fluffy balls of drafted wool on the bench next to me?), and it will be interesting to see how it reacts with different stitches. If I didn't have too many thing on the needles, I would have cast on for something already, out of curiosity.
Then yesterday I pulled out some turquoise batts I had bought a while back, and spun up all 8 ounces (approx 226 grams) into this thick and thin bulky two-ply. It was on and off the wheel in one afternoon, just like that.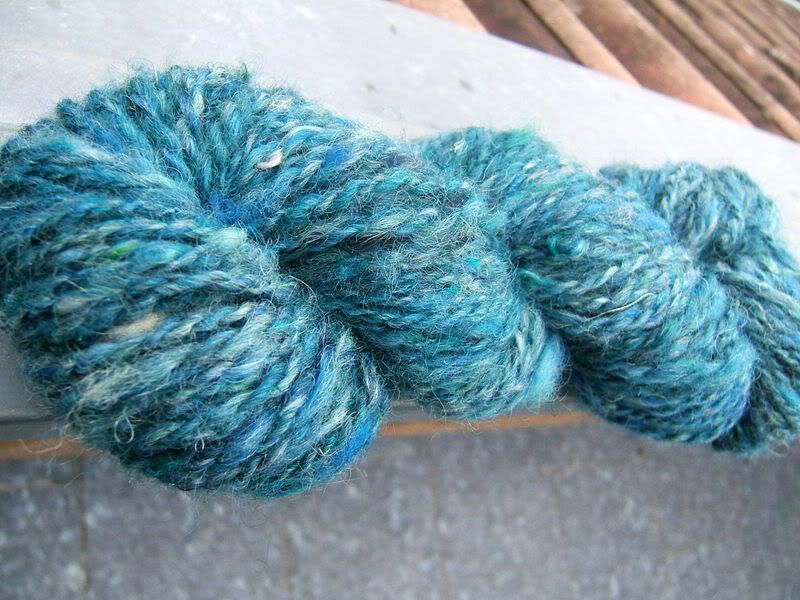 This is my first "on purpose" slubby, chunky yarn, and it makes me quite happy. I would like to try something highly textured. It's kind of a coarser wool, so it'll have to be some sort of outerwear. Maybe a short keyhole scarf that will be worn on the outside of a coat? Or maybe a hat with a soft, cashmere or pure alpaca lining? Not sure yet.
Oh how lovely. Today, I finally was able to kick myself into gear and start ripping and reknitting the sweater. I plan to finish it before Saturday. My sister is going to be coming here for the week of Thanksgiving, and I'd like to be able to show it off. Yup, that's the long and the short of it. I'm motivated by the bragging rights. This sweater is going to be done, and it will be adorable, no matter what it takes. And then....I have the second sweater... (will I be the first person with Second Sweater Syndrome? Why do I feel like I have to get the boys all Matchy-Matchy all the time? Why didn't I knit the arms for Max's sweater in blue with black stripes? So many questions. This baby had better not be a boy too, if only for that reason. Then again, they'll be able to wear all the hand-me-downs...)