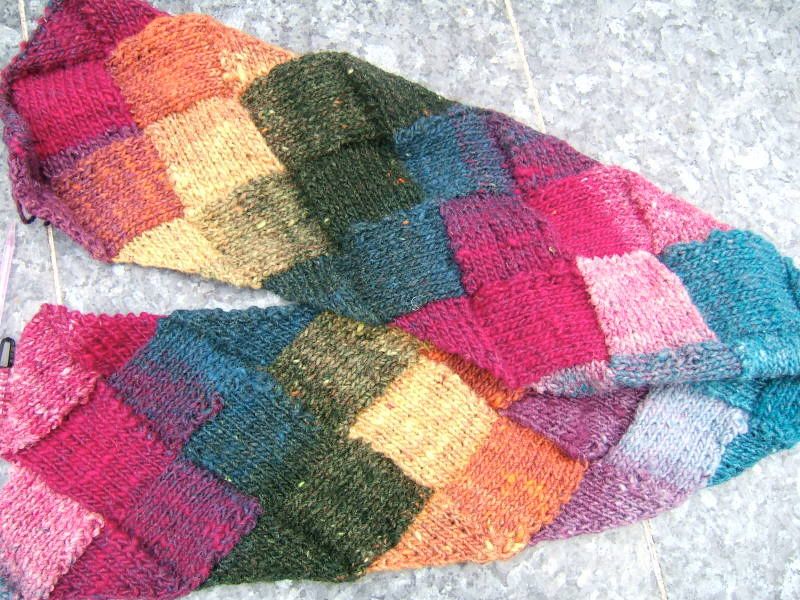 (Once again, all colors are true except the pink, which is not so blindingly obnoxious, I promise)
It's official. I need three more skeins of Kureyon, #170, dyelot A. No doubt about it. Two more skeins will be just barely enough to give me a decent length scarf, but three more will not only give me perfect length, but it will also give me that lovely fringe that I'm dreaming of...the fringe that will truly make this a Mini-Eleanor. So...do I spring for it? I've already called the yarn shop in upstate NY where I purchased the other skeins. They have more, but the owner wasn't there to verify that I could purchase over the phone and have them mailed to me. Fortunately, even if they can't the store is only 20 minutes from my parent's house, and I'm sure that I could convince my brother to go run by there for me and pick them up himself...then go to the post office...he's a great brother. He always says "no", then does it. Better than someone who says "yes" and never completes the task. =) Ugg. So much for the inexpensive, stash-busting project.
Yesterday, I had a huge disappointments. I'd finally gotten around to reading through most of Spin-Off, and was intrigued by the organic article. Maybe it has something to do with being pregnant... I was also looking through my copy of One Skein, and noticed the Baby Bolero that I'd been interested in knitting before. It's knit out of an organic cotton (Blue Sky Alpaca, I think?), and its' all slightly slubby and perfectly gorgeous. Simple. Then back to Spin-Off. I noticed the T-Shirt Cozy in the Tea Cozy article, which was worked up in a handspun organic brown cotton/tussah silk blend (50/50). Suddenly, it all came together. I had to spin that yarn for the Baby Bolero.
I won't be finding out the gender of Tiny until the person presents themselves at their birth, so naturally colored clothing is just so soothing, so calm, so perfect. I love the idea of not worrying about blue, pink, yellow or green. Suddenly those ideas were garish. This baby needs to have their handspun, handknit clothing free of all dye, of all chemicals! This baby needs a cotton blend bolero, because it will be born in spring, and the fabric will be the perfect weight! (I have to admit, at this point I began to obsess a bit and may have gone a little overboard.)
Next thing I knew, I was online, doing a Google search for the blend. Aha! There it was, the exact blend, at
Paradise Fibers
! I quickly ordered 9 ounces (figuring that I needed at least an ounce to screw up on, and then maybe altogether I'd have enough for the sweater and a matching hat). I waited eagerly for the confirmation email that it had been shipped. They almost always mail out orders the same day, so I was confidant I'd have the fiber in hand soon. Then...then...I got an email letting me know that it had been a mistake. The fiber was sold out, and the mill that produced it out of business, so....no hope of any more. Very sad. However, I'm now all about getting my hands on some naturally colored wool and cotton/silk blends (I don't have any desire to spin plain cotton. I don't like to knit with it, and so I feel like spinning it would be a waste of my time -- plus, it's such a short staple that it takes a good deal of practice, from what I've heard.) So if anyone knows of good distributors, please let me know.
I love tan, brown, cream. I found some beautiful dark chocolate Blue Faced Leicester (pronounced like the man's name "Lester", in case you would like to say it out loud) on eBay that is calling to me from The Copper Moose. They also sell some lighter brown, but it's tinged with siverly-ness, and grey is a turn-off to me as far as yarn goes. Not sure why. I knit a pair of grey socks for my grandpa last year, and nearly wasn't able to finish them because I couldn't stand looking at them.
Now that I've run out of the Noro, progress on the Wallaby sweaters has resumed.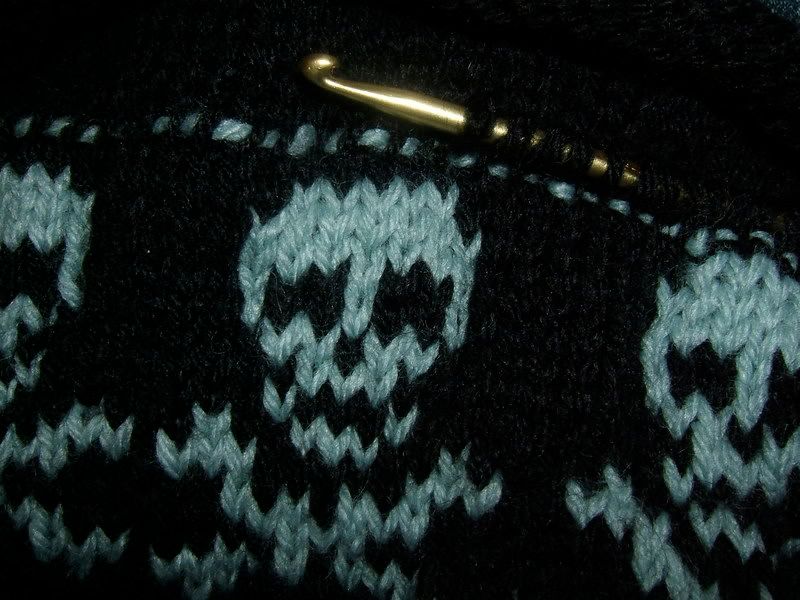 Here I'm doing something pure genius, yet I can't claim any of the smarts for it. I read in the
Wonderful Wallaby FAQ
page. In the pattern, it directs you to knit about 4 inches past the ribbing edge, (the sweater is knit from the bottom up in the round), then use a crochet hook to pick up stitches along a particular row, just where the stockinette begins. Now I'm using black yarn, so I was concerned about being able to see properly, plus, picking up that many stitches (50+) can be quite a job! On this FAQ page, I read that you can run a contrasting yarn through the stitches that you will eventually pick up
while they are still on the needles
. Then knit up a few more inches, and when you go back to get those stitches: no problem! They're marked! Incredible! This made me more happy than I'm willing to admit.
Last night, while waiting for my podcast first to save in Garage Band (1/2 an hour), then convert to iTunes (another 20-30 minutes), then upload to web (yet another 1/2 hour), I did this.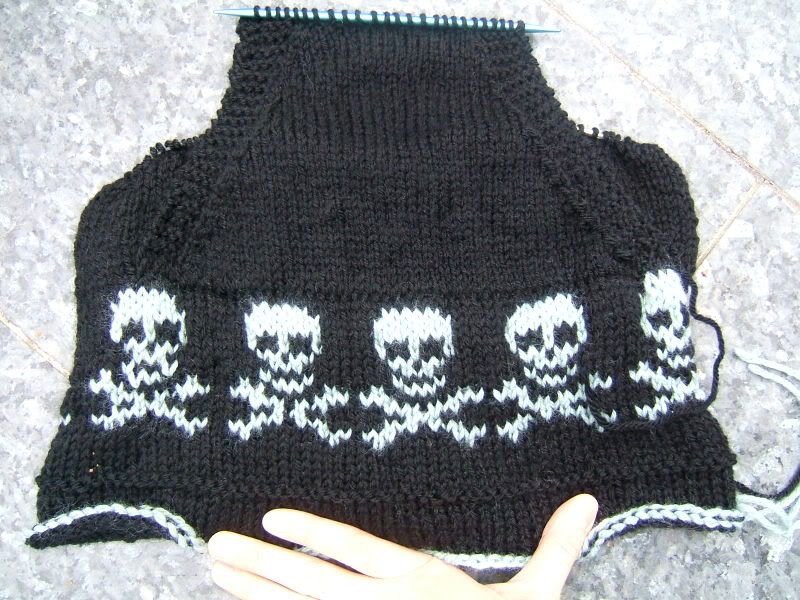 I've worked on it a little more this morning, and the pocket is completed now. I have to knit up to the length of the pocket, before I get to fuse all the stitches together.
Not sure if you can tell in the picture, but after I did a provisional crochet cast-on (not called for in pattern) I've knit the very bottom portion in stockinette instead of rib with a smaller needle. I switched to the larger needle size, increased to the number of stitches as the pattern instructs (at the point after the ribbing where you're to switch to stockinette), then did a row of purl bumps for a turning ridge. This sweater will be hemmed instead of ribbed. I hope it works out, since I've never done it before -- I'm just using some things I've heard and read as guides.
This post is getting long, but I must demonstrate one more product of a pregnant mind:
I got tired of this scarf. It didn't take me long to knit, it's not very warm, and Silk Garden is scratchy, so it has to be exceptionally functional to get used at all, no matter how beautiful it might be. Also, my husband hated it, I could tell.
So this morning, I just suddenly got it in my head to do this: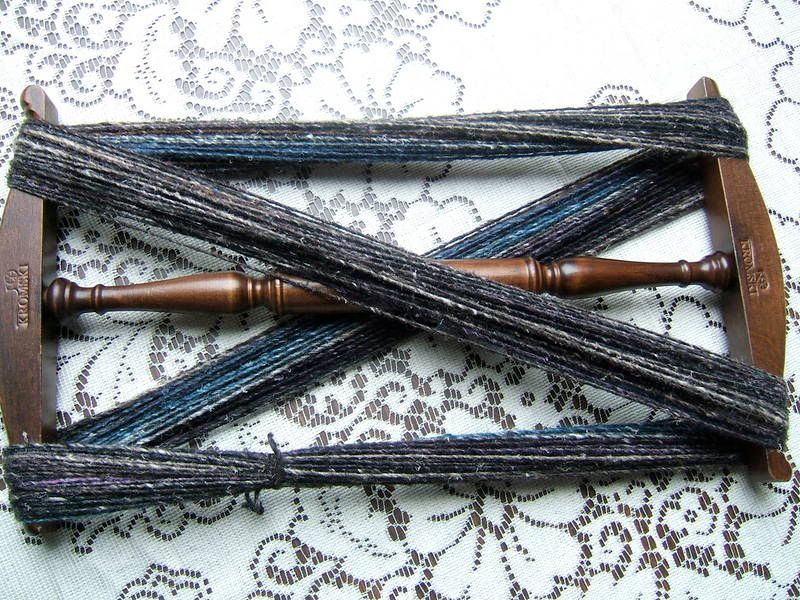 And rework it with the odd ball of matching Silk Garden I have in the stash (what was I planning on doing with it anyway?!) into, perhaps, the Yarn Harlot's
One Row Handspun Scarf
? Not sure, I'll have to think about it. For now, I am pleased. No regrets.