Well, I've taken a week off from blogging and all internet related responsibility, but I will be getting back on track this week (although I have to do some last minute Christmas things before mailing them out next Monday). If you're waiting on an email response from me, give me a few days -- it'll take a little while to dig myself out. =) If I don't get back to you by the end of the week, chances are that your message got lost-in-the-sauce, and you should just write me again.
Also, if you submitted a cooking tip that wasn't used in this past podcast, it will show up in the next episode. If anyone's got more, please send them to me! There will be a new question in the next show.
My Thanksgiving was early, and it was wonderful. My sister Hannah and her roommate Haley arrived on Saturday night. On Sunday Hannah cooked a chicken stew for us, which was great because not only did it taste good (she's an outstanding cook), but also gave me a much needed break, since I've been handling everything on my own for the past month while Mr. FiberFlash has had his Work Overload.
We drank lots of strong coffee, and taught Haley to enjoy the stuff as well (she's Australian, and I don't know if this is inherent to all Aussies, but she only drinks tea -- or at least she did until coming here.)
Monday morning we went out into town to purchase supplies for our Thanksgiving dinner, then spent the rest of the day cooking. We decided to have our dinner earlier in the week since the girls had to go back on Wednesday, and this would also give us a chance to work on the leftovers together in the days following.
The dinner was successful, although there were a few minor hitches. I didn't plan around the fact that my oven is unusually small (probably normal for here -- not at all the size of an average American one), so we had to do a lot of crazy shifting to get everything to work.
In the end, the oven roasted sweet potatoes were a bit crunchy, although flavorful (tossed with a light bacon vinaigrette -- check out the November issue of Gourmet for recipe), and Hannah fried up some potatoes that somehow didn't quite cook all the way through either. The ham was incredible though (normally my brother Caleb cooks it, so this was the first time I was responsible for it -- pretty much you just throw sliced onions on and around it and a handful of whole cloves, then pour a pint of beer over the whole thing. There's a few other steps, but that's the basic idea. The glaze is honey and brown sugar mixed with ham juice, and it is tasty.) Also, I baked up some crunchy/buttery/slightly sweet cracked wheat rolls, which are always a huge hit (recipe in
Moosewood Celebrates
cookbook, from the "Vegetarian Thanksgiving" chapter).
This was our first Thanksgiving away from home (well, I had one when I was away at school, but wasn't responsible for the dinner -- just one dish, so that was different). It was an experience, and...well, it was kind of difficult to decide what it was exactly that made it "Thanksgiving" for us. We were trying to give Haley an American Thanksgiving experience, but I have a feeling that she just got the "Dress up and eat a huge dinner" part of it. I would like to incorporate a few Thanksgiving Things next year, like possibly a time of "what are you thankful for" around the table as we eat, or some such thing. I'd like the boys to grow up understanding what the holiday is all about, and not just think it's a fancy traditional dinner. Some things to think about. Hmm.
In the end though, it was all about being together, being family. And that made it great, reguardless.
On Tuesday we went to Schloss (castle) Heidelberg. Unfortunately, after these two pics my camera battery died and I hadn't brought any new ones, but Hannah and Haley took tons of shots, so as soon as I get them I'll post 'em.
We had quite an adventure getting back. Be sure to listen to the next podcast episode, becuase I'll have the whole story for you then. Someday I'll understand the German ways...
It was incredibly gorgeous though.
Since I posted last, I've worked on Sparky's Scully Wallaby, but now I have to rip out the bottom hem and try again to make it lie right. Even after a thorough blocking, the bottom edge ripples out because of differences in gauge between my plain stockinette and the fair-isle band. My sister suggested just ripping out the bottom inch and reknitting it tighter, which is what I plan to try. However, I've got more pressing Christmas projects in the works at the moment, so that'll have to wait.
This past week, though, was all about me. I had two 4oz batts of this pink/mauve/brown corridale/silk/glitz. I'd bought it very cheaply because the carder informed me that she had put these together before she really knew that much about washing wool. She warned me that it was "kind of sticky", but that it shoudn't be a problem once I'd washed thoroughly.
Before leaving Georgia, I showed the batts to my spinning mentor/friend Kirsten, and she advised that I either give it away or trade it somehow. For whatever reason, I decided to have a go at it myself, so first I spun up a tiny sample skein. As Kirsten had predicted, it was
way
too sticky to spin up properly, and was pretty stressful on my hands (when there's an overload of grease still in the wool, it's very difficult to draft the fiber out). She had told me that my next option was to wash it well in very hot water, but that the process would most likely felt it, making it difficult to work with in a different way. Once again, she was right.
Our water is turned up to 200 Celsius (392 F), so I put rubber gloves on, used dish soap, and tried to wash them as gently as possible. It took about 8 or 9 changes of water to get the water clear (besides all the lanolin, there was still copious amounts of unset dye in the wool -- from the same seller as the turquoise stuff. If you listened to the latest podcast you've heard the story.) Of course, the batts became...gently felted.
I let them dry overnight, then ripped them into strips and drafted them out into a pile of fluffy balls.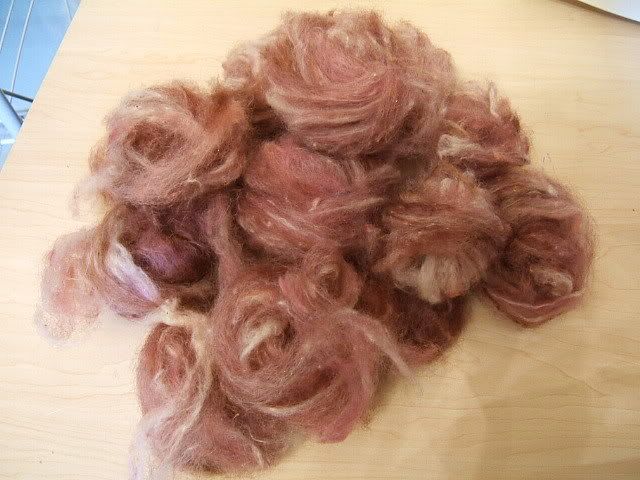 I like to put my drafted little rolls next to my spinning wheel like this.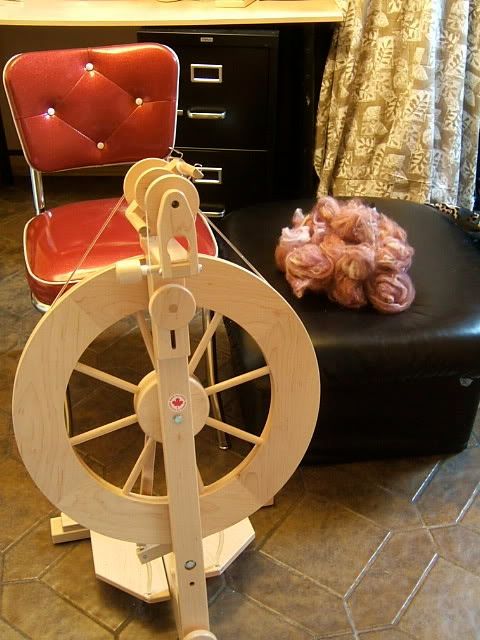 It seems to speed things up, because once I start spinning, I don't have to stop. This also helps if I'm handling color changes in a roving. It gives more control of how the final skein will look.
In the end, the skein didn't look that bad, but it was hard going. An added trouble I hadn't counted on was that the shearer did a sucky job. There were second cuts, which means that there were shorter curls of wool throughout, making it incredibly difficult to do anything purposeful with it. (A good shearing job means that they will pass the shears over the sheep once, getting all the wool in one shot. Second cuts are absoloutely unacceptable to the handspinner. I was not pleased.)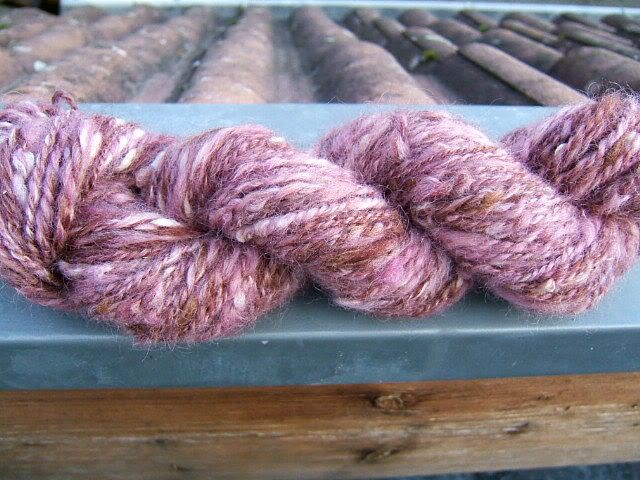 It's definitely not expertly spun by any means. It's one of those "maverick" skeins, where the slubs are consistently there throughout, but certainly not in any kind of order. The "in-betweens" are mostly light worsted. All in all it turned out a bulky/polar weight, from what I can figure. 57 yards total.
I will never buy from this seller again, reguardless of how beautiful her batts may look.
The main problem is that the silk really suffered. There were huge, thick, shiny streaks of Tussah through the batts, but because of the rather thorough washing that was needed, the silk is now fuzzy and sheen-less. I mean, if you don't know what it's supposed to look like, I suppose that it's fine, but
I
know. Now I realize why silk labels usually read "handwash cool or dry clean". Makes sense. So. That's my story.
I finished the Mini-Eleanor. There won't be a fringe on it, I don't think, because it seems to be almost too long already by itself. I suppose that would actually just make it a straight Danica, but I'll see what I think after blocking. Will have pics later this week.
Also, I've been working on a
One-Row Handspun
out of my recycled Silk Garden, which is going well. I'm putting a keyhole in it so that it'll stay put while I'm out in the wind. More details to follow (yes, I'll tell you how I did it in case you want to do the same).
For now, everything is on hold for the week as I attack my Christmas projects. Hints: it doesn't involve much knitting.
If you haven't already, you've got to check out the latest
Adorn
. It's got to be the best crafty mag out there.
I feel a fabric obsession coming on... (Aunt Susie, you may pull me in yet.)