I just had a heart stopping experience. This morning my boys let me sleep in until 8am, and even stayed happy while I took a shower and fixed my hair, so I have felt great all day. While they were having fun playing in the living room, I took the opportunity to record Episode #3 of my podcast. I had completed 45 minutes of it when I decided to save the file. I didn't want the program to crash or anything stupid like that and loose the whole thing just because I hadn't saved it. So guess what happened? The program crashed. I was so crushed. A few hours later I started wondering...Does Garage Band save things for me...? So I opened back up the program to see, and AHA! There it was! In it's entirety! Oh my gosh. So amazing. So there will be a podcast in the next day or so after all. Happy happy.
There were supposed to be in progress pictures of this hat, but...well, I sort of finished it before that could happen.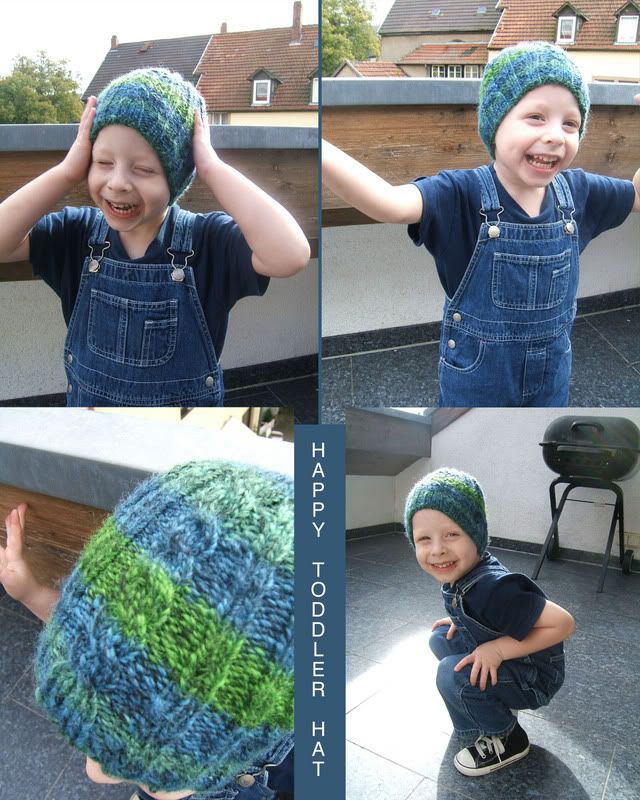 As you can see Sparky is terribly happy about it. (Click for larger, if you wish)
STATS
Pattern:
My own (two 2x2 ribs, and a 4 stitch cable twisted every 6 rows. It's a 14 stitch repeat, this hat was worked over 70 stitches. If you want to knit it, you should be able to figure it out from there.) =)
Yarn:
Lang Tosca in a self striping blue/green (can't find the label already)
Needles:
#7 DPN's -- I think they're aluminum, but I can't read the German on the product card
Cast-on to cast-off:
October 18-22
Notes:
I got a little confused when I was doing the decreases. Well, actually I just didn't do any math, and just did decreases whenever the hell I felt like it, so the final shape off the head is a little bit....um, like a bullet, I guess. But it looks adorable on, so I feel like it was a success. Would never use this yarn again. It catches on itself and splits a little too much. However, knitted up it is thick and soft and warm, so I don't regret using it.
Also, I've started on a Wallaby Sweater. It's a sweater knit entirely in the round; I picked up the pattern from my LYS in NY, Spin A Yarn. (Sarah or Emily, if you feel like knitting this, now you know where to get the pattern for it.) The pattern is delightfully chatty in the beginning, then gets all down to business and isn't confusing at all. I love how simple it is. Of course it lends itself to all kinds of modifications, but I'm trying to keep it very easy so that Sparky will actually be able to wear this sweater as soon as possible. He really needs some hoodies!
I started knitting the arm with a 1x1 two color rib (I think it's called a corrugated rib -- not sure) that's often found on Latvian mittens (correct me if I'm wrong). I found out why it's usually on mittens, and never on sweaters. It's not very elastic, and is far too warm for something that you'll be wearing all day. So. I got this far: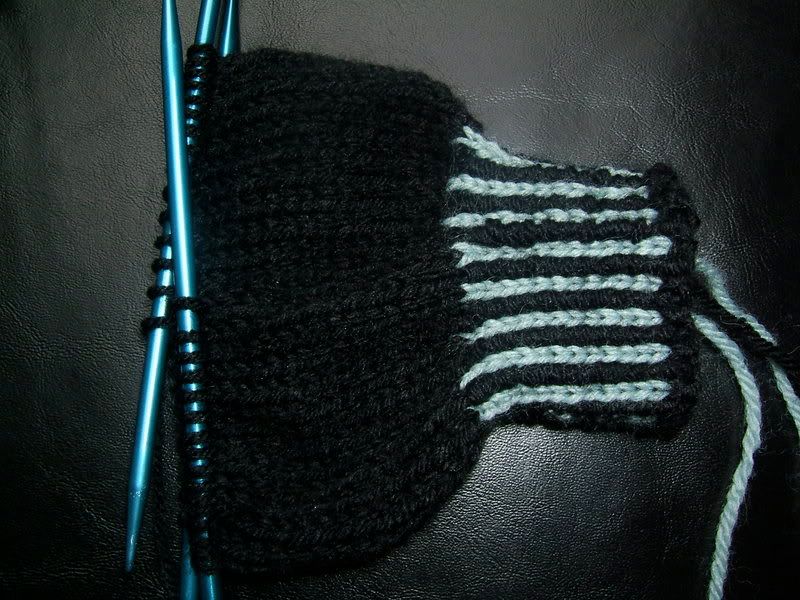 Then ripped it all back. Thankfully, it doesn't take long to knit (StSt in the round!), so by last night I'd gotten this far:
I worked on it a little bit today, and I'm pretty sure the sleeve is finished -- haven't measured it yet, but I'm guestimating. I'll knit the other sleeve too, just to have them over and done with before I get to the body. Sleeves are the best gauge swatch. If you're on gauge, then you've gotten part of the sweater accomplished! Some people are very smart. I like to listen to those people.
What I gathered at the market today: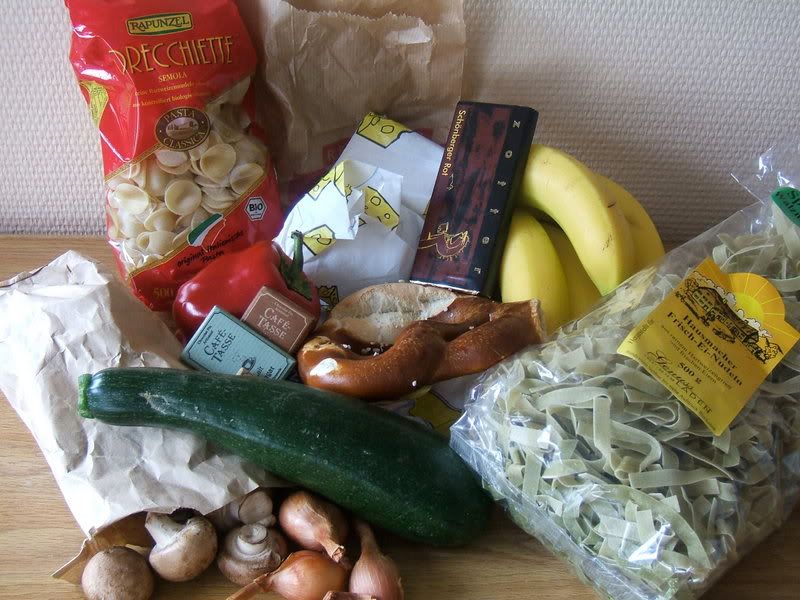 I'll give details on the chocolate and what I did with all the vegetables and pasta tomorrow. Tonight's date night, so I've got to go.