So. To continue the list of things I've finished in the past week: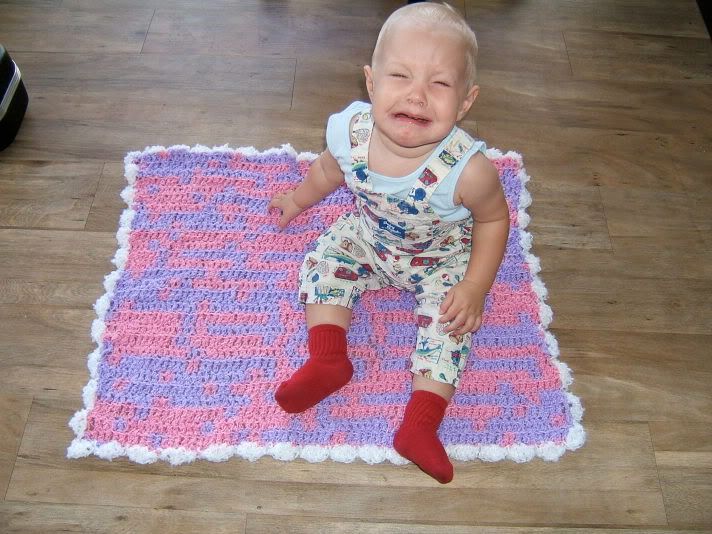 As you can see, Max is thrilled with it.
This is that baby blanket project from You Know Where. This yarn was so difficult to work with. I didn't like the colorway (the only way I could deal was to think of it as a "My Little Pony" theme). On the upside, the fabric works up soft and floaty. On the downside, the stitches were difficult to count, and even when my stitch count was dead on, sometimes the sides would grow out strangely. I ripped this back countless times, and finally, the other night, decided I'd had enough. No one could pay me enough to make this worth any more time working on it or looking at it. I crocheted a shell stitch edge around as a border, and called it good. Thankfully, Store Manager of Major Chain Craft Store thought it was cute, and accepted it as a good sample. I call this the Preemie Blanket.
STATS
Pattern:
my own (70 stitch double crochet, shell stitch edging)
Yarn:
Bernat Baby Boucle, Sugar Baby Stripes and Soft White
Hook:
Size K aluminum
Notes:
Hated this project, and I'm glad it's d
one.
On to something more enjoyable.
This was the scarf that I worked up in five hours the other day: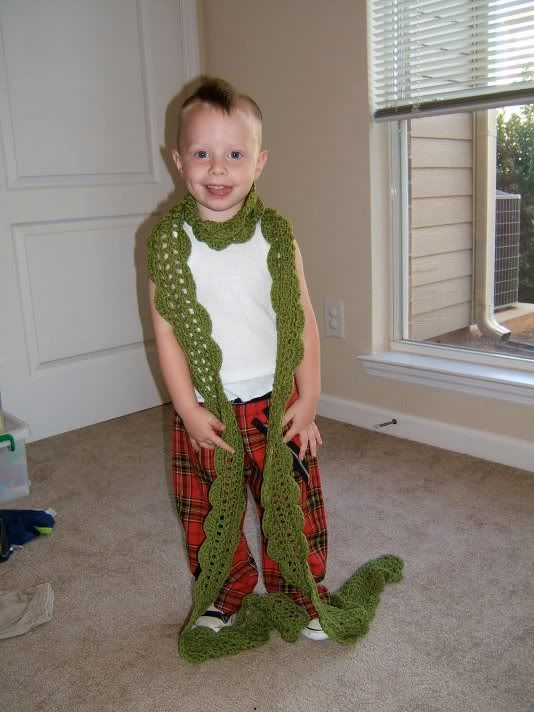 I forgot to have my husband take a picture of me, and I really wanted to turn this sample in yesterday (the sooner I turn it in, the sooner I get paid!), so Sparky posed with it for me. As you can see, an 8-foot scarf is quite long. (The pattern states the finished measurements are 96 inches, so I was right on with gauge -- this is just one crazy long piece!)
STATS
Pattern:
One Skein Scarf
(from The Happy Hooker, but also available for free at the Patons site)
Yarn
: Patons Classic Merino Wool in Leaf Green 00240
Hook:
Size K aluminum
Notes:
this worked up super quickly, despite it's length. It was nice and easy, since the yarn used is smooth and the pattern stitches are straightforward. I will probably work this up again for myself. The yarn was not scratchy against my neck, and is pretty inexpensive, making it a quality/good value yarn -- I'll be using this again.
On hot, humid summer days there's nothing better...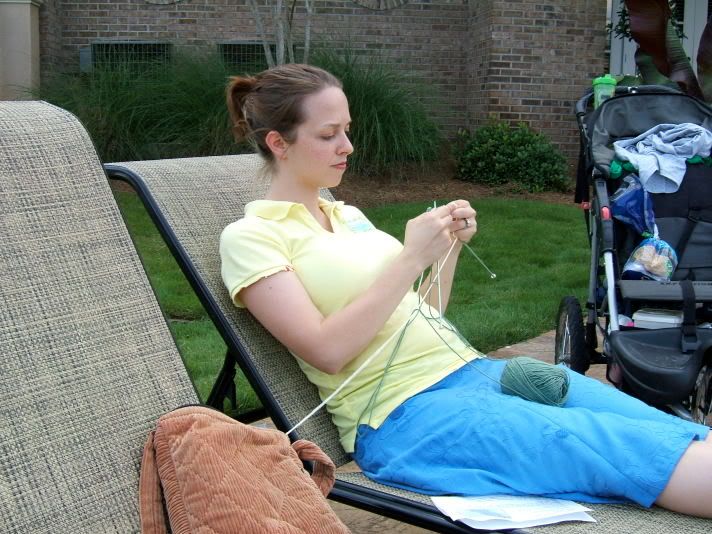 then knitting by the pool. This was taken last week.
I've been working out a lot since January, and have lost about 10 lbs and toned up and such, but my little Baby Potbelly is still firmly in place. Also, in the bust I am quite a bit bigger when I'm nursing. However my little guy is weaning himself, so a few days ago I tried on one of my old bathing suits, and it actually fit! I haven't worn a bathing suit in three years. It's a two piece, and in the interest of covering up the little pot and not scaring anyone with a few silvery stretch marks, I wear a T-shirt over it, but my husband is very pleased that the above pic is no longer the only pool activity I'm capable of. We can actually swim together now!
One last project that I'll show you today is the purse that I FINALLY finished for my sister, Hannah: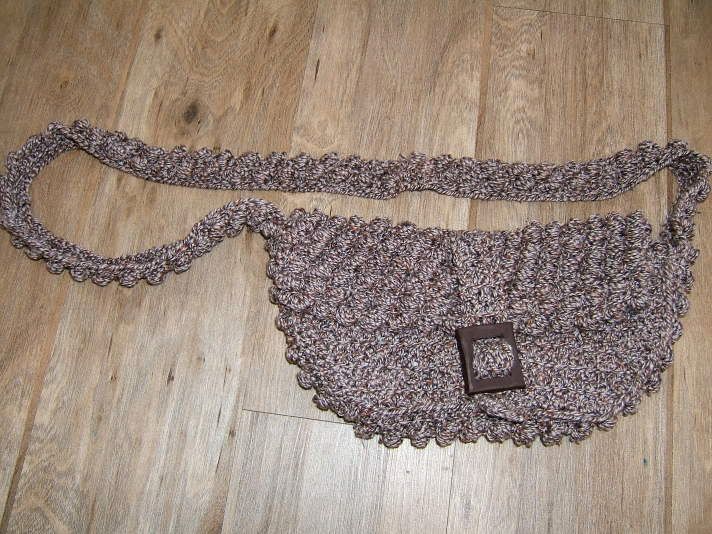 STATS
Pattern:
Textured Tweed Clutch from Fall Interweave Crochet.
Yarn:
Tahki Yarns New Tweed (70% Merino Wool, 15% Silk, 11% Cotton, 4% Viscose
Buckle:
My own, made out of Sculpy (I have no idea where to get leather covered buckles as per pattern instructions)
Notes:
The bobble part of the pattern looked wired to me at first and felt a little fiddly to do, but once it was all in place, I couldn't stop running my hands over it. Every who saw this purse loved it!
And it's lined!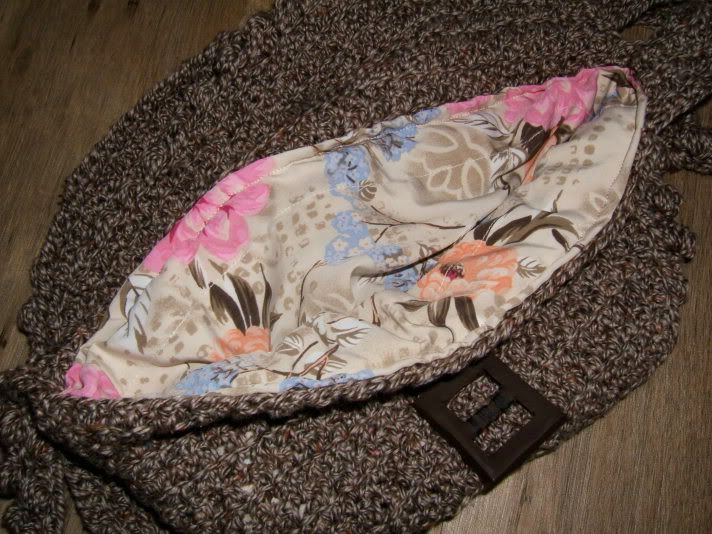 I would definitely suggest lining this purse, even though the pattern doesn't suggest that. It makes it so much sturdier, practical, and polished looking. I LOVE this purse. I would love one of my own as well.
For those of you who will ask, this is how I lined it: I measured a rectangular piece of fabric to be double the depth and as wide as the purse. Then I sewed the two sides together, right sides facing. I folded the top over and hemmed it down, then put the pouch into the purse without turning it right side out. Then I pinned it carefully in place, took a deep breath, and machine stitched it in place. Probably I should have basted it in first (the loosest stitch on a sewing machine) just to make sure the placement and size of the fabric was correct, but I was in a rush, and it worked.
Well, that's all I have for you today! This weekend I'll be in Palm City Beach Florida, and won't be back until Wednesday. There will be a nice chunk of car travel/knitting time, so I'm sure that I'll have something to show you. See you all then! Have a great weekend!