First off, a belated happy birthday to my very good friend MA. It was yesterday, and everyone forgot, including me. (Well actually, I thought that it was today, so it was an honest mistake, but everyone else who mattered flat out forgot). She's decided that she's not even going to count this birthday and just say that she's 25 forever. So please join me in wishing her a great big Happy UnBirthday!!
These socks are almost done! Do you think I can finish them in time for Stitch N Bitch tonight?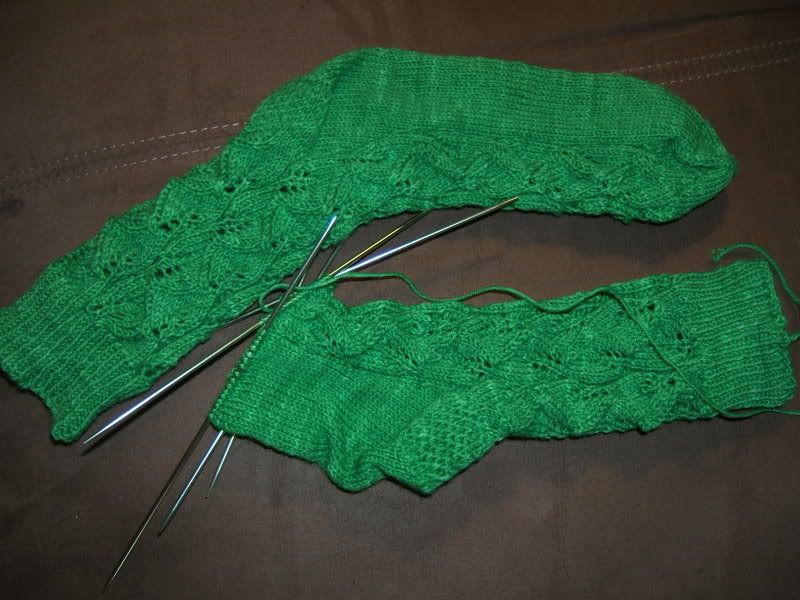 Eunny was talking about her
hair
the other day, and suddenly I remembered that I used to be really good at braids!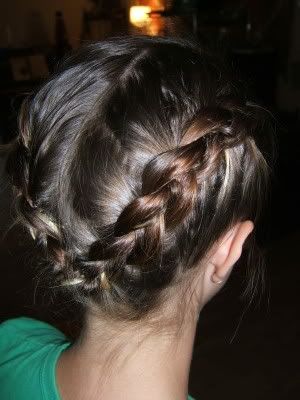 Not bad after...um, not sure how many years. I think that this joined, inverted double french braid is called a Princess Anne. In the days of yore, I used to do all kinds of fancy braids for my sister Hannah, friend Sarcy and myself; french ropes, inverted french braids, regular ones. We were the best "haired" out of them all, I must say. I learned how to braid all sorts of cool ways in the Klutz Press book "
Braids and Bows
". If I ever have a little girl, I will totally buy this book again. Or if I decide to grow my hair out again.
Speaking of hair, I am getting my hair cut and maybe colored in the next week or so. I am undecided if I should go short again or keep it long...what color...arrgg. If you have suggestions, please let me know! I'm not above stealing someone else's idea. =)