I might have gotten a lot of Wool-Ease yesterday. I don't really want to talk about it.
In other news...
This is extreme knitting at it's finest. David Cole is my new hero. (I think!)
Knitting with utility poles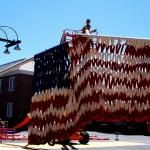 Also, has everyone seen the
handspun skein
at Go Knit In Your Hat? Woah. Not sure what to say here. It sold for around $250 though, so someone must know something I don't.
I can finally reveal my pal in Sockapalooza! It was the talanted
Sigga Sif
. She just posted a picture of her foot in the socks I knit for her. I was unprepared for how thrilling that would be. =) So anyway, if you've never been to her site, go check it out, because she knits some seriously cool stuff.