**Make sure you read to the end -- unreal video clip**
On Thursday morning I asked
Amy Boogie
if she would be able to custom dye some merino/nylon sock yarn for me. Leprechaun green is my new favorite color (along with almost any other shade except mint green), so I sent her a pic of my most favorite, most green shirt. Also, I asked for a purplish black. By Friday morning she sent me some shots of two freshly dyed skeins. I approved them and Paypaled her, and the skeins were in my mailbox yesterday afternoon!!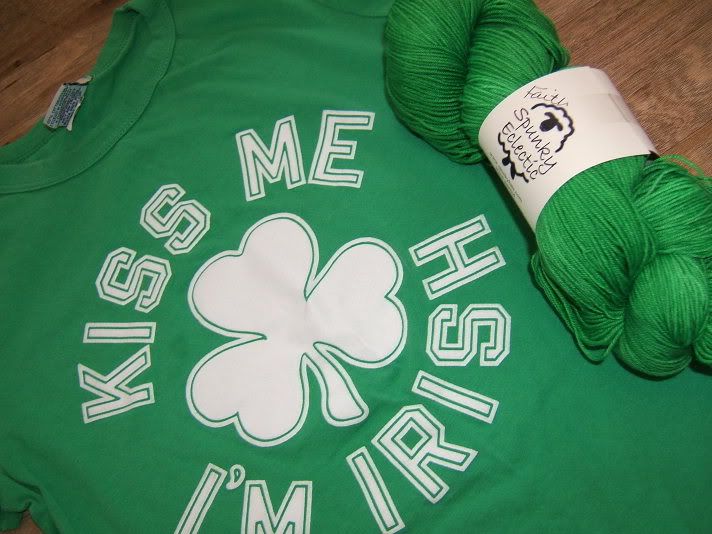 Now that's quick service! They are even more beautiful in person than I could see in the pics. The purple one is very hard to photograph, but I assure you that it is the richest shades of purple and black. For $16 each and the exact shades I wanted, what else could I ask for? These are dyed after the manner of her
Almost Solid Series
, and these colorways are Kiwi and Blackberry (in case you should feel the need to indulge as well).
I'm working on that sample baby blanket for the Major Craft Store again. It's Bernat Baby Boucle (the yarn I'm supposed to be showcasing), and if you've been following this blog in the past few weeks you'll know that I've tried many a technique to get this stuff to work up nicely. The most recent was an attempt to crochet a baby sweater, but I soon was frusterated by trying to find which hole to poke the hook through, and getting lost in the boucle while counting. I'm sure I
could
have done it if I wanted to enough, but the drive just wasn't there. Finally, about two days ago, I picked it back up again, chained a 61 loop foundation and began going back and forth in half-double-crochet. This is what it looks like now: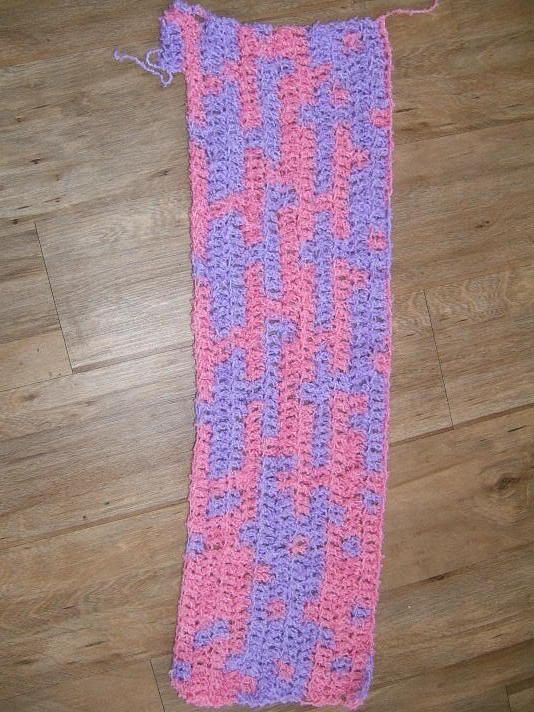 It reminds me of one of those chunky pixled old style video games. I hope that they like it, because this is it. This is just the way the yarn stripes up. At least it's better than my knitting attempts. This yarn just wanted to be crocheted. Thankfully it's going quickly. The sooner I can get it from my hook to the store, the sooner I get a paycheck in my mailbox, and it's all about the money, baby. =) And let me tell you, with all the labor that's gone into this already, this is turning into one very expensive blanket -- hope they don't choke when they see how much I'll want to charge for it. Does anyone have any pricing suggestions? Does $70 or $80 sound unreasonable for a baby blanket?
OK, if you're still with me after that long post, you must watch this little video clip. There is a little bit of narration, so make sure you have your speakers turned on so that you'll know what's going on. I'll explain more details on the outcome of it tomorrow.
This happened in my house three days ago: