I picked back up the Textured Tweed Clutch (From IK Crochet, Fall 2005) and have been working on it this week. As it turns out, I was almost done! This was supposed to be my sister's Christmas gift, but seeing as today is her birthday, it'll be a belated birthday gift instead (as per tradition, she hasn't sent me mine yet either, so we're even.) =)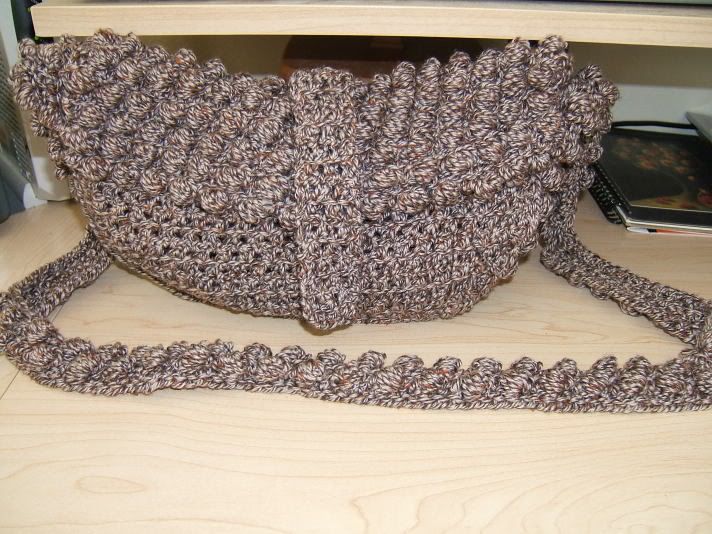 All that needs to be done now is to line it with fabric (not in the pattern, but totally needs to be done to make this functional), and find a leather covered buckle. Any tips on where I might find a good one?
Crochet always makes me a little nervous. It feels so free form to me, so open to interpretation. I learned mainly from a book, so I always think, "what if I'm putting the hook into the wrong part of the loop? What if I'm counting from a different starting place? What if...what if...what if...?" It's very disconcerting to a perfectionist like this particular chick. But it seems that my projects generally come out well, so even if there's something a little different (is there) about the way that I crochet, it tends to look like the picture, so maybe I am doing it right after all. Generally speaking, I am always able to feel confidant about learning a new knitting technique by myself, but maybe I should look into some crochet classes. Hmm.
I went to my (sort of) LYS on Friday and picked up some more Elsebeth Lavold Silky Wool in deep, grapey purple to make a Kiri shawl. I only snagged one skein of it, because I intend to make it more of a kerchief/scarf to tie around my neck. Having a babe in arms doesn't really lend itself to long, flowey shawls that drape loosely over the arms.
Will show progress pics as soon as there's something to show for it.