This weekend, I traveled to the Island of Fair. That is to say, I learned Fair Isle (two-fisted!) for the first time! I also learned to properly mattress seam (I think). This knitted babe has taught me much. It's nice to try out new techniques on such a small, forgiving subject. This doll will be for my 8-year-old sister, so I know she'll forgive any mistakes, but I am trying to get it as near perfect as possible. Here's the Babe's new sweater: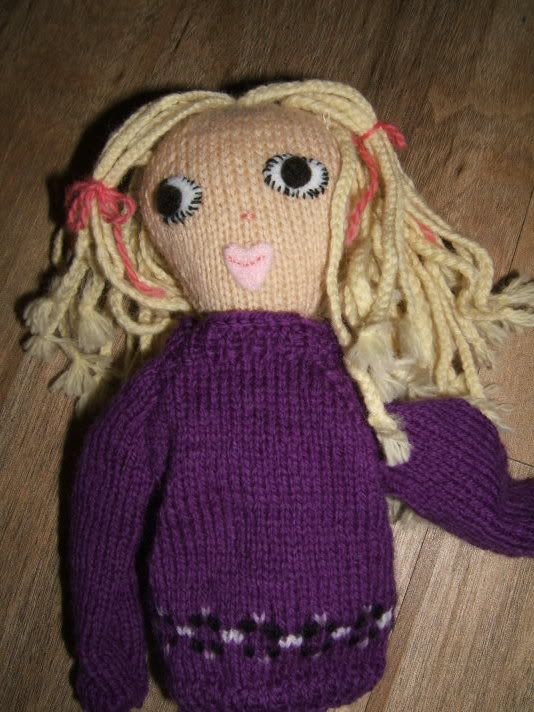 I will get a better shot of this once I finish the entire wardrobe. I also knit the ballet slippers, but they came out huge, although on gauge. Hmm. My friend Laura suggested hand-felting them down to size, which is probably what I will do. I don't feel like knitting other ones, and sturdy shoes probably wouldn't look all that wired since...well, they are shoes, after all.
This doll has to be finished by this weekend. That's my deadline. I think this is the third deadline this thing has had, but I'm going to try and make this one, for real!
Also, I've been working on some Dishcloth samples for a dishcloth class I'll be teaching at Major Chain Craft Store: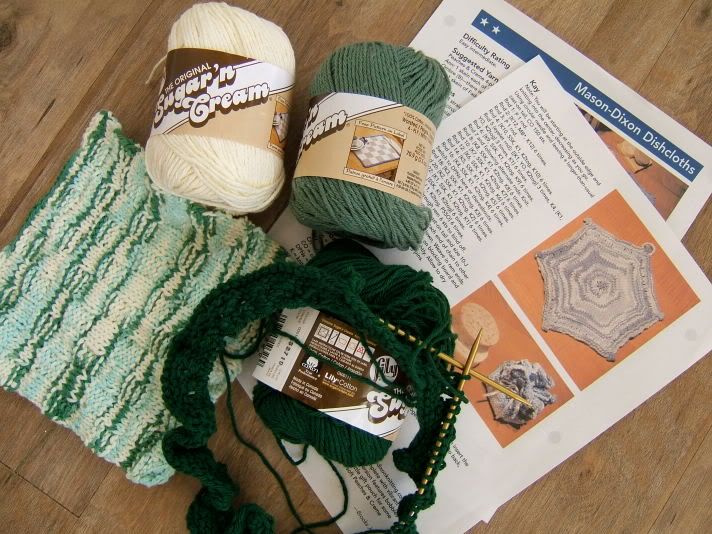 (Note the computer print-out of the
Mason-Dixon Dishcloth
(PDF). If you're new around here, scroll down about two entries.)
Anyway.
Hmm, I think this is my first green Project Spectrum post. Yes, all of the washcloths will be based around a green theme. It helps that green is my new favorite color.
So a few weeks ago, right around the Maryland Sheep And Wool Festival, my friend Laura (mentioned above) said she was going on a trip. I knew that she was going to be in the area of the festival, but she didn't mention it, so I figured it was because she was bitter that she'd be so close but couldn't make it there. I didn't ask her anything about it. Last night at Stitch N Bitch, we were all getting ready to go when she pulled this out of her bag.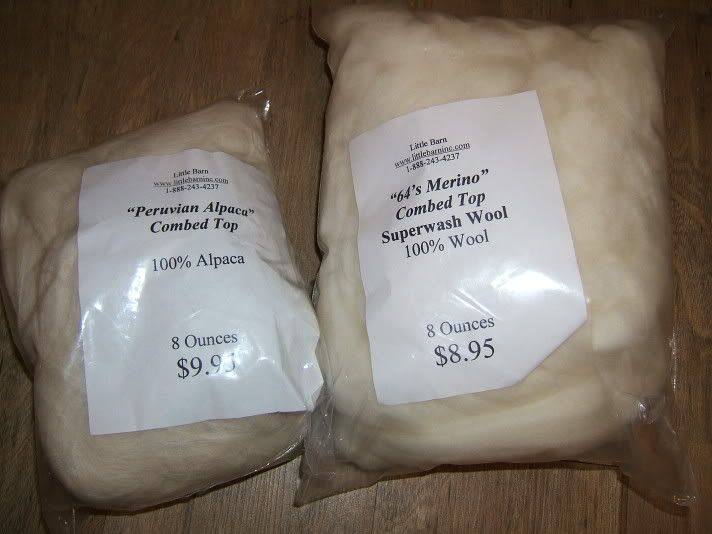 She mentioned offhandedly that she'd picked these up for me in her travels. And the place she happened to get them from was...well, yes, The Festival. !!! So here I was, choosing not to mope that my plans to go there had fallen through, and the festival came home to me! Laura is one of the most thoughtful people ever. (Thank you!!) I look forward to spinning this. I may even try dying it before I spin it, although I'm a little scared to get it wet before it's spun. I know that people do it all the time, but I'm still feeling a little apprehensive about it.
My dad and two of my brothers are driving down from NY this weekend, and my dad is bringing me some roving.
You saw it coming, right? My fiber collection is turning into a stash.