Rather than update yesterday's post, I'm just going to post a brand new one with all the details, including my mailing misadventures of the morning.
To recap, I completed these socks last night: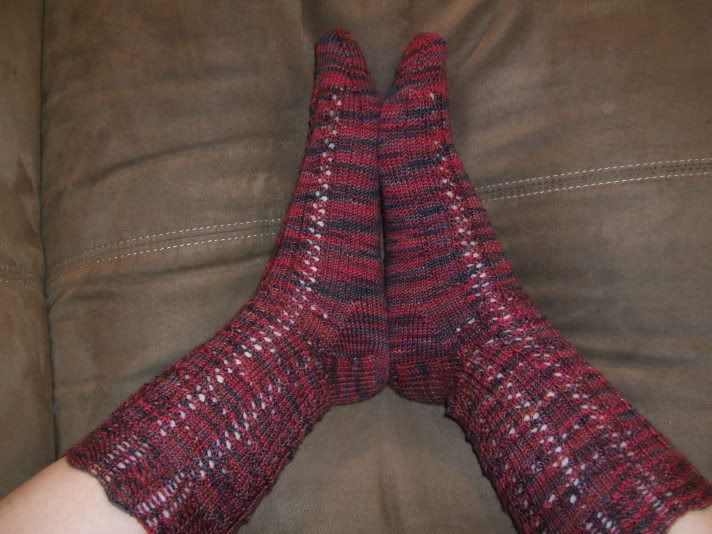 Pattern:
Fancy Silk Socks from Knitting Vintage Socks by Nancy Bush
Yarn:
Cherry Tree Hill "Foxy Lady" -- 100% luxury merino fingering weight, Superwash wool. Machine washable, cold water. (I'd probably hand wash these, though.)
Needles:
Susan Bates aluminum DPNs size #0
Cast on:
April 8th (if we're including swatching)
Cast off:
May 1st
Modifications:
The pattern calls for 1" of the lace cuff, but I liked it so much that I knit 2" instead. I'm very pleased with this. Also, the lace pattern on the leg and instep is a twisted rib with lace panels in-between. I stopped twisting the ribs on the foot, because I was concerned it'd be uncomfortable, pressing into the foot when inside of a shoe. I initially knit the "draw yarn through 8 remaining stitches together" toe, but the sock felt so uncomfortable, pressing my toes together and such. I quickly ripped back and did the "grafted 20 stitch toe" instead.
Notes:
I had my doubts about the yarn. I've never knit with Cherry Tree Hill, and the colorway is certainly not in my usual palette. As I started to work with it though, I noticed how the colors began to glow against each other, and it was truly lovely.
The yarn, though unremarkable on the skein (to me at least), knit up into bouncy, squashy soft socks. When I modeled them for the "FO" pic, I didn't want to take them off my feet! I love how the lace on the leg is so stretchy.
Oh, also, when I swatched for these, the size #0 DPN's giving me slightly too many stitches per inch, but I was concerned that the sock would stretch out when worn and bag around the ankles. As I knit, I kept trying them on from time to time, and though it was snug, they fit me perfectly. My sock pal is the same size, so I'm pretty confidant that they'll be a good fit on her too.
At 8:30pm yesterday evening, I picked these socks up with the intention of finishing. The gussets had been completed, and I had about 8 inches of knitting left to do until I could kitchner the toe (my favorite part!). The situation looked grim. Sure, I knew that I could finish up the socks this afternoon and still get them over to the post office before they closed for the day, but in honor of the May 1st deadline, I felt like they needed to be finished that very night. Mr. Fiberflash was concerned that I'd injure my hands again, so he asked that all knitting cease by 11:30. I surprised even myself when, at 11:30pm, I knit the last stitch.
This morning I set out to mail the socks. I still had to buy a postcard, but I figured that would be no trouble. Doesn't everyone sell postcards?
After packing the boys up, we set out. Several stores later, and it was nearing (or past) naptime. Still no postcard. I did, however, find something she may be interested in:
(Note: I had no idea how much room 20 Kool Aid packs take up! Would have brought along a bigger envelope! I hope they don't bust open during shipment....) So, sadly, no postcard, no nice little note from me... but now she can dye a hell of a lot of yarn, so hopefully that'll make up for it. I heard that it's difficult to even find food coloring in her country, or that it's sold at exorbitant prices. So if you're reading this today, and happen to get this particular package in the mail in 7-10 days, please know: I tried! Hope you enjoy them.
To completely change the subject, let's look at a tiny little something that slipped right under the Blog Radar: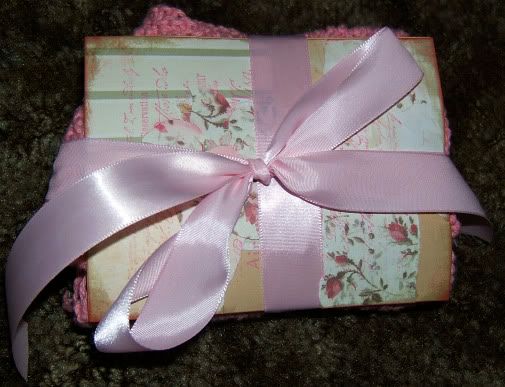 (Check out the way I've implemented Knitty gift wrapping by using the gift itself as part of the whole deal. One might think that I was being super creative/crafty -- in actuality, I was pressed for time, which, if you want to read between the lines, really means that I was sewing in ends and such
at the baby shower
, so this was all I had time for.) =)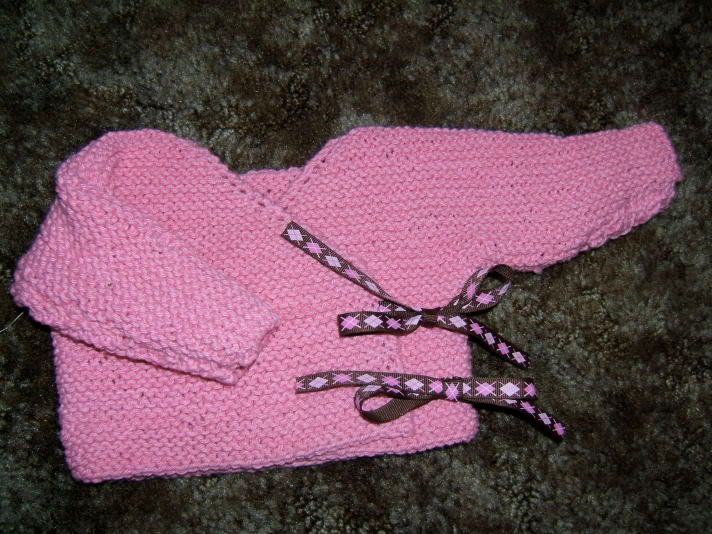 Pattern:
Heartbreakingly Cute (One Piece) Baby Kimono from Mason Dixon Knitting, by Kay Gardiner and Ann Shayne. Pattern written by Christina Shiffman.
Needles
: Aluminum straights, size 1
Yarn:
Sugar and Cream "Rose Pink" -- 100% cotton (worsted weight)
Ribbon:
Sweet Petites "Argyle" by Morex Corp.
Cast on:
April 28th
Cast off:
April 29th
Notes:
This truly was a quick knit, as you can see from the dates above. The cotton was pretty hard on my hands though; my thumbs felt bruised. It was so wonderful to pick the wool socks back up again and feel the forgiving, tiny strand through my fingers.
The arms were a little funky with the seaming. It might have been better if I'd separated out a few plies of the yarn to sew it together with, or else just used embroidery floss in a matching color. The seams ended up a little bulky, and there was no time to block it out.
It was really hard for me to get gauge. This pattern is supposed to be knit on size #6 needles. That's just the way it is with me and cotton, I suppose. I really don't like the way it feels like I'm fighting with it the whole time. Argg! It was super cute though. Next time I make one, I will use something like KnitPicks
Main Line
instead.
Also, I would like to implement something from Nicky Epstein's
Knitting On The Edge
, use stockinette instead of garter stitch, and maybe crochet a pretty little border along the bottom of it in a contrasting color. (The last idea was part of the plan for this one, but I cut it way too close for any inspired modifications.)
Something I learned from this knit: don't try too hard when your audience/recipient isn't inherently crafty themselves. The sweater was received graciously, but the silk ribbon that had tied it up was promptly thrown in the trash. Also...well, I don't know. All I'm going to say is, know who you're knitting for, and determine if it's worth the stress/effort/creative energy.
Personally, I loved this sweater.
All of this explains why I haven't been blogging lately. Too much to knit! I love it though, you know I do. =) It's just all these dang deadlines...