Wow, the squeaky wheel really gets the grease, huh? If you haven't checked the comments yet, please do. Just in case anyone's wondering, I do realize that
Wendy
's book "Wendy Knits" was the least of the offenders, since there was only one "free online, pay for in book" pattern included.
Mason-Dixon
's book is probably the worse offender.
I guess that my answer to the problem is, I think it's fine to discuss in a book patterns that are free online, and to include links to it. I do not, however, think it is ethical to include said free patterns in a book.
Also, I have realized that Wendy's book is more for people who subscribe to her blog, rather than the knitting world at large (like
Stephanie
/Yarn Harlot's books do, appealing to every knitter). That just goes to show that it pays to look inside the book first if you don't "know" the author.
The socks were completed at 11pm last night. I love it when I hit my own deadlines! Here they are: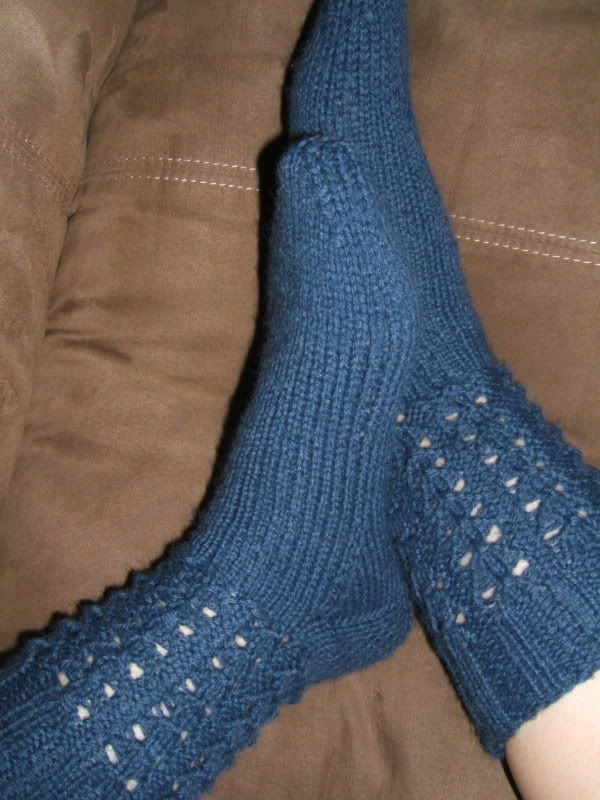 Pattern:
Bell Lace Wool-Ease Socks
Yarn:
Wool-Ease Denim #114
Cast on:
May 14th
Cast off:
May 18th
Modifications:
Instead of a 1x1 rib on the cuff, I did a 2x2 rib since I wanted them to be extra stretchy and clingy so they would stay up. Also, I lengthened the ribbing from 1-1/2" to 2" for the same reason. (These are to be used as hiking socks, after all.) Also, I substituted an Eye Of The Partridge heel for the Plain Slip Stitch heel, because I'd never done one and was experimenting. I also went down two needles sizes to make these a little tighter, since now I know that socks can stretch out and that's no fun. It's better for them to be a tiny bit too tight at first, I've decided.
Notes:
These socks were fun and easy to work up. The lace pattern made the project feel like it was flying, and was super easy to memorize. (Yarn overs every 5th row, so you hardly have to think about it.)
Here's a close up detail of the lace and the pretty Eye Of The Partridge heel: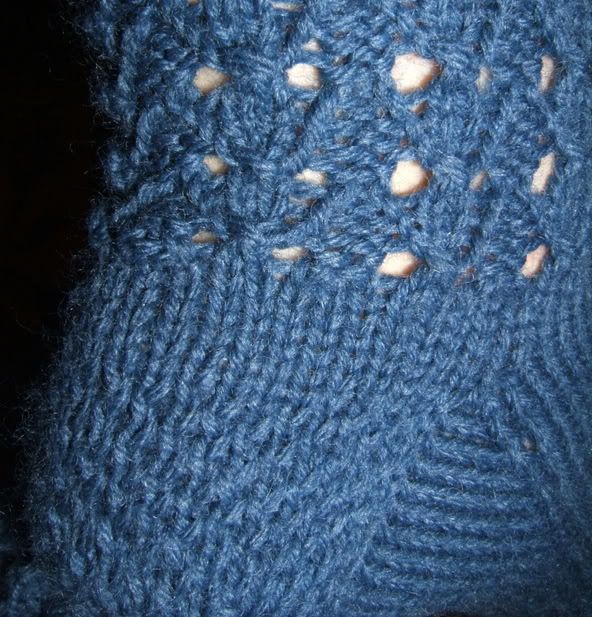 This pair took exactly one ball of yarn. At the end, I was nearly running on fumes. Here's how much yarn was left: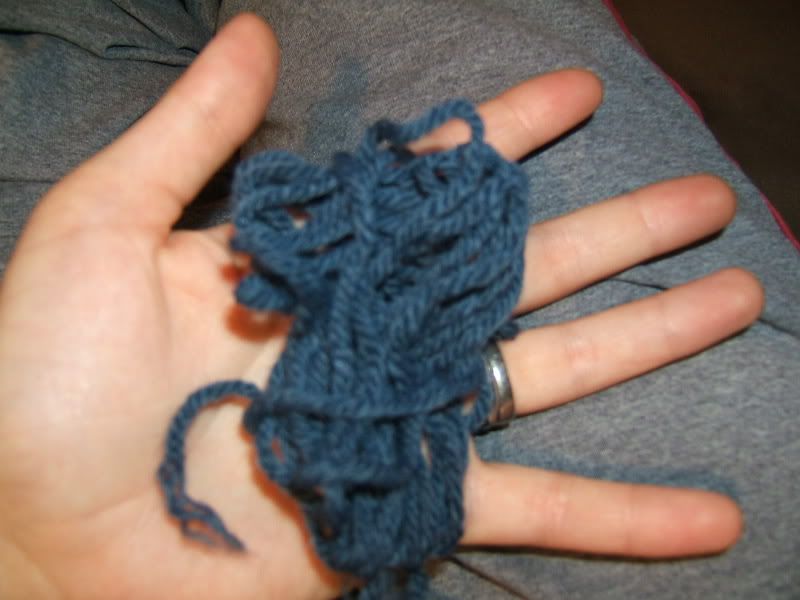 Yesterday, hearing rumours of a yarn clearance sale, I went to Hobby Lobby. I had my 11-month-old, Max, with me. We trolled the aisles and confirmed that yes, the Wool-Ease was going for almost half price. (!!) They only had a few colors left, and before I knew it, I looked down and noticed my shopping cart was nearly full of the stuff. I started to walk away, so proud of my find, when I looked down at the pile again. What was I going to use this stuff for? Am I really in love with Wool-Ease? Wouldn't I rather spend my money on some more quality stuff? Shouldn't I save my money for that oportunity? It was difficult...but I put back most of it. I ended up with three balls of green/blue to make one of my boys a sweater. Then I noticed some LB Landscapes (twisted colors in pure wool), but notice the restraint: I only bought two balls of it, because they were the only ones left that I
really liked
. Yes, I should be awarded a medal at this point. "Shopping based on what I really need/want vs. a good sale." (Don't worry I'm patting myself on the back for you.)
(Shhh, don't tell anyone, but during all of this critical decision time, I
may
have given Max his first lolly pop to stretch out my shopping time.)
Sparky arranged the little stash enhancement pile all nicely for you to see:
Of course now I'm thinking, "but the black would have been cute with the blue as matching intarsia skull-and-crossbones sweaters for the boys..."
If you need me, I'll be at Hobby Lobby.