On Sunday, I completed the Sparky Socks that have been hanging out on the needles all month.
PROJECT SPECS
Pattern:
Based on
Easy Toddler Socks
(PDF) by Karen Coron.
Yarn:
Online Euro Yarns, Green/black/brown from the Sierra colorway line (I bought it down the street, but you can get some of the other colorway lines at
The Loopy Ewe
)
Needles:
Knitpicks Classic Circulars, size #1. Knit two socks at the same time with Magic Loop technique (nothing magic about it, kids, once you start a pair, it just makes sense and it's very simple.)
Notes:
I really like that this pattern uses a heel flap. The socks fit Sparky very well, and I don't think they'll slip right off of him like the short-row heels that I've knit for him in the past.
Thoughts on the yarn:
I bought this yarn because it was inexpensive, accessible (down the street!), and I was in the mood for some self-striping mindlessness. As it turns out, this yarn not only knit up prettily, but it's also softer than I would have thought. I can tell that this is going to wear very well, similar to Lion Brand Magic Stripes, but with none of the stiffness. I will certainly knit with this again. (I've already got a purple color for myself.)
Some fun stuff came in the mail yesterday: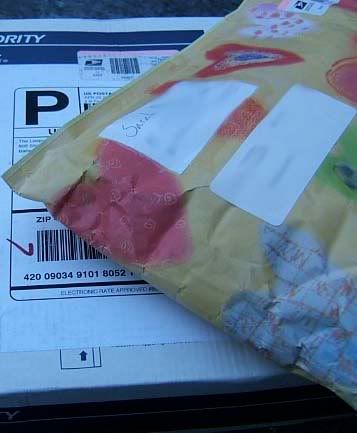 But you'll have to wait until tomorrow to see what's in it. (No, I'm not being mean on purpose, but I haven't taken pictures of the contents yet.) (OK, so I'm being a little mean, and by now, I could have had the time to get my camera out and snap a few shots, but...right. Tomorrow it is.)
And now, regarding the baby naming contest:
I introduce to you
My tiny Daisy.
(Photo taken just before my brother and sister left to go back to the States)
Winning entry was suggested by (blogless?) Jessica. Daisy is not only April's flower, but it also represents "innocence", and it even sounds great with Sparky and Max.
Runners up were Susanne (also blogless?), for most heartwarming entry (her two sons got in on the contest and had their own suggestion of
Princess Leia
from Star Wars), and
Chase
, for most names (22!) submitted.
Thanks to everyone who entered, it was so much fun reading everyone's suggestions! I'm contacting the winners for their addresses, and yarn preferences. (Chase, no worries, just candy for you.) Prizes will be mailed out by the end of the week.
Reader question:
Jessica
wanted details on my baby sling, I sew my own. You can purchase sling rings at
slingrings.com
or
nestmom.com
. Nestmom is less expensive, but there are also less choices. The best info I've found on DIY slings is
here
. (By the way Jessica, hurray for Wonderful Wallabies!)