So sorry about all of those ancient posts showing back up from my archives! I had to adjust a few things, so I had to go all the way back to the beginning. Anyway, that's done now, so now on to the packages from the other day.
In the floral one, there were some of the cutest tiny girl clothes from my blogging partner, Sarah. As you might imagine, I was wholly unprepared for a little girl's arrival, so these were much appreciated. Not only that, but if you look closely (or click the picture for bigger), you'll be able to read the words "worth the wait" on the pink shirt at left. I actually had a catch in my throat when I read that, because it describes how I feel about Daisy exactly. I had no idea how much I wanted a girl until I had her. And then there was the literal fact that she came 9 days after my due date, so the phrase works both ways.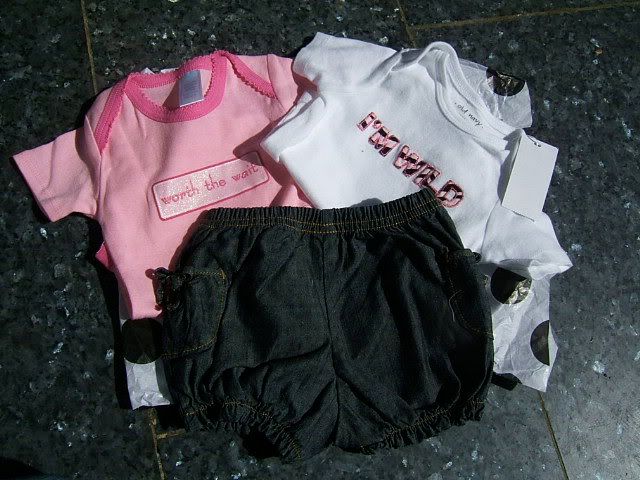 Sarah, you're so sweet. Thank you.
In the other package, was some stash enhancement from
The Loopy Ewe
.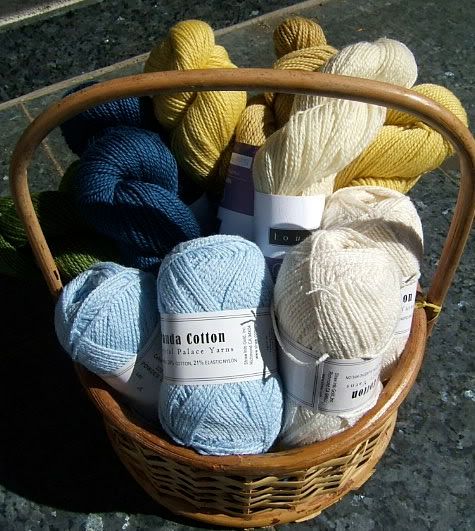 You can't see it very well, but there's also some sage green at left. This is all Louet Gems fingering weight and Panda Cotton. I've never tried either, and I have some colorwork socks planned with the Louet. The Panda Cotton will probably be some stretchy ankle socks for summer. Quick and comfy.
So what's the buzz over The Loopy Ewe anyway? It seems that the name is being dropped at blogs everywhere across the internet these days. Well, for me, part of it has to do with Sheri's stellar customer service. Check this out: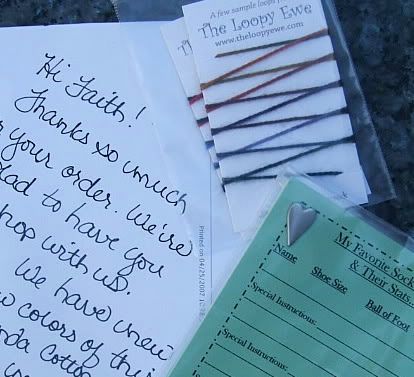 And that's not because she thinks I'm extra special or knows me from anywhere. That's a handwritten note because that's just how she thanks every single customer. And it's not just a generic "Thanks!" (although no offense to those who do that -- "thanks" is nice too !). It actually has to do with my order (she's getting more colors of Panda Cotton in soon!), and she also includes a few yarn samples (this time there was some Cherry Tree HillSupersock and Lorna's Laces wound around the cards at top right), and a "My Favorite Sock Recipient & Their Stats" card. Previous cards have included a needle inventory, among others.
Another reason why this store is getting so much mention is their customer referral service. For instance, if you've never shopped there, but now after reading this post click on
this link
and make your first purchase there, I will get $5 credited to my account. Pretty cool, huh? You can register any blog or website that you have, and all "click throughs" will be credited to your account.
My favorite feature is the
frequent shopper perks
. Every time that you spend $250 there, you get $25 credited to your account. Now, that's a lot of sock yarn, but...I'm pretty sure that I'm capable of hitting that mark (possibly sooner rather than later?)!
Last but not least is the
Loopy Groupie
thing. You just have to click to see what I'm talking about.
Speaking of socks, (was I?) I've opened a "secret person" email account and have begun a dialog with the person I'm knitting Sockapalooza socks for. I didn't do that last year, and later was sad that I hadn't. Being able to get to know your pal through the knit along not only richens the experience for everyone, but also reassures your giftee that you're thinking of them, and that socks are indeed in the works. If you have not yet contacted your pal, I encourage you to do so!