Has anyone heard about the
Slow-Poke Socks Knit-Along
? I read about it at my friend
Becca's
blog, and it sounds like just the thing. (By the way, check out Becca's stranded socks! While unwearable, they are quite pretty! If nothing else, it's a good lesson on functional vs. unfunctional colorwork.) I just joined today. I'm suddenly obsessed with knitting socks for myself. In the past I've mostly knit them for others, but I realized last week that I need an entire drawerful for the fall and winter, and have been buying sock yarn accordingly. I know, bad, bad me.
Yesterday was my first full day alone with the three children. It was challenging, and I'm sorry to say that I appear to have less patience than I had remembered, but we managed, and even had some fun moments.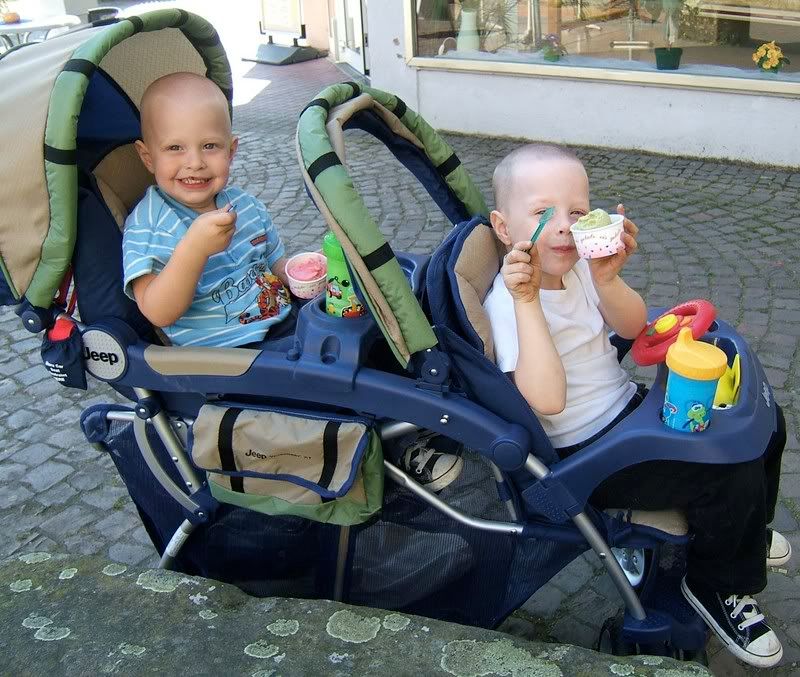 In the morning, we went out with out brand new double stroller to mail something at the post office. There were rocks thrown in the stream, some ice cream was consumed, and the tiny one slept through it all.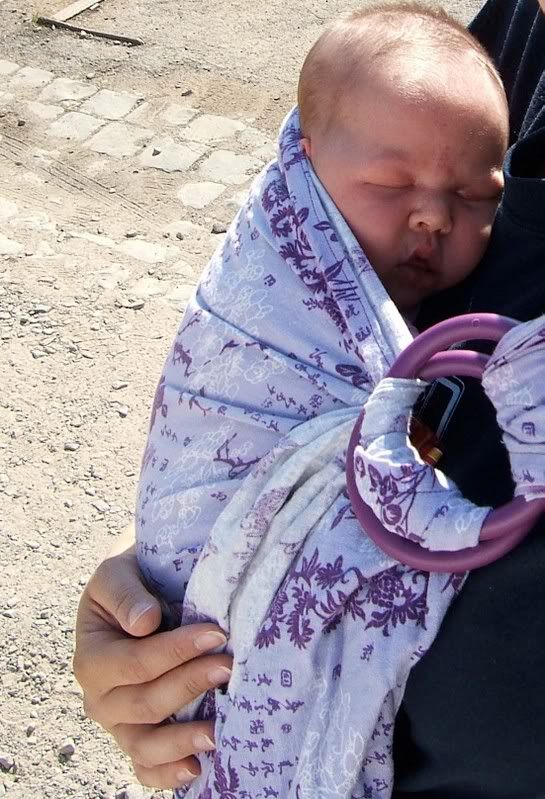 I'm still considering all of the
entries
for the Name That Baby contest, so if you have something that you haven't suggested (even if you've commented already), I'm still open for suggestions. There have been a few though that I really like, so I will probably announce a winner over the weekend.
Especially of interest to
Aunt Susie
: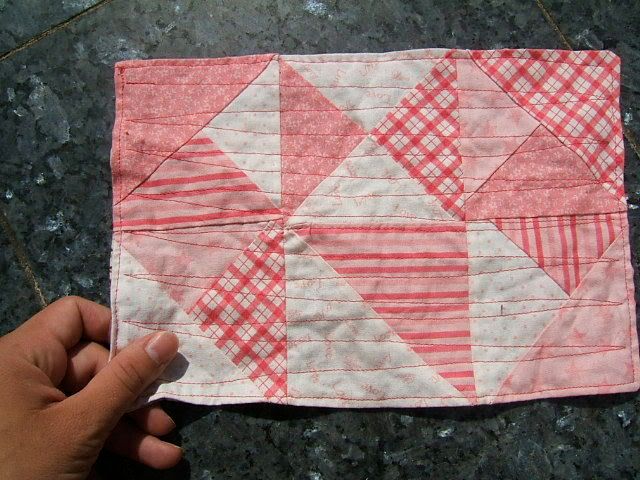 Yes, I quilted! It's my first quilt, which rounded out the
birthday gift
for my little sister
Rachel
. It's the perfect size for the
Knitted Babe
that I gave her last year.
I pieced it together without having a real plan, trimmed the blocks to square them off, then seamed them without worrying too much about lining things up. I'm sure that you can tell. I think it's kind of cute though, in a quirky way.
This is the backing. As you can see, I've machine quilted it in a
zig
-
zag
pattern, as much for convenience as for any other purpose.
I'm happy to report that Rachel loved it, and her doll can often be found tucked into bed, cozy under her new quilt. (These pics were snapped off before they left on Thursday.)
There was some fiber activity yesterday that involved spinning, but I would like to devote an entire post to fiber preparation, so I'll save that for another day. For now, I'm off to get my hair cut. I hope that the hairdresser speaks enough English for us to communicate...should be exciting! (I must note that yes, I do realize I should be learning more German and not expecting others to make up for my lack. However, as it stands, I still know very little, so...there you go. I know that this is terribly American of me, and I shall try to rectify it as soon as possible.)