Thank you for all of the birthday wishes, and especially to
Elemmaciltur
for congratulating me on his blog. (By the way, his site is well worth the visit for a peek into his most recent stash enhancement. Oh. My. Gosh.)
Answers to some reader questions:
Mouse
wanted to know how many yards and oz. I used for the handspun Dandy Lion socks. Unfortunately, I never calculated yardage, since I was so impatient to just get them done. Somehow, even though I'm so anal, I forgot that step. However, I do know that it was 4 oz, and once Navajo-plied, it equaled an approximate sport-weight yarn. I was getting 5-1/2 stitches to the inch on size #3 needles.
Rebecca (blogless?) asked about the meaning behind the name "Baby L". On this blog, I don't use my children's real names, for the sake of privacy.
Sparky and Max are both nicknames that I thought kind of suited my boys, as well as amuse me. They are also the names of two little mice brothers that I make up stories about when a distraction is needed. They each know which mouse represents which little fellow, so they are endlessly amused by the most mundane adventures about the mice taking a bath, obeying their mommy, taking walks, etc.
All of this to say, I have not come up with a suitable name for the baby yet. Her real name starts with "L", which explaines her current title. The nickname needs to be something that can grow with her, so "Cupcake" is straight out. "Princess" wouldn't work either, because what if someday I have another girl? If anyone has ideas, I'm open to suggestions. I'm tired of calling her the non-descript Baby L, so please leave a comment if you can think of any.
In fact, let's make this into a contest. The person who comes up with the best name gets a skein of my handspun, plus some german Gummy Bears. Ready, set, go.
Speaking of the small fry...
Yesterday, the baby had her first real bath. The boys were in the tub, so I decided to just bathe her in a large bowl in the sink.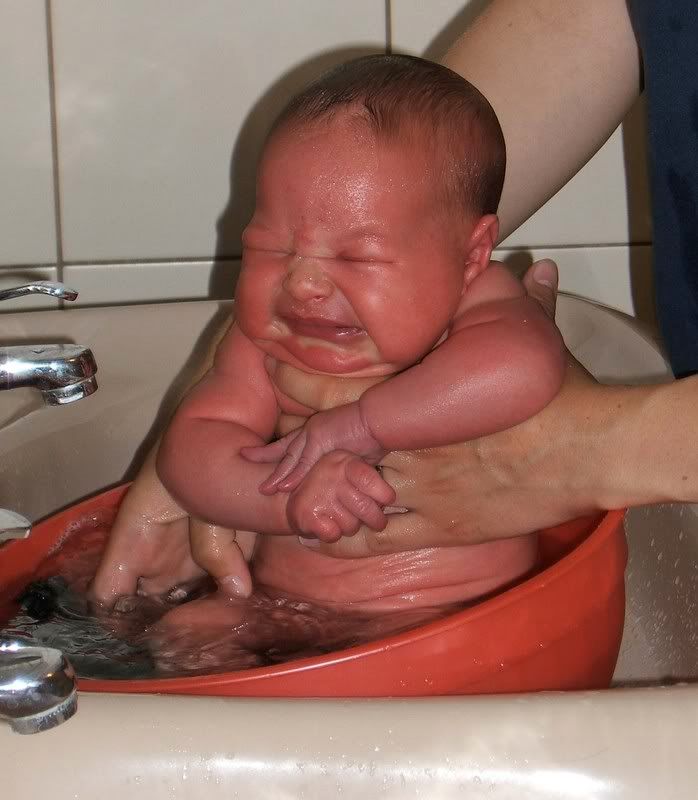 Some of the time she thought this was not so fun. Doesn't she look like a fat little Buddha there?
I've been working slowly on the Child's French Sock, but unfortunately, I'm going to have to re-knit the toe. I've already added some length and re-knit once...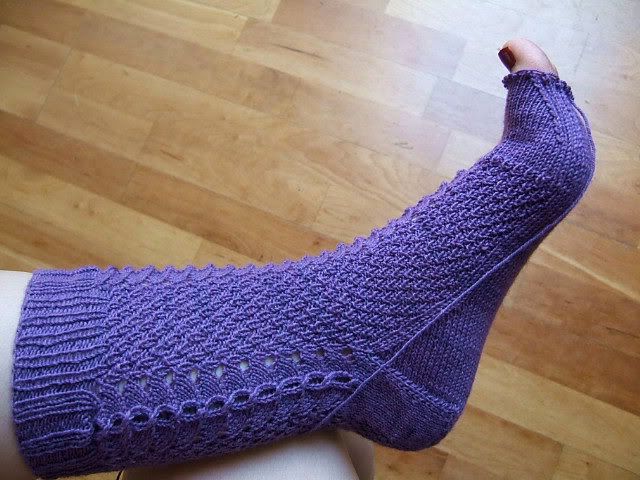 But as you can see, still no good. At this point, I'm just going to rip back to the end of the patterning and add another repeat, because the toe has way too much "plain" length, even as it is right now. Oh well.
After a month long visit, my mom and little brother and sister had to go back home. They left a few hours ago, and I've been a little weepy since. It's very hard to be so alone after all of this time with help and companionship. It doesn't help that my husband won't be home until possibly after I go to bed tonight. Making this even worse is the fact that I have no idea when I'll get to see my mom again, or (possibly more importantly) when my children will be able to visit with her again. Living across the ocean is so hard sometimes, and today it just feels tragic.
Trying not to think about all of that right now though, or the hormones will just take over and I'll feel utterly hopeless. I'm trying to focus on happy (or at least peaceful) things. I have some wool that really wants to be spun up into some sock yarn, but my back is hurting too much right now to sit up for that long. Maybe I'll just work on the French socks.
It's on days like this that I need to guard my credit card, because online shopping feels like just the thing...