This baby is just too comfortable in there. I have tons of amniotic fluid, which means that my placenta is functioning beautifully, and the baby has room to move, lots of food, and feels great. The midwife was here on Monday morning, and said that she thinks at least 4 or 5 days. 4 or 5 days?!!! How is this possible?! I want to scream and possibly jump out the window. I realize that eventually this baby will come out, but at the moment I can't even imagine it.
What do you do when you can't have a baby? Besides begging God to send me into labor, I mean. Well first, I finished spinning up the Walkabout wool blend from the other day. Then, I spun and
Navajo
-plied Dandy Lion (this month's
Club
color) for some thick-
ish
socks (ended up being heavy
DK
, and will self-stripe). Yesterday we went to the library, to a museum, food shopping, post office.
Last night, out of shear frustration, I cast on for Child's French Socks from Knitting Vintage Socks by Nancy Bush, which I've been dying to knit forever. The yarn is from two skeins of Lorna's Laces in Grapevine (I think?) that I swapped with
Rachel
for.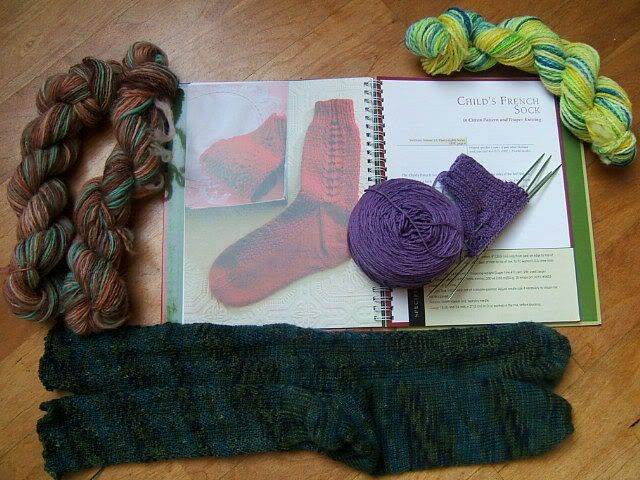 At the bottom of the picture is a rather dark picture of the
fluted
top Husband Socks which I still need to fix (possibly using tubular tutorial suggested by
Janice
at
Knitflix
).
Plans for today? Clean the entire house. Scrub bathrooms, wash all windows. Spin second skein of Dandy Lion, knit socks out of them. Fix Husband Socks. Work on the purple sock. Have baby.
Let's see how many things I can check off of that list.