In the time that it took for Baby L to finally make her appearance, I had time to not only spin, but also knit this pair of socks. This photo was taken today, and I am happy to announce that I have ankles again! I must celebrate this point, because my legs and feet were so swollen that they just looked grotesque in the last few days before the birth. It's such a relief to have them looking and feeling healthy and normal again!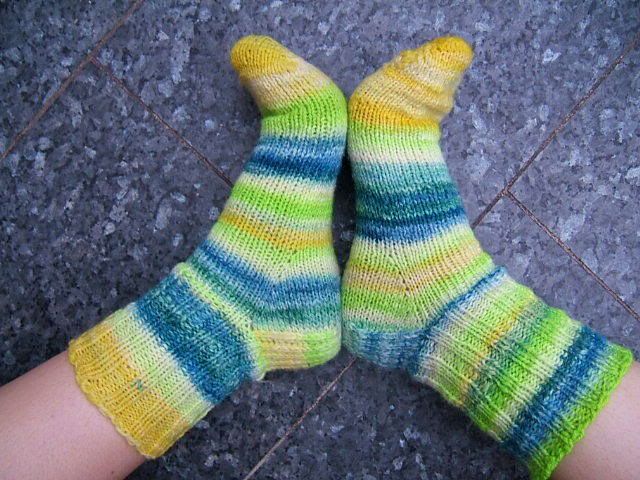 PATTERN SPECS
Pattern:
my own. 40 stitches for foot, increased to 44 on ankle because I wanted to wear them immediately after the birth, when I always get the chills, and my ankles were generously sized at the time. Knit toe up with short-row toe, backwards heel-flap, 2x2 rib on cuff.
Yarn:
my handspun Navajo-plied (a 3-ply) Dandy Lion
superwash
wool from
Spunky Eclectic
fiber club. Approxomately sport weight.
Needles:
Size 3 Knit Picks Classic Circulars to get 5 1/2 stitches per inch.
Notes:
These are thick-ish, cozy, and soft. I love that the colors are so "spring" yet they're nice and warm for wearing around the house when it's chilly outdoors. This colorway is so cheerful.
This is what I was knitting while waiting for labor to engage.
I really can't stop knitting these now. They are the only thing that I want to work on at the moment. My knitting time is greatly reduced at the moment though, so they're growing slowly, but I can't wait to put them on my feet! It's the Child's French Socks from Knitting Vintage Socks in Lorna's Laces Grapevine.
Also on the needles:
Sparky socks in European Online sock yarn (mentioned in last podcast). This isn't the best picture of the stuff, but you'll just have to believe me that it's the best self-striping I've felt. I can tell that it's tough, yet it's so soft, and the colors are jewel-toned. I will certainly be knitting some plain socks out of this for myself in the future, and I have a pair planned for my mom. If only I could stop working on those French socks for a few minutes...
These shots were taken yesterday. Baby L is getting so much more alert now. She still spends most of her time sleeping, but now when she's awake she really looks around and studies things carefully.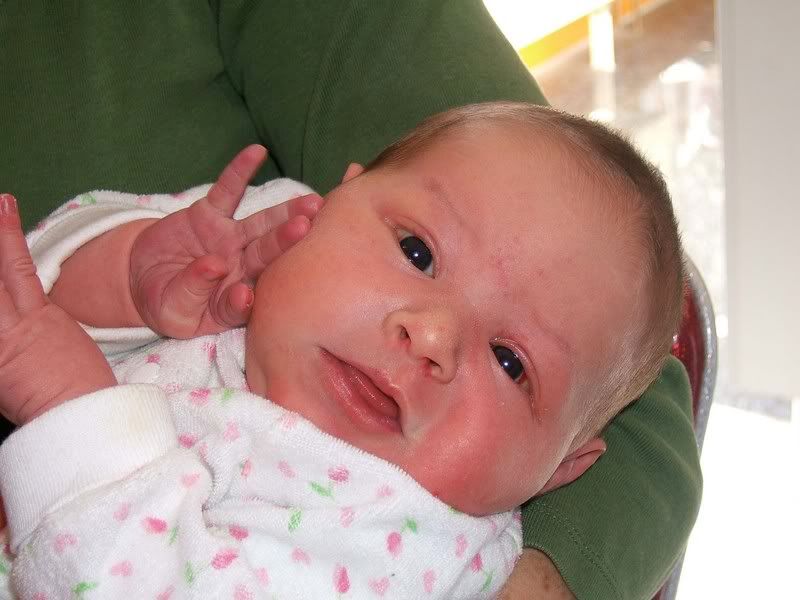 She makes some rather funny faces while doing it.
So there you go. As expected, she looks exactly like a squishy little newborn, but I think that she's 100% precious.
Tomorrow is my birthday, and I have some pictures of my new little family all together with a fantastic cake that you have to taste to believe. I'll post them tomorrow, along with the recipe. If God serves carrot cake in heaven, it will surely be this one. For now, it's time for some sleep.