ETA project specs and a pic of the yarn used for the mittens.
At long last, here are the mittens that I spoke of in Thursday's
podcast
.
To design the yarn for this project, I first examined the roving and noticed that it was mostly red/pink for about a third of it's length, focused on blue for another third, and was pretty much all about yellow for the last third.
I ripped it into sections accordingly, then ripped each of these into three, lengthwise.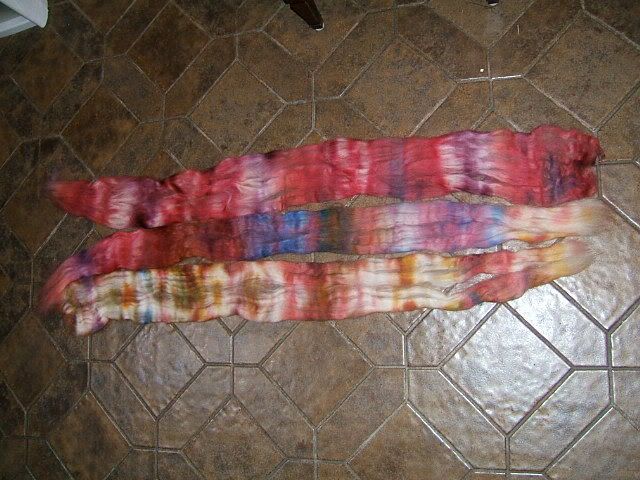 I spun each color separately, then worked some color magic with the plying of the singles.
From left: blue/yellow, red/yellow, red/blue, yellow/yellow, red/red, blue/blue. (Can you believe they all came from the same handpainted colorway?)
I wound them into center-pull balls and knit from both ends at the same time for the mittens, starting with yellow. I then progressed to blue/yellow, blue/blue, red/yellow. The thumbs are red/red.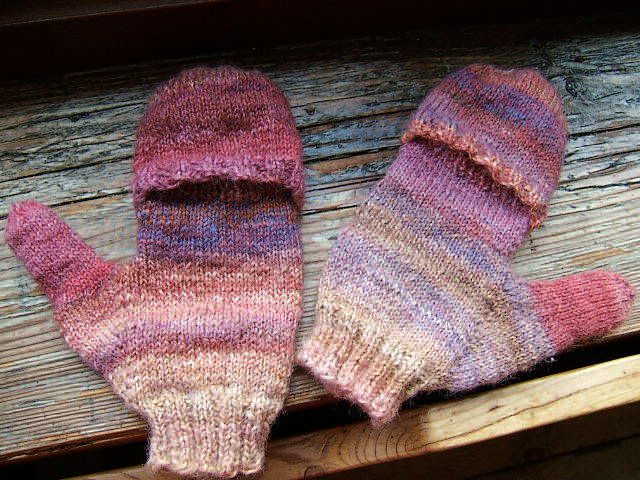 PROJECT SPECS
Pattern:
My own. It was a rather organic creating process that's more like a "grandma's recipe" (a pinch of this, an increase there), so instead, go
here
if you want some good solid info on how to create your own mittens out of whatever yarn you happen to have.
Yarn:
I spun up 4 oz. of handpainted
Spunky Eclectic
Romney wool in the Leaf Peep colorway (a fiber club offering from last fall). This is a fingering weight 2-ply, somewhat thick and thin.
Needles:
KnitPicks Classic Circulars, size 1. I knit both of the mittens at the same time on two of these circulars.
Notes:
I loved knitting them at the same time. It took a little bit of getting used to for me to get into a good rhythm, but there's nothing like finishing up both at the same time. Also, since I was creating the pattern as I went along, it was really nice to not have to go back and try to remember exactly what I did, or measure anything. I just kept trying them on as I went along, and knit accordingly.
When I had knit up to the knuckles (and of course the thumb stitches were on waste yarn by that point), I worked a few rows in 1x1 ribbing and bound off. Then I picked up stitches from about an inch down from the bound off edge, cast on stitches across the front and joined to knit in the round. It was similar to what happens in the
Urban Necessity
pattern when the mitten caps are formed.
Something I found interesting is how well all of the accessories I've knitted for myself this season have ended up working together, colorwise, with my jacket, and with each-other (well, not the scarves together, but you knew I didn't mean that). =)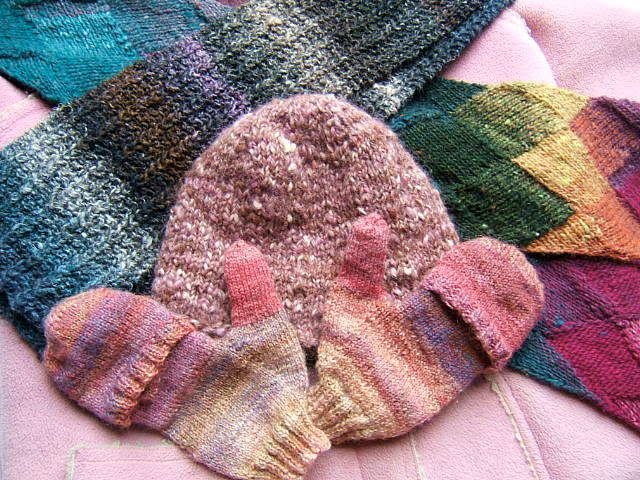 (From top left:
Handspun One-Row Scarf
out of Silk Garden,
Danica "Mini-Eleanore"
in Kureyon,
Live Dangerously Don't Swatch Hat
out of my own handspun, mittens of my own design in my handspun.)