Laura
got it right:
Sheldons
they are.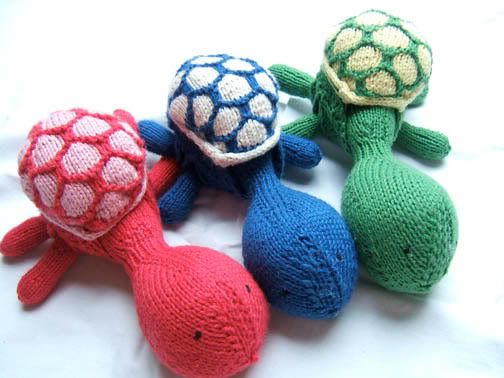 Their names are (from left):
un
-named, Theodore, and Billy.
Yes, I had planned on making at least two more for two different friends, but...well. I'm all done knitting turtles for the present. They were a pretty simple knit, but some of the details were a little fussy. See project notes. I cannot believe how endearing these are in person though.
PROJECT SPECS
Pattern:
Sheldon
by Ruth
Homrighaus
.

Yarn:
KnitPicks

Shine Sport
, red colorway: Cherry and Blush, blue: River and Cream, green: Grass and Butter
Needles:
KnitPicks

Classic Circulars
, size 2 (used magic loop technique for in the round parts)
Cast-on to cast-off:
In total, the three took me about a week-and-a-half to complete.
Notes:
Rather than buy
safety eyes
, I embroidered eyes with black embroidery floss.
The turtle is completely adorable. In pictures, it's cute. In person, it's precious. I had intended to knit up 5 or 6 of them, but after knitting one for each of my children (the red/pink one is
just in case
this baby
happens
to be a girl...), I grew tired of all the finishing involved in this pattern.
Altogether
, there are 8 separate pieces to knit. It was good practice for me to do
mattress
stitch that many times on all of the shells (shell top to shell bottom), but then the part that was rather fussy was the i-cord joining of the stuffed shell to the shell
attachment
panel. Because I did it on the first one though, I felt that I had to do it on the other two as well (I'm just crazy like that -- they all
have
to match), but I would suggest doing a single crochet all around to join instead. However, the i-cord edging is rather professional and "finished" looking, since you're pretty much putting a piece of piping all around.
When knitting the body, I found it easier to stuff the body after I did the neck increases, then stuff the neck and head at the end (rather than stuff the whole thing at the end). Also, the neck really does needs to be stuffed very, very firmly or the head will flop. Just warning you.
Other:
Sheldon happens to have his very own
blog
, as well as a
Flickr
pool.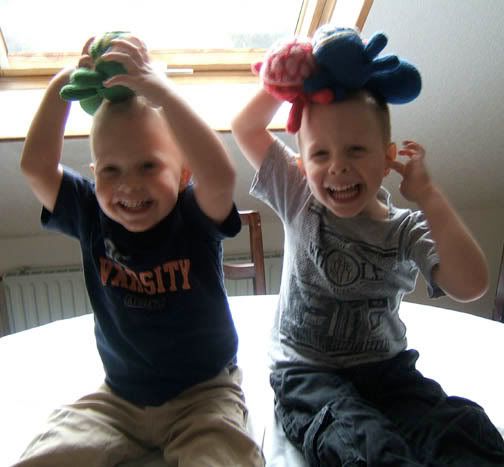 Sparky picked out the colors for his and Max's turtles, and then waited anxiously for them to be complete. The blue one had to live hidden in a drawer until the green was finished, because I didn't want Max to have a Jealousy Trouble, so I had to endure the asking ("Are you working on my turtle Mommy? Is it done yet?") for a good week.
After I finished the red one, Sparky thought that maybe he'd landed in heaven. While Max sees the turtles as "something cool to play with sometimes", Sparky gets the specialness of a hand-crafted
softie
, and more often than not can be found running around with all three.
Last month, to prepare for my experiments in color during Project Spectrum, I purchased an
Almost Solid Sampler
in
Superwash
Merino from Amy of Spunky Eclectic.
Truthfully, the colors are so brilliantly gorgeous, I'm tempted to spring for the Sampler Set of her
sock yarn
as well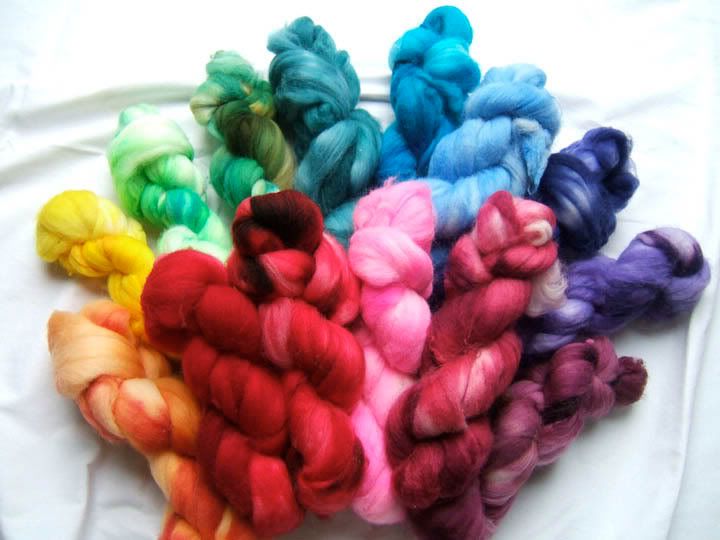 Click each photo for bigger.
Now if that doesn't tempt you to learn to spin, I don't know what will.
I have some ideas for what I will be doing with this, but you're just going to have to check back and see.