ETA link to PDF pattern for hat. Thanks Susan!
The other day as I was putting on my scarf and hat to take a walk, I realized that I was wearing some finished objects that I'd never blogged. (Oh the horror!) =) So, without further delay, here they are:
PROJECT SPECS
Pattern:
Live Dangerously Don't Swatch Hat
by Susan Pierce Laurence-- a top down hat perfect for when you don't know how far your yarn will go.
Would definitely knit this again. I paid for the
PDF

version
of this pattern. If you are like me and enjoy neat, tidy patterns with no guess work, you should consider buying it. I think it cost me $3, which was well worth it. I can already tell that I'll use this pattern again and again.
Needles:
Size 15
Boye
Interchangeable circulars (hate 'em. Stiff cables and the needles unscrew, no matter how tightly I put them on.)
Yarn:
My own
handspun
; bulky to polar weight, thick and thin. Wool and silk, sari silk.
Cast-on to cast-off:
I knit this up in about two days... then ripped it out because it was huge...than knit it back up in two days. So I'd say this was a two-day knit.
Modifications:
This hat was knit plain after the increases, and when I was nearly out of yarn I purled to create a turning row, and then knit a lining in Knit Picks Panache to make it incredibly warm and soft. When I had knit the lining up as far as I wanted (about 4 inches -- didn't want to risk an itchy hat!), I used a three-needle-bind-off to secure the live stitches to the inside of the pink wool. I love the way it turns out. Wind doesn't stand a chance against this baby. The only thing that slightly bothers me is that the edges flip out just a bit, because I should have bound off to a row or two above the one that I did. My sister Hannah said that she likes it though because it "gives it character". My husband says it looks sloppy. Ah well.
Notes:
I used
Eunny's

circular cast-on
to start this hat off, instead of Emily Ocker's, and it was very simple with a great looking result. (Who would expect any less from
Eunny
?)
The hat happens to go perfectly with my maternity jacket, as well as my
Norovember
project, which I never showed completed...

PROJECT SPECS
Pattern:
Danica
by Jesse
Loesberg
Needles:
Plastic straights, size #8
Yarn:
Noro
Kureyon
, color #170
Cast-on to cast-off:
Can't remember, because there was a lot of stop-start action. First I ran out of yarn and had to order more. Then after blocking I realized I'd knit it too long and had do rip back and
reknit
the end.
Notes:
Kureyon
is often maligned for being scratchy and harsh. However, if you soak it in a sink full of warm water with a little bit of hair conditioner, it becomes lovely and soft. I have had no problems with this being right against my neck, and I have very sensitive skin.
I'd never done Entrelac before, but the technique was totally addictive, and I couldn't stop myself from knitting this.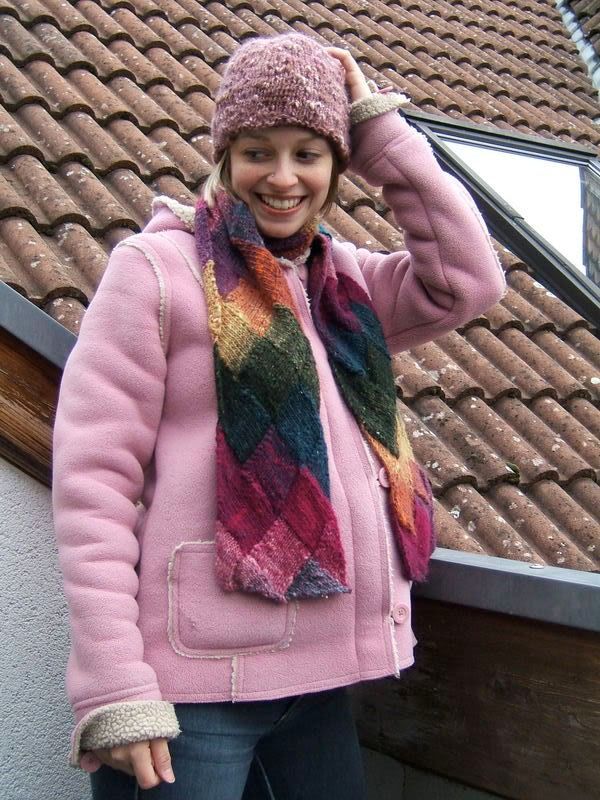 Thank you so much for the comments on the boys sweaters, as well as all of your well-wishes for my "motherly health". I have gotten way too far behind on podcast and blog comments to catch up, especially with the state of my brain lately (how do in-
utero
-babies manage to steal so much memory?!), so I will say a cover all "thank you". It really means so much to me that there are so many of you waiting eagerly for a new podcast. I can't wait to get started again after this much needed break. I expect the blocking wires to come in the mail any day now, and as soon as my Swallowtail Shawl is all blocked out, I'm back at the mic. I've got so much to share with you all, as well as a brand new "book review"
segment
!
If there was anything pressing that you emailed me about, please contact me again, and I'll try to get back to you right away. =)
Thank you so much for your patience!