Thank you so much to all of you who opened up your stashes for the trade!
After reviewing offers that came in via comments, emails and
PM's
on the
Knitty
forum board
, I've decided to accept an offer from
Heather
. I'll show you what I chose when it comes in the mail. This swapping business is way more fun than I'd imagined. I mean, why sell something on eBay and
hope
that I get the right price when I can peruse offerings from other people's stashes instead? What's old to you is still brand new to me, so it's all new yarn, and no one looses out. Very cool. I can see an addiction forming, as I find myself walking through my stash in my head, wondering what other yarn is just
languishing
, wishing for some *real* love.
Completely unrelated:
Here's a teaser for tomorrow's
podcast
episode.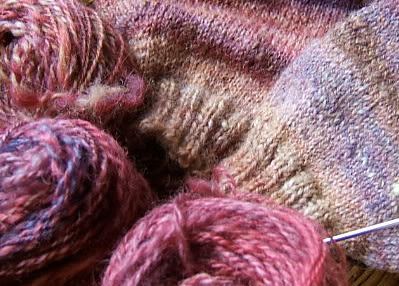 Hopefully it'll be finished by today, and it will be tomorrow's fiber tale.
I'm
ridiculously
pleased with myself, although it's not like I'm performing back-flips or anything. You'll just have to listen in and find out why.
Talk to you all then!