It's day 3 of Project Spectrum! Sparky, Max and I went shopping for art supplies on Thursday, and I came home with a watercolor set (the tube and palette kind) and colored pencils.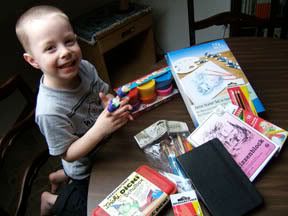 After naptime we sat down for some artistic playtime.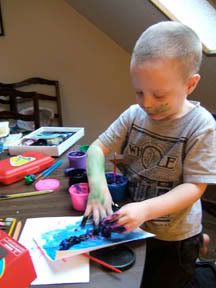 I started my very first creative journal in a moleskine, and it felt rather strange. When I was young, I took art classes for years and worked in the mediums of watercolor, acrylic, pastels, charcole and pencil. However, since I was about 15, I haven't even picked up so much as a pencil to do anything more than draw a crazy little badly drawn car for Sparky.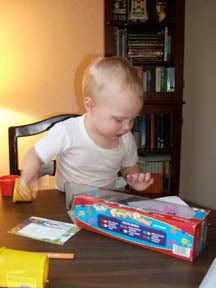 (Upon tasting the fingerpaint, Max declaired the paint to be "spicy")

I have to tell you, looking at the blank paper and holding a brush in my hand was kind of a scary thing. I felt like a little kid all over again. I'm pretty sure that it's going to be good for me though; freeing up my creativity a little as I let myself express things in a different way. Reguardless, it should be interesting. So in the interest of full disclosure, here is my first entry:
I've joined the Creative Mom Podcast group at Flickr, as well as the Project Spectrum one.

In the most recent episode of the podc
ast, I asked sock knitters to give me their best "learning to knit" sock resources for Mr FiberFlash's cousin, Tim. I also emailed the Yahoo SockKnitters group, and overall, I got an overwhelmingly helpful response!


Here are some of the responses:

Heather suggests the video podcast Let's Knit2gether; one of the first episodes is all about knitting socks. She also says that the book Sensational Knitted Socks by Charlene Schurch is helpful. "It walks you through basic sock constructions and tips. It has lots of patterns for all knitting levels."

Jocelyn reccomended Kristen's

Knitting Socks Online Class

, as well as the book Sensational Knitted Socks (I'm starting to sense a tre
nd here).

For learning to knit two socks at a time on two circular needles, toe-up, Tracey likes the book by Queen Kahuna, "Crazy Toe And Heel Book".

Pat says that Sensational Knitted Socks was the first book she bought on sock knitting, and she's never regretted it. (Hey, maybe I should consider adding that to my book collection?)

NancyMaria thinks that Knit Socks! by Betsy McCarthy is a good book for beginners.

Laurie suggests the Basic Sock Chart for understanding how to get a sock to fit properly.

Thanks everyone! You can watch his progress here as he casts on for his very first pair.