If you're my sibling or parent, do not read the rest of this post.
Remember the Super Secret Crochet Project that you were all guessing at last week? MA was right, and I think that Laura (not Laura P, the other Laura) guessed correctly too. It was beanie bags.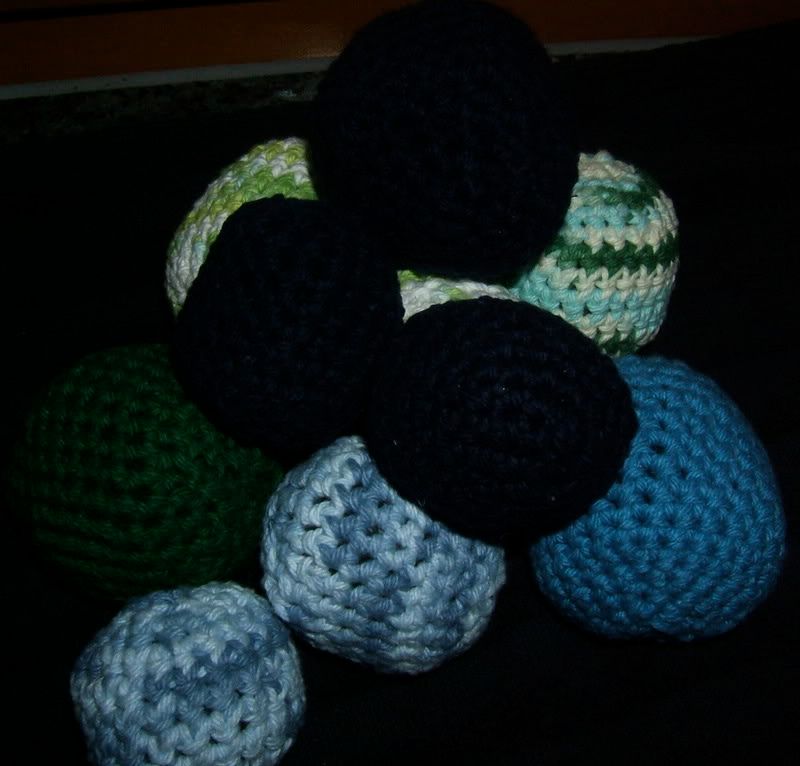 Brief project specs
Yarn:
Peaches and Cream cotton (worsted weight yarn)
Hook:
aluminum size F
Pattern:
my own. Sew up a little pouch out of cotton. Fill with beads. Sew closed. Crochet a circle, increase as needed until it looks like the right size, then crochet in the round until almost to the top of the bag (for the 3x3 bags I worked 18 stitches, the 4x4 were 28 stitches). Decrease about the same rate you increased until the hole is closed up in the top. Weave in ends.
From start to finish:
about 2 weeks, since I put off weaving in ends until I had to wrap them up to mail. =)
Ten, to be exact. There were supposed to be 20, but I ran out of beads. The one store I know of here that sells craft supplies tends to be a little expensive, and also the boys don't usually act very well inside (too much cool stuff to grab and throw for Max, and Sparky has a melt-down when we have to leave, because he could easily live in those aisles of the store). So. I only had enough for 10. They're for my little brothers. Last year, I crocheted them one
Liger
, which, surprisingly I have no pictures of (was going to make two, but the first turned out so desperately ugly that I couldn't bear to make another -- they loved the idea of it, but weren't crazy about the end product either, so it was just as well), and then 3 beanie bags on a whim. I figured that whatever they liked better, I'd make more of.
The beanie bags were better received than I could have hoped. They LOVED them and played with them all the time until some how all three got lost. It was ok, because the design was bad; beads kept escaping out of the crochet holes, even though I'd worked them up rather tightly.
I kept meaning to make them more, for Easter, for their birthdays, for Thanksgiving... Finally, I decided to make them a whole bunch for Christmas. So that's the story. My mom said that they'd still think they were cool, even though it's a year later. Christopher and Joel are 11 and 13.
Next up: a project worked up in three days, my new sock record.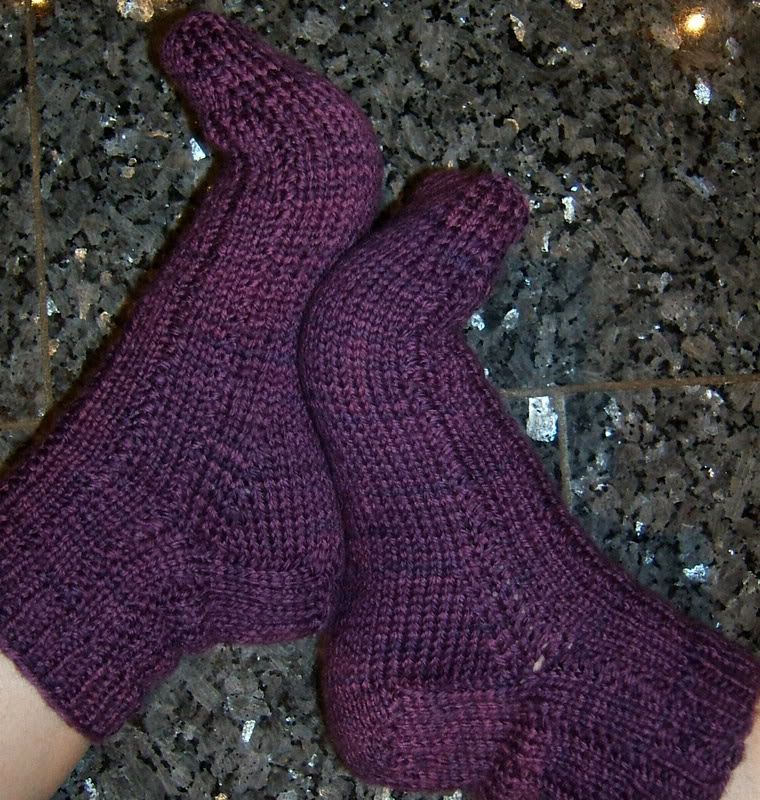 Project specs
Needles:
size 5 DPN's
Pattern:
Thuja
Yarn:
Lorna's Laces Shepherd Worsted Solid (although it's actually semi-solid -- perfectly subtle and lovely)


Modifications:

3 inch cuff, and shortened overall length of foot to fit a woman's size 8.


Cast-on to cast-off:

Dec 1st - Dec 3rd


Notes:

Love this pattern. It's the second time I've knit them. Also, I adore the yarn. I need to buy more to knit mittens for me. It's squishy, soft, and tough. The colorways available are also amazing. I am completely in love with semi-solids now. (Multi-colors have been bothering me for some time, but I've been knitting with them anyway to deal with stash.)

These are a shorter version of Thuja. Thuja Footies, I guess. They started out as One Skein Cabled Footies, but I ran into some issues with the pattern (will cover them in my next podcast on Saturday). These have a 3 inch cuff, but I could have easily gotten 5 or 6 inches. I've got a lot of yarn left over -- Lorna's Laces Worsted has quite good yardage. A tiny bit pricy, but completely worth it.

I highly reccomend this pattern for new sock knitters. It's fast, simple, but has nice results.

I always like to include washing instructions and fiber content, so here's the fly-by-the-seat-of-my-pants "professional" looking label they got mailed in: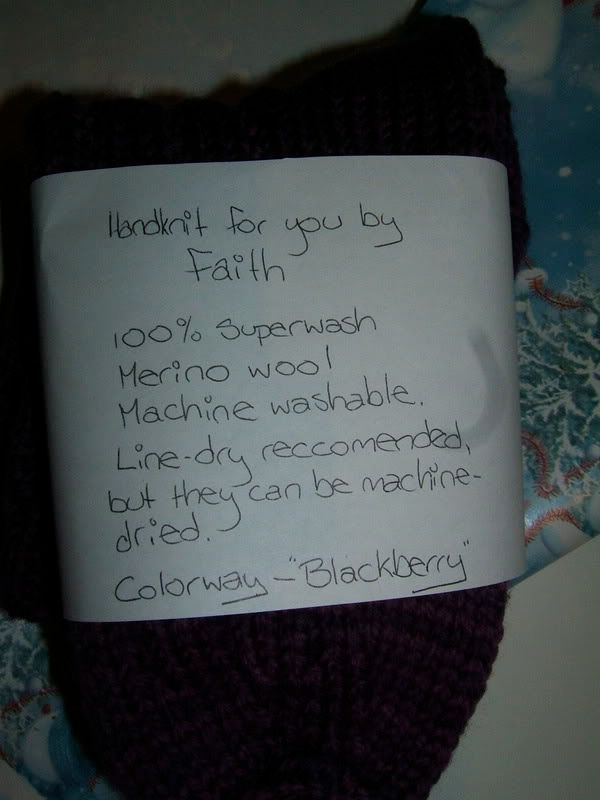 They're for my mom, who can expect handknit socks for every occasion for the rest of her life, since she has proved appropriately appreciative of the beauty and comfort of them. (She's actually expressly asked to only receive these now, so how can I refuse?)

I've also been getting quite a bit of mail...that eBay, I tell you. It's all about shopping in your underwear.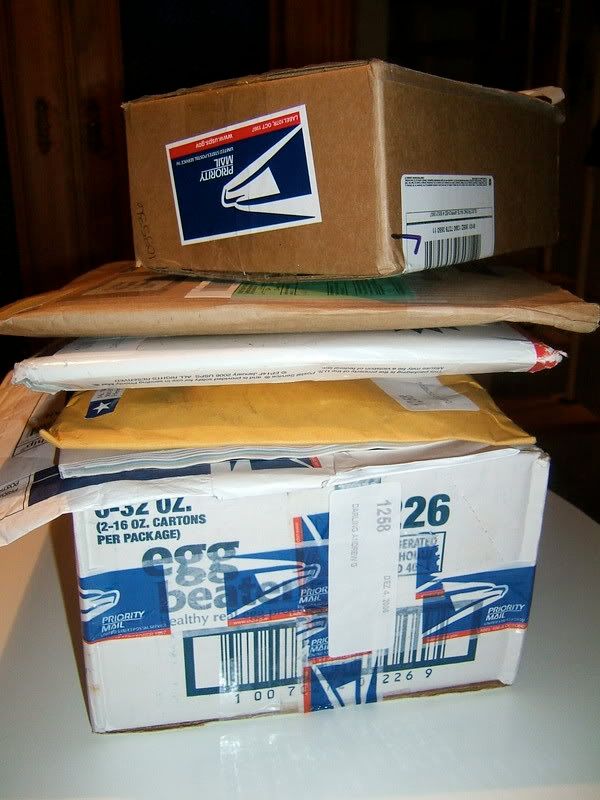 More on the contents at a later date. I'm not completely prepared to speak about my purchases.

This little guy deserves a post of it's own, but here's a peek at something really cool I did last week: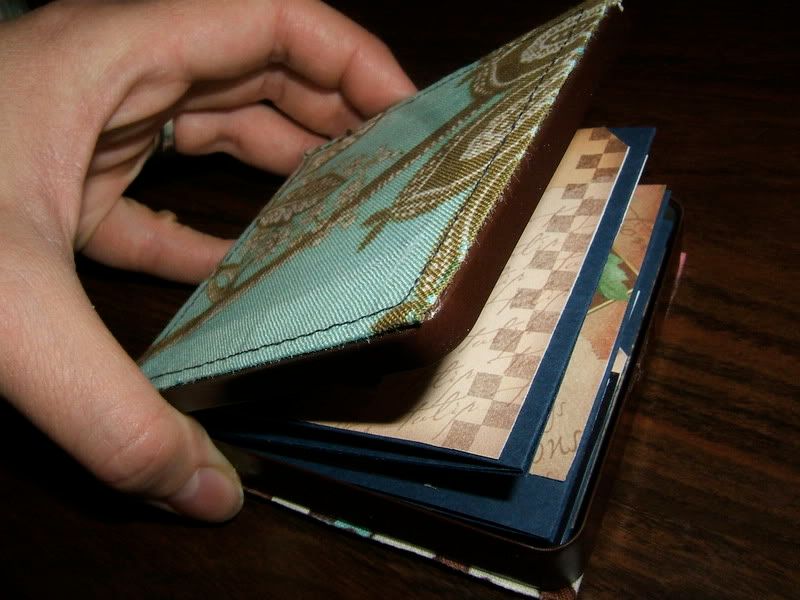 And last night, while watching a supremely stupid movie (Talladaga Nights), I redeemed the time by finishing this: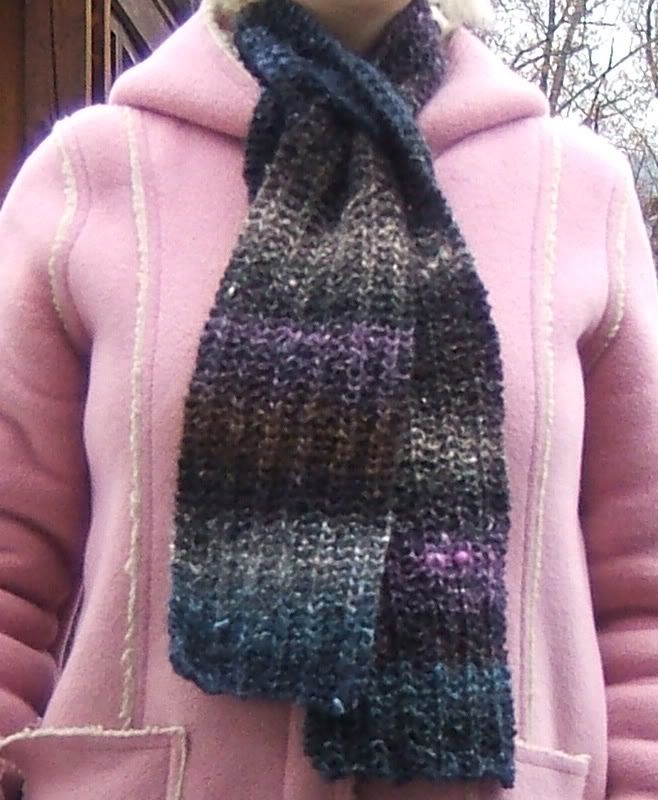 Sarah is right. Noro matches

everything

.



Project specs




Needles:

Plastic (!) Susan Bates size 8


Yarn:

Noro Silk Garden, 2 skeins


Pattern:

One Row Handspun Scarf by Stephanie Pearl McPhee


Modifications:

I made this a keyhole scarf by knitting 29 inches of the pattern as written, then knit back and forth on half the stitches only for 3 inches (10 garter-stitch ridges or 20 rows). I broke the yarn and joined where I'd left off on the other half of stitches, and worked those for 10 ridges. On the next row I knit all the way across, and continued the pattern as written until I ran out of yarn. It ended up being the Perfect Length -- almost the same length on both sides when I have it on, as you can see in the picture. It's the most practical scarf I have, because it can't blow off or be shifted around by a small person.

Currently ripping back 32 inches of Danica, and I've cast on for the Mr.'s Christmas gift. More details later.

I'm going to be working furiously on Christmas things and then my sister Hannah is coming on Saturday to stay until after Christmas, along with possibly some other siblings, so I'm not sure how much I'll be blogging. I really want to show you some Christmas decorating stuff, including our very first tree (!!!), so I'll try my best.

Look for my End Of The Year podcast coming out on Saturday! In the meantime, be sure to check The Knitting Cook podcast blog every day this week for yummy recipes that are perfect for Baked Goods Gifts.