So as it turns out, when you knit your first shawl, it's kind of like when you have your first baby.
If one picture is good, 6 must be even better.

So please forgive the excess.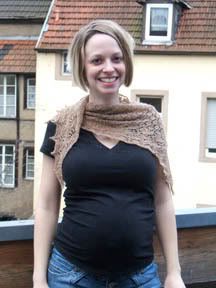 I honestly couldn't help myself.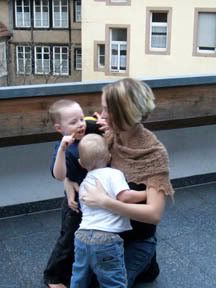 I mean, I'm actually showing some restraint here. There could be more.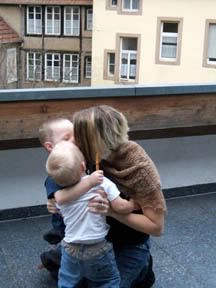 I have one question about blocking though. When I took the work off of the blocking wires, it was perfectly dry, flat and open. Now, after wearing it a little and keeping it folded up in between, it has gotten a little curly along the edges. I still love how it looks, but is it supposed to get "un-flat" like that? Do I need to re-block?

PROJECT SPECS
Pattern:
Swallowtail Shawl, Interweave Knits magazine, 2006
Yarn:
Misti Alpaca
, color NT-605 md brown (click on the yarn link -- this vendor, The Knitter, has free shipping with no purchase minimum. Love it!)
Needles:
Size 4 KnitPicks Options circulars, 47" cable. I cannot say how much I love these needles. They had just the right amount of "grab" so that my stitches didn't go flying off, yet they were smooth enough to allow speedy stitch execution. The pointy tips made those nups (with the "purl 7 together") no problem at all.
Cast-on to cast-off:
9 Days
Notes:
When I started, the laceweight was a little bit intimidating, and I held the yarn too tightly. Once I relaxed, everything went a lot more smoothly and quickly. The best moment was blocking it out and truly seeing the pattern for the first time. I am totally looking forward to knitting my next shawl.