I've always envied the posts about people going to yarn swaps, where everyone comes in hefting huge bags of yarn and dumps them out on a table. Everyone scores in this situation, gaining some new stash without spending a dime, and I want to do it too! Unfortunately, I don't currently have a group of (local) yarn-obsessed friends to do this with. So I've thought of a way to do this by remote.
There is some yarn in my stash that needs to go. I could sell it on eBay, but I thought of something that might be a bit more fun. Rather than sell it through auction or from this blog, I would like to offer it up for trade. Forget the whole "
destash
" thing that's so in vogue this year. Let's just move our stashes around. If you have something, even if you're not sure that it's of equal value or anything, please offer it up in the comments! I will choose the trade that is most attractive to me.
So here's what I've got:
Tahki
Cotton Classic. Quantity: 10. 100% mercerised cotton, 50 grams, 108 yards each.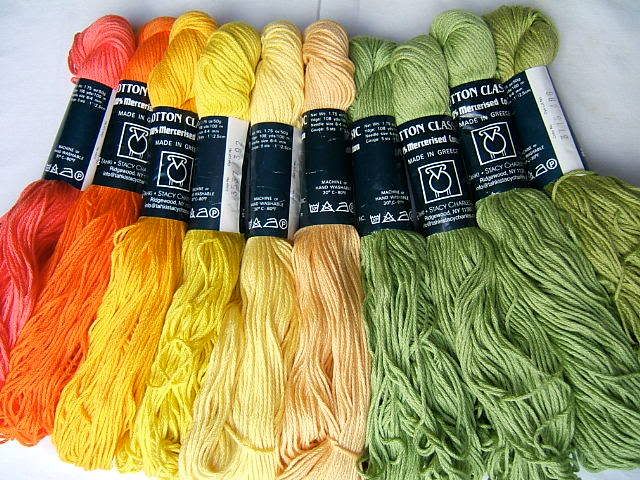 Color numbers from left (every-other is in bold to assist with reading all of the numbers):
3486 lot #473
,
3401 lot #623
,
3553 lot #829
,
3537 lot #392
,
3528 lot #414
,
3525 lot #639
,
3701 lot #713
,
3701 lot #677
,
3701 lot #677
,
3715 lot #486
.
Rowan
Handknit
Cotton. Quantity: 2. 100% cotton, 50 grams 93 yards each.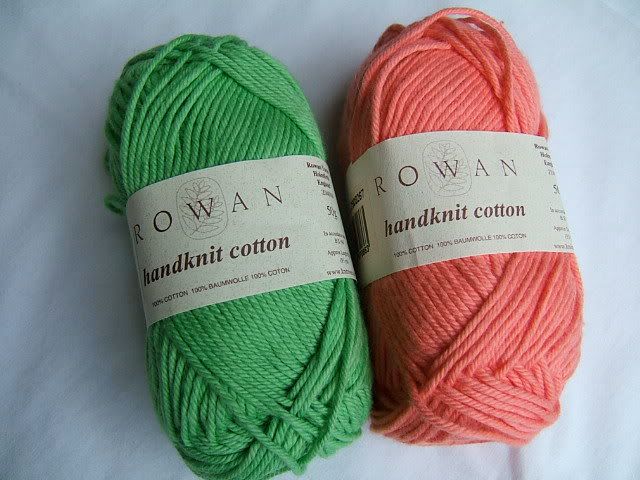 Color numbers from left:
322 lot #2915035
,
321 lot #2908267
All colors are pretty close to actual in my monitor, but of course that varies from computer to computer.
You can go
here
to view the entire gallery of these yarns, with all of the beauty shots.
I will swap either all the yarn in one shot, or else in groups as follows, Rowan
Handknit
Cotton, both colors; all 10
Tahki
Cotton Classic, Orange and yellow Cotton Classic, Green Cotton Classic (as shown grouped in the gallery).
If you've been reading this blog for a while you will know a few of my preferences, but here's some things right up front to help you develop your best offer for this yarn:
I do not want to trade for more cotton. I adore solid colors or semi-solids. Usually not a huge fan of
multi
-colorways, but I might be interested in yours. I love natural fibers and natural fiber blends. I might be interested in trading for fiber, so you're not limited to offers of yarn only.
If you live in the states, shipping cost will not be international, because I have an American address that you can use. If you live in Germany, of course I have a German address too, so it won't be international for you either.
One extra thing: if you happen to like chocolate (and mention that in the comment), I may find myself slipping some German chocolate into the lot to sweeten the deal. Soooooo... give me your best offer!