Since I only have about 2-1/2 months left before this new little person appears, I need to get as much done as I possibly can, creatively. This is the point of my pregnancy where I start going insane with my creative output. Brace yourself. There will be a lot more in the weeks to come.
Getting a jump start on Project Spectrum: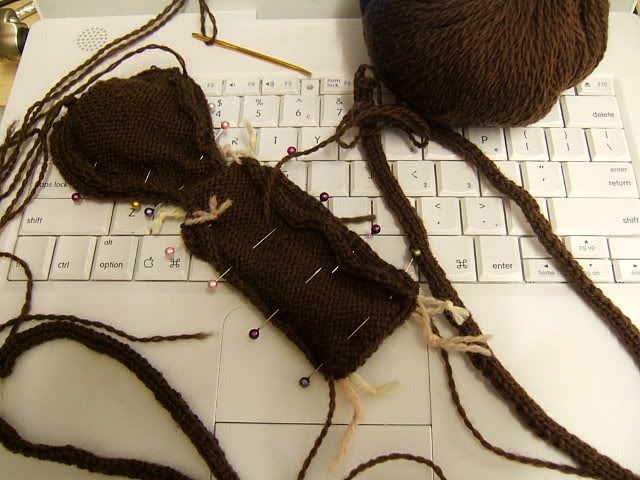 I cast on for this on Saturday, and I'm seaming it up today.
I plan to make one Knitted Babe per two-month color triad, so this Babe is going to be all about exploring blue, grey and white.
This morning I ordered a
Moleskine sketch-journal
(as recommended by Amy of the
Creative Mom Podcast
) so that I can begin creative journaling. Sometime this week I'll go to the store and pick up some colored pencils, charcoal, and possibly a watercolor tray.
The boys and the weather were finally agreeable at the same time, so I got a photo shoot of the sweaters at last.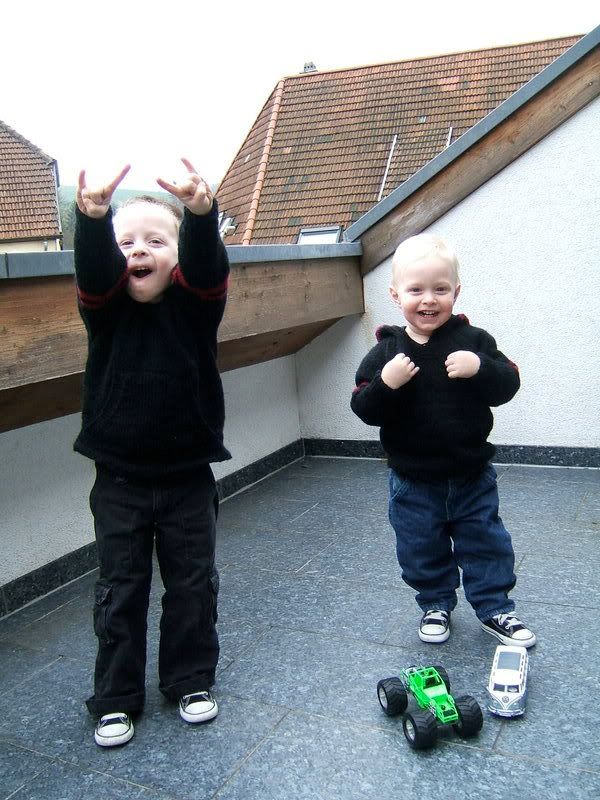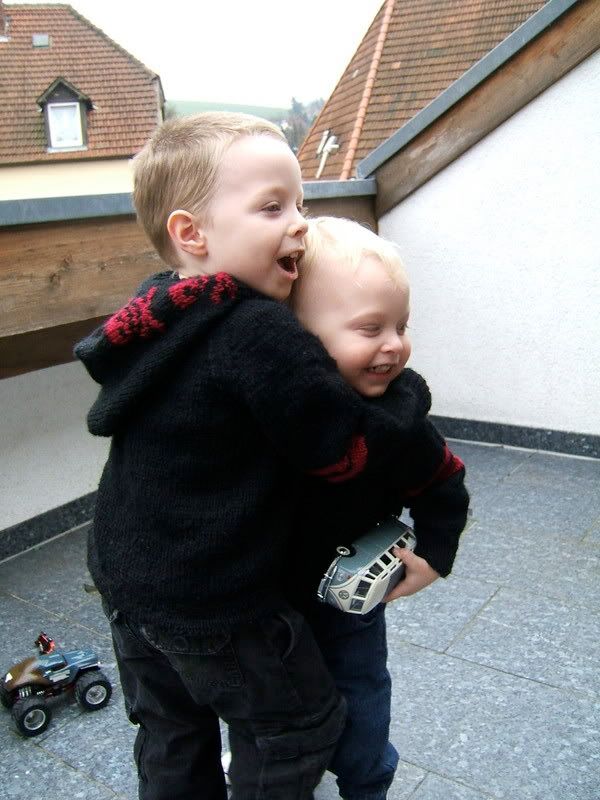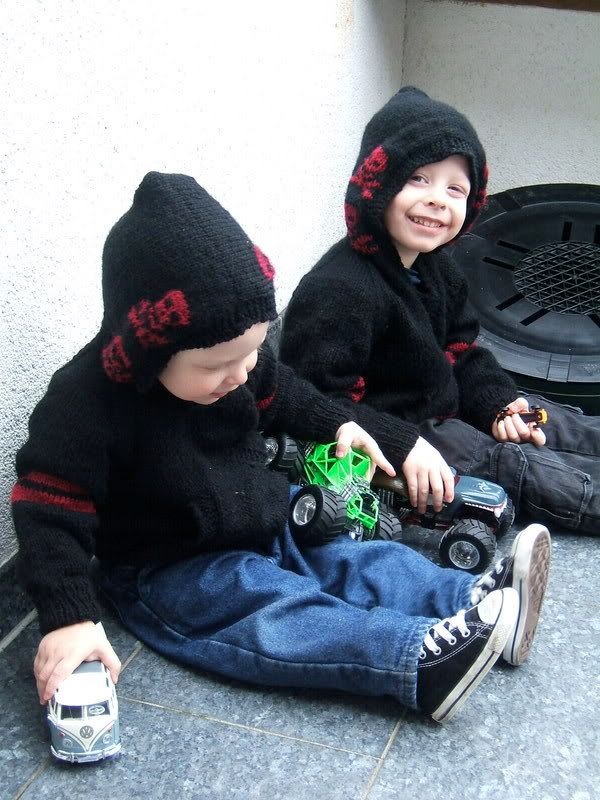 PROJECT SPECS

Pattern:
Wonderful Wallaby
Needles:
Needle Master set of aluminum interchangeables, sizes 6 and 8. I hate that set, and am so glad that I'm getting the KnitPicks ones in the mail very soon.
Yarn:
Wool-Ease, bought on clearance, bringing the grand total for each sweater to just around $3. Insane. Probably my least expensive project ever.
Cast-on to cast-off:
I knit all four arms for both sweaters and most of Sparky's sweater in about a week-and-a-half in November. Then I did all kinds of surgery on that one and knit Max's in about another week-and-a-half.
Modifications:
Sewn hem, stripes on arms, intarsia
skully motif
on hood (two on either side).
To do the hem: do provisional cast-on onto waste yarn (I used the crochet chain method), knit approx 1" with smaller needle (in this case, size 6 circular). Increase row as directed in pattern as it instructs to do "after ribbing". Switch to larger needle (for this, size 8), purl one row. Switch back to knit and work in stockinette until the the parts below and above purl row are equal. Fold up hem, undo provisional cast-on and knit the live stitches into the next row. Continue with pattern as directed.
Notes:
If you plan to knit this, it's totally worth it to read through the chatty introduction on the pattern booklet, as well as checking out the
Wonderful Wallaby FAQ
page. I learned some things that saved me time and helped me to really get a good idea of where the pattern was going. I loved knitting this, and will definitely work it up again. It's simple, so it lends itself to endless variation and creativity.
Other post related to this:
Snip/Tuck