The Max Sweater would have been finished last night, had it not been for
this book
, which arrived in the mail yesterday: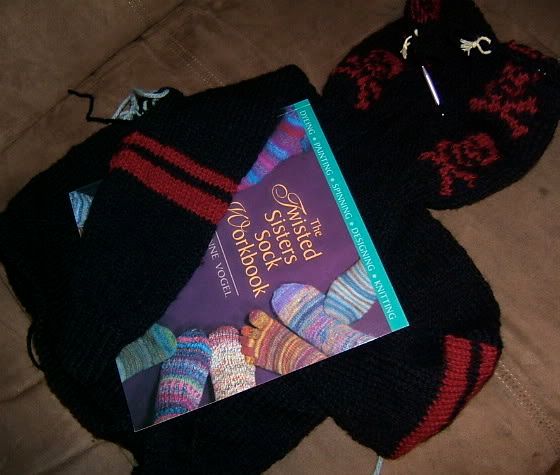 I cannot say enough good things about it. I've heard only good about The Twisted Sister Sock Workbook, but somehow the cover of it never jumped out and said "buy me now" as some books are prone to do. However, once I opened it up, I was completely taken in.
The entire thing is full of gorgeous color photographs, and a warm, friendly text. I immediately had the feeling that I'd "met" an important spinning and knitting mentor.
When I lived in Georgia, I used to spin with my friend Kirsten, who was always ready to help me figure out the best way to spin some new fiber, or get what I wanted out of a roving. With this volume, I feel like I have someone just as
knowledgeable
right here in my own living room.
One of the most
fascinating
aspects of the book is that the author has taken many of the photos herself -- and they're beautiful!
I highly recommend this book if you've ever thought about dying yarn or fiber.